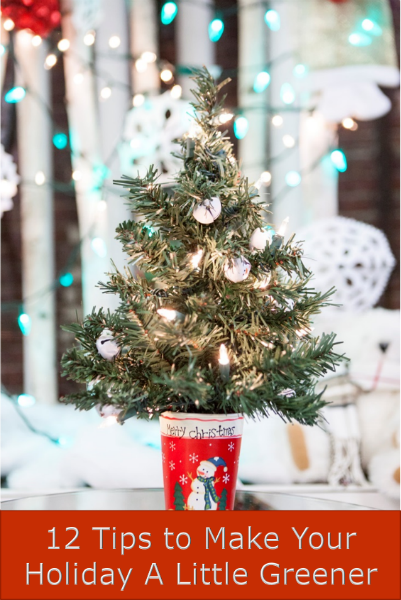 There are many things that we can do on our day to day to reduce our consumption on the environment, but all seems to get lost in the holidays. I wanted to give you 12 fun tips to make your holiday a little greener and still be festive.
1. Make Your Own Gifts
Pinterest has thousands of ideas on different make your own gift ideas. You can reuse items around your house, such as jars for mixes, and provide a more thoughtful gift than anything you can buy at the store. Imagine all the green your wallet will be saving. I recently went to a local store and a single mason jar of Santa's Cookies mix was $8 where you can purchase 12 mason jars for $10 and the rest of the ingredients for less than $15 and make a great gift for everyone. Check out this recipe: DIY Holiday Cookies In a Jar.
2. Use a Living Tree
Using a live tree not only helps the environment of your home by not dying and making a complete mess, but it also helps the environment of the earth as you can plant the tree after the holidays and then use it as an outdoor decoration for years to come. Also, imagine the shade in the summer months.
If you can't do a living tree, check out our article on eco friendly holiday trees and determine what is the best option for your family. I have a plastic tree that is almost 10 years old, but looks great and won't be replaced for many years to come.
3. Wrap Gifts in Reusable Materials
My favorite is gift bags and boxes since they can be reused year after year, and when they finally fall apart, recycle them. You can also use fabric you have around your house or purchase scraps from a local fabric store. If you are crafty, you can make your own reusable bags and such, or even purchase them online from reuseit.com. I even found a great video on Christmas Gift Box Hack that takes half a box and turns it into another box. I even tried this out and it is so easy and let's you get twice the amount of boxes or use the ones that are missing the tops or bottoms.
4. Gift Someone a Plant
Gardens are popping up everywhere you look now, either in containers or full on yards. If you have someone on your list that is thinking of starting a garden, give them seeds or even a live plant to get them started. Do they have an established garden? Maybe give them something exotic or new to try. Not only will this last a lot longer than most other types of gifts, but it will provide something in return all year round. Even an indoor plant will provide some return by cleaning the air inside the space.
5. Make a Terrarium
Maybe your friend doesn't have a green thumb, but you'd like to give them a piece of the outdoors for their indoors. Give the gift of a terrarium. You can either purchase these or make them if you are crafty. Best thing is, they are typically fully self-sustaining and require little to no upkeep. Best of all, these can be enjoyed even in areas where there isn't sunlight, like an office setting, brining a little of the outdoors inside.
6. Use Plantable Cards
They now make cards that you can plant…seriously. These are amazing. You send your card and the receiver can plant the card in the ground and watch it sprout into something beautiful. What an amazing concept. There are a ton of companies doing this now so here is a quick Google search done for you already. Now you can provide a cute card that someone can enjoy for years to come by planting it in a pot or in their yard.
7. Light Up With LEDs
LED string lights use a lot less energy than string lights of the past and are now used with so many different applications, and are even solar powered at times. They also provide a much brighter light than before, requiring fewer lights to make the same statement, or allowing to make a bigger and bolder statement.. But don't forget to turn them off when no one is around to see their beauty shine.
8. Donate to a Local Shelter
Donate all your older toys and clothes that you grew out of to those who need them most. This will give new life to unused items around your house, put a smile on someone's face and a warm spot in your heart.You can even spend some time at a local animal shelter providing some love and attention to animals that don't have a home this time of year. Finally, sign up to bring an unwrapped gift or food to any gift or food drive nearby. These items don't have to cost a lot, but can mean the world to someone in need.
9. Give to a Charity
Don't know what to get that hard to gift person? Give to a charity on their behalf. There are thousands of charities that can use your help. Find one that maybe provides some meaning to the person you are gifting to, or sign up the two of you to do something together, like a march or walk, even a 5k and train together. Not only are you helping someone in need, but you are also making a commitment to do something with the loved one.
10. Gift Your Time
Instead of giving a gift to someone, give a favor. Maybe they need help doing something during the year, like watching their pets, fixing their car, etc.. Or maybe they need something done that only you can do, like do some computer work, graphic design, etc.. What special talents do you have and can you give away your time? Time is worth more than you think.
11. Make Your Own Decorations
Make something out of nothing and decorate your home with them. Paint a nice holiday saying on a scrap piece of wood. Use branches around your home to hold a cluster of ornaments. I did a quick Pinterest search for you to get your creative juices flowing.
12. Stay Local and Small
Purchase your produce from the local produce stand. Go to small businesses for any gifts you purchase. Keeping your purchases to local and small businesses will help those most in the end and provides much more to the local community.
I hope you enjoyed these tips. Please feel free to comment below with your additional tips that we may have missed. And as always, we here at SEPCO would like to wish you a wonderful holiday season!
Happy Holidays!
Editor's Note: I wanted to reshare and add some additional information. Feel free to add more and allow us to build on this for years to come.