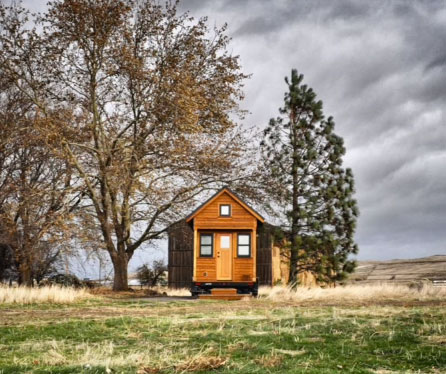 Homes have become larger and more spacious as time progresses; however, there is a new movement away from those expensive and inefficient homes towards tiny houses. This is great for single people or small families that want to utilize every inch of their home and have more freedom than we've had in years. Instead of spending $450k, more and more people are opting to spend $30k or less to build a tiny house that they can even pick up and move wherever life takes them.
Tiny homes are on a huge up rise. These homes range from under 100 sq ft to around 350 sq ft. It is amazing what you can do when you slim down all your "stuff" to your most basic needs, compact your requirements to fit into such a small place, and then build the most functional, multipurpose spaces you could even imagine. There are many benefits to a tiny house including environmental friendliness, easier to clean and cheaper to heat and cool.
Tiny homes can be powered by traditional grid by plugging in to a power outlet, or be completely off grid by installing solar power. Since these homes are so efficient, they do not require a lot of power and only need a 1k solar system or less to completely power the requirements of the home. This combined with some propane or other form of fuel for heating and cooking is about the only costs associated with living in a tiny home.
There are tons of resources available online if you are interested in building a tiny home. You can purchase complete blueprints to just inspirational ideas to create your own unique custom design. Make it as functional as possible to fit exactly what you would need and listing the most important features to the least important to get the most from the space.
If you have a family, maybe you can't build your tiny house on the back of a trailer like some mobile tiny homes; however, you can still stay with the smaller ideals and have plenty of room for everyone. Or live in an urban area; turn your studio into a lot more by maximizing its design. There are so many options that allow you to live more efficiently in less space than ever before. You just have to look around and get your creative juices flowing to find what would fit your lifestyle best.
What are some of your favorite tiny home resources, ideas and designs? Share them with us in the comments.
Img Credit: Over Grow the System