I was going through different green holidays and came across America Recycles Day. For someone involved in the green revolution for most of her life, I couldn't imagine never hearing of this before. So I looked into it and figured I'd explain it to you. Maybe we can all work together and get more involved to make the world a little greener in the end.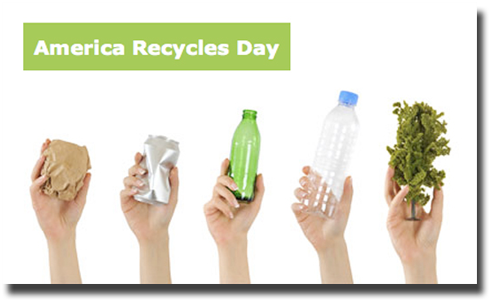 America Recycles Day is on Friday, November 15th this year. There are four ways you can get involved:
1. Join An Event
You can join an event in your community. When you click on the Join An Event link on the website, you will be presented with a map that you can zoom into your area and see what is going on nearby. If there isn't an event near you that you can me, the next thing you can do is…
2. Host An Event
If there isn't an event nearby, hosting an event is the next option. You can click on the Host An Event link on the website, enter in some information, watch the one hour training video and set up to register your event. This may not be the most feasible option this year, but would be a great idea for upcoming years.
3. Take The Pledge
If you can't get to an event, and with the short notice to put together an event, you can at least Take The Pledge. You can do this as an individual or as a business. It is a simple form to fill out and if you don't want your information to be public, you can submit as anonymous as well.
4. Find Recycling
Finally, if you can do one thing, Find a Recycling Center near you. And learn about all the different things you can recycle instead of throwing into the garbage. This will lower our impact on the earth just a little more as more people in America realize the need for recycling programs and all the wonderful things our trash can become.
Not in America? That's fine. There are things you can do anywhere in the world to lower your impact on the planet. No matter where you are located, there is something that can be done to recycle your trash into something else. So let's get the word out there and inform more people on the importance of recycling. That is the basis of America Recycles Day in the end. To learn more, go visit them online and see all the great information they have to offer.