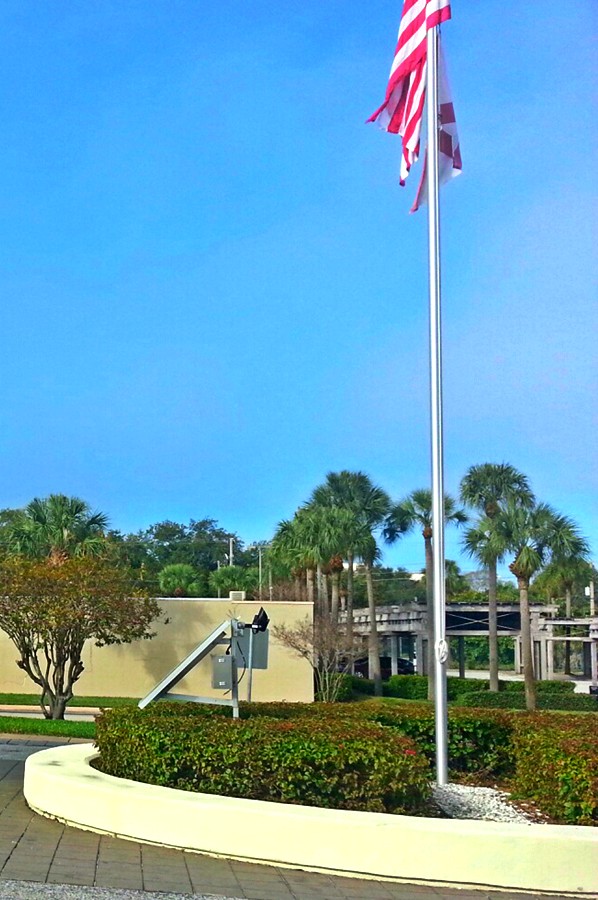 There are many different types of flag light systems. Proper flag lighting etiquette states that you should light the flag all night long if you do not want to take it down at night. There are many types of flag light systems you can find online and offline, from $30 systems that operate only with a single charge and only last part of the night, to large industrial custom built solar flag light systems that will last days even if there is little sun due to weather conditions.
The small solar lighting systems you can purchase off large online stores and in big box stores typically provide about 8-10 hours of light for your flag if the solar is able to fully charge the batteries during the day. If you have an overcast day, or do not set it up just right, the light will not operate all night, leaving your flag in the dark. Make sure to read the complete specifications and installation on what you are purchasing if you want to ensure that your flag will stay illuminated all night long.
The smaller solar lighting systems will also require a battery replacement every year or two; depending the depth of discharge allowed for the battery used. Make sure the replacement batteries are easy to purchase and replace will allow your system to be able to reused year after year. If the batteries are not able to be replaced, this will end up costing more as you will need to replace the entire system when the batteries no longer hold a charge.
Custom built solar flag lighting systems provide all night lighting and provide much better backup for times of inclement weather. These types of systems come with a minimum of five nights storage and enough solar power to charge the battery in almost any weather conditions. They take into account the length of your night, the available sun in your area, and the amount of light required for your specific size flag to ensure good coverage.
These systems can still be quite small, depending on the type of fixture used and the sizing required for your geographical location. Fixtures range from small 3 Watt LED fixtures to much larger 25 Watt LED or more for larger flags. The fixtures can either be ground mounted or mounted high on the flag pole, depending again on the needs of the project. They can also be installed on a roof that is near the flag.
No matter what type of system you chose, make sure it will operate reliably and how you want it to. Don't overlook the specifications and make sure you follow the installation instructions carefully to ensure your system operates as designed.