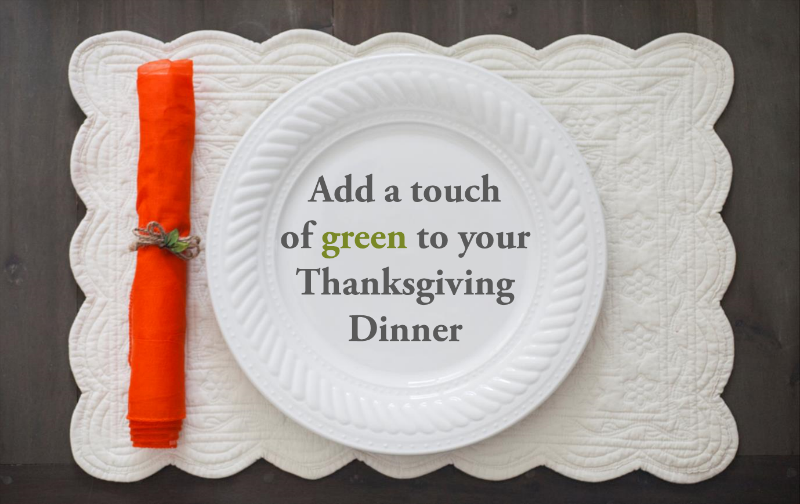 It's that time of year again. The smell of turkey cooking, green bean and sweet potato casserole and of course grandma's pumpkin pie, but while we are thinking of what we are thankful for don't forget about Mother Nature. After all, without her we would not be able to enjoy the food on our plate. It may be a little too late to completely rethink your entire plan for Thanksgiving, but there is still time to make a few adjustments to keep your Thanksgiving green and maybe even start some new family traditions to pass on to our future generation.
I have already bought my turkey, farm raised locally, and some of the other essentials for my traditional dinner, but I usually try to buy my vegetables and fruits as close as possible to my meal. There are few ways you can help the local economy and environment with very little effort. Let's start before we even walk out the door. Grab your reusable bags of any kind to carry your haul home. Any kind of bag you have around will do even those old grocery bags you saved from your last trip to the store. I am guilty of always forgetting my cloth reusable bags when I go to the store so I do regretfully have a stock pile of plastic grocery store bags, since most of us already have them repurpose them. Reusing any extra bag you have lying around is greener than buying a new one, not to mention even easier on the wallet.
Where I live there are green markets that happen every Sunday or food co-ops, so it is easy to go pick up those last minute items that will be fresh and perfect for my Thursday meal. Most of the time not only is the food fresher, but it does not come with unnecessary packaging or chemicals and is usually cheaper. It is easy to grab a few containers along with your bags and put any loose items in them instead of the plastic produce bag. I can buy my lettuce without the plastic package and make sure I have all fresh leaves this way. Many times the farmers will have things like tomatoes, green beans, and blueberries in baskets that are already weighed out. Since it is going to be a big dinner buying in bulk should not be a problem and any extra you may have can be put in the freezer to use at a later time.
An obvious way to go green is to use regular plates and silverware versus the plastic utensils or Styrofoam plates that most of the time are not recyclable and can actually be harmful to the environment. If you don't have enough of the same matching plates and silverware you could use the regular stuff for the kids table that way you don't have to worry about the fancy stuff and kids usually don't judge how pretty their plate looks. Use cloth napkins and repurpose those mason jars as flower vases or beeswax candle holders. Get creative and make some personal decorations. You can create your own potpourri by simply using cinnamon sticks and dried berries. My kids love making crafts and the family loves seeing what their works of art; my personal favorite is the traced hand turkey.
Over indulging is easy to do and something I am guilty of at every holiday meal, but food waste is one thing that can easily be avoided. Instead of stacking as much on your plate as possible start with small portions, it is easy to make a second trip and you are also less likely to consume as many calories. Try to make platters smaller so there is less leftover and not as much temptation to eat so much. I tend to drink water instead of soda as much as possible but it is easy to put more water in my glass then I consume. Any easy way to avoid water waste is to let guest refill their glass as needed and don't worry about refilling when the glass is half full, or if there ends up being extra use it to water your plants.
Since we are putting smaller portions on our plate it is very likely we will end up with leftovers so try asking your guest to bring to-go containers and that way it doesn't all end up in your fridge and thrown away because you can't eat it all before it spoils. Being prepared with to-go containers will make you less likely to use saran wrap, Ziplocs, or a paper plate to send food home. If your family is anything like mine we always have a ton of desserts that we could not eat if we tried. A solution to this may be to plan accordingly so there are not as many made or give it to a neighbor, take it to work or even throw a dessert party for your kids' friends.
Last comes the dreaded clean up. There are easy steps to take to reduce waste when cleaning up. First uses rags instead of paper towels and sponges and then hang them to dry after use. Turn the water off between wiping down counters and adding dish soap. In my home I try to use environmentally friendly cleaning products which are pretty easy to find and use much less harmful chemicals. Your guest can even get in on the action by properly disposing their waste into different containers that are marked recyclable or trash. Compost the food scraps like vegetable peels and eggshells which can be turned into garden soils. If composting is not an option check out different ways to use the remains for new meals like using vegetable scraps and the turkey carcass to make stock or soups by boiling them down. Leftover break crust or rolls can be used to make croutons for salads later in the week.
We would like everyone to have a wonderful Thanksgiving and try to keep in mind what we are thankful for and what is the most important, our family, friends and the earth we live on. Let's all do our part to make sure that they are all preserved for years to come by doing all we can to keep it green.
Happy Thanksgiving from your SEPCO Family.