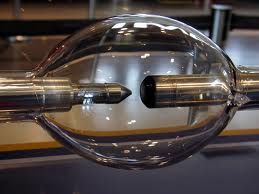 What are some of the main uses for discharge lamps? This type of lamp involves an internal electrical discharge being created between two electrodes in a gas filled chamber; the level of intensity generated by a discharge lamp can vary, and can range from low level wattage bulbs through to extreme intensities that can be used for filling large areas with light. There are consequently many different uses for discharge lamps. It's worth looking at these uses and the kinds of discharge lamps available, in more detail.
Discharge lamps can be highly effective at maintaining luminosity for an extended period of time. Their applications extend across a range of domestic and commercial areas, and are affected by the type of gas being used. For example, mercury discharge lamps can provide particularly high levels of brightness for outdoor use, as can sodium lights, which can produce the orange glow seen on street lamps. Fluorescent lights can also be used to create low pressure and constant levels of luminosity.
Some of the other common uses for discharge lamps include neon signs, whereby electrodes are used with tubing to create different letters and graphics; the process of creating a neon light is fairly complex, and involves glassblowing and setting up different colors. Neon or mercury vapor with some argon elements are the common components for these tubes, which require high voltage sources to be able to run efficiently.
In the case of high intensity discharge lamps, outdoor arenas can be lighted using lamps with extremely high voltages; lumen bulbs can also be used for smaller outdoor areas and warehouses, as well as on roadways to create long lasting, high intensity illumination. Indoor gardening can also be aided by the use of low intensity discharge lamps, as can underwater diving and bicycle headlamps, with each use employing different levels of intensity.
When setting up discharge lamps, it's necessary to fit a control gear, which acts as a transformer for the amount of charge passing through a bulb or tube. There are several different types of control gears available, which can include inductive control gears and electronic control gears, with the latter capable of limiting the amount of current passing through a lamp. Control gears can similarly be used to ignite lamps, and represent an important way of maintaining health and safety levels for different devices.
Whatever the usage of a discharge lamp, it's crucial to be able to understand the different amounts of current and voltage that's being used; high intensity discharge lamps are particularly susceptible to overheating, and should be carefully monitored using iron ballasts and control gears. Lamps that contain sodium and mercury can also present a toxic risk, and should be carefully disposed of if they break. To this end, it's important to make sure that you read up on the different types of discharge lamps available from suppliers before committing to a particular power level.
Author Bio:Tom Darnell blogs about effective lighting solutions for your home and his experiences as an electrician. He recommends using BLTDirect to pick up the latest discharge lamps.