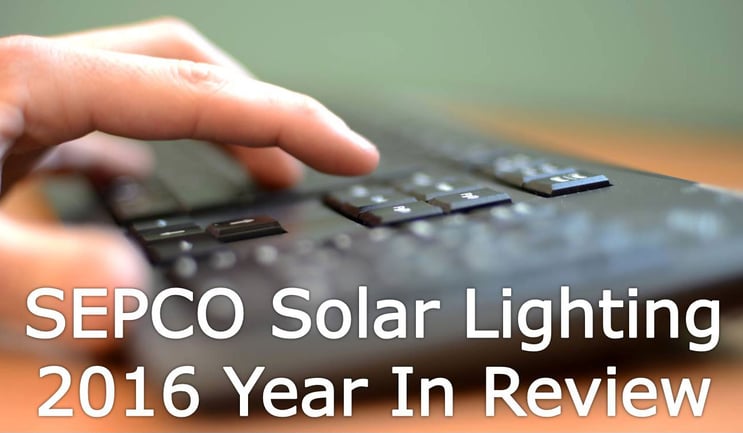 Last year was great and we had revised a lot of old articles to update with new information for everyone. We wanted to quickly review the top 5 blog articles posted and also wanted to thank our readers for continuing to come back for more great information on solar lighting, solar power, green ideas and renewable energy news and information.
This article covered many different aspects that go into creating a solar street lighting system. Every system is different with custom components to meet the requirements of a specific project. Different manufacturers use different styles and technologies to create their systems; however, they all use the same basic concepts. Understanding the differences will allow for you, the purchaser, to be educated about these differences to find a quality, long lasting system.
This article covered how to build a better specification. Since all systems are designed with specific requirements, having generalized requirements with little information can allow for lower quality solar lights to be bid that do not meet the needs of a project. Understanding to spell out all the salient requirements will ensure that the systems bid will meet the needs of a project. This article will show you each individual requirement and how it should be represented in a bid document.
Sizing off grid solar power systems can seem like a daunting task. There are many different aspects that need to be taken into account to provide a reliable system whether you are powering a single camera to a small shed, even a home. This article takes you through how to size a system that will meet your requirements even in the worst case (winter) and provide a reliable system for year round operation.
This was an old article that was revived last year and goes through all the great reasons that people use solar lighting and solar power systems. From energy saving and green options, to financial incentives for lower costs on installation and usage over time, solar power and lighting systems definitely have some great reasons to make a switch for almost any project.
Our top article, and one of our favorites, is the wattage vs lumens article. The old way of determining lighting requirements was to look at the wattage of the lamp; however, with the inception of LEDs, lumens are the go to requirement. Some LEDs provide over 100 Lumens per Watt and have much better lighting than old standards; however, with variances between LED manufactures, knowing the required Lumens and will ensure that you are getting the most bang for your buck when designing lighting projects today.
That wraps up the top 5 for 2016. If you have a suggestion for a post, or want to know more information about a topic, please leave a comment below or email us directly at marketing@sepconet.com. If you'd like to contribute directly, we allow guest articles following some simple guidelines. Find out more at our Guest Post portal.
We look forward to another wonderful year here at SEPCO with all of you. Thanks!