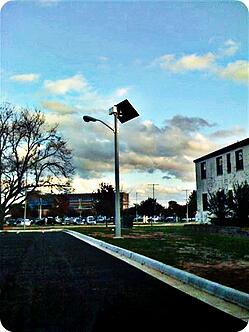 In the previous post on why to implement security lighting we discussed the need for security lighting. This time we will focus on where security lighting needs to be installed. Each type of application has different lighting requirements to keep people and property safe, and the types of fixture vary for each application.
Residential Security Lighting
Residential areas and homes should implement security lighting to deter intrusions and help keep families safe from harm. Landscape lighting is a great way to illuminate various areas outside a home and show boundaries more easily. Flood lights that are activated by motion detectors are another way to have the element of surprise while illuminating the area with a bright light for good visibility. Streetlights along residential streets help make sure people that are out after dark walking are safe.

Unoccupied Area Security Lighting
Storage yards and industrial areas typically employ perimeter lighting to provide added security around the boundaries to prevent trespasses. Container and rail yards have additional lighting between the containers to prevent tampering with the shipments.
Office and Commercial Building Security Lighting
Entrances are one of the most important locations for implementing security lighting for business owners. They are key points that, in the case of robberies, having them well lit will be instrumental in a successful identification. Also having well lit entrances and surrounding landscapes makes the business much more respectable looking to perspective clients. Parking lots for employees and customers also need to be well lit for the safety of people traveling to and from the building at night.
These are just some of the ways that different people implement security lighting dependent on their particular needs. The location of where you chose to place security lighting is very important and should be thought over carefully so when you chose to place the lighting it works exactly as it needs to so your needs are fully fulfilled. I hope the information in this post helps you on your way to successful security lighting.