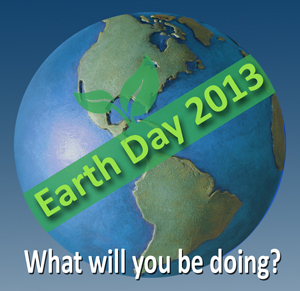 Earth Day is coming up on Monday, April 22nd and there is still time to plan some great activities to celebrate both at work and at home. Here are some of my favorites:
1. Repurpose something old into something new. Instead of throwing out or even recycling, make something of that "stuff" you have lying around. There are so many great ideas and one of the best resources I found is Pinterest. Just be careful not to get lost in all the great pins. Don't have the time, Freecycle the items you no longer want to others.
2. Volunteer your time to do something for your community. There are many events and volunteer opportunities in your community that you can get involved in. Can't find an event nearby, start your own event in with your neighbors or coworkers and do something good.
3. The annual Lyrids meteor shower is nearly here, beginning roughly around April 16th and visible until around April 26th. The peak will be occurring on April 22, 2013 (night of the 22nd/morning of the 23rd). This may not work for everyone, like people who live in a city, but for all of us in rural areas, this is a great idea to experience something new.
4. Do some guerilla gardening with seed bombs. This will brighten up some abandoned spot in town and make you and others smile when you pass by. Best of all it provides some growth to a previously dead spot giving nature a chance to "spring" back to life.
5. Do some green cleaning around your home or office. Instead of using harmful chemicals, create a natural cleaning solution and wipe down all surfaces. Everything will be fresh and clean while being environmentally friendly.
6. Plant something. Okay, this is a repeat from our Earth Day post last year, but it applies every year. This time maybe take the plant indoors to help clean the air. There are tons of air cleaning plants that are great for homes and offices.
7. Do those upgrades you have been dreaming of. Most stores have Energy Star appliance sales on Earth Day, such as Lowe's 10% off sale. This is a great time to lower your energy usage while increasing your home's efficiency and style.
8. Visit a national park for free. National Park Week coincides with Earth Day and all week (April 20-28) you can visit any of the national parks with free admission. What a great time to get outside and enjoy some fresh air with nature's beauty all around.
9. Get rid of paper mail. Sign up with DMAChoice.org, use your tablet to get e-catalogs and magazines and use your smart phones for news updates instead of the paper.
10. Commit to make small changes throughout the year. Small changes can be as simple as using green bags when shopping, not buying bottled water, recycling more, composting, etc. There are a ton of things you can get your friends and family to do. Remember, one drop in the bucket eventually will create a flood.
Happy Earth Day!