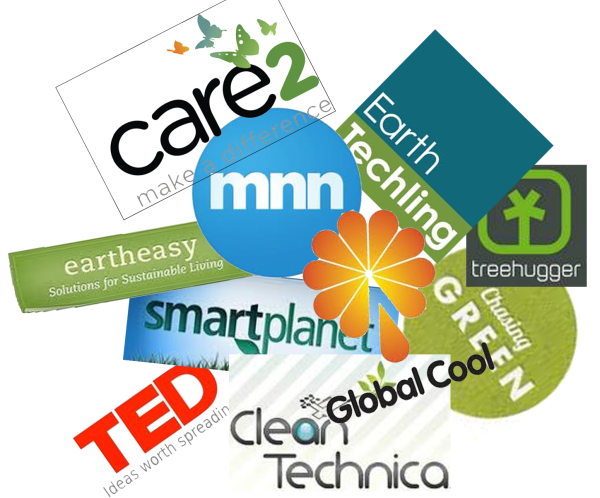 I love all things green and wanted to point out some of my favorite websites for more information. Go check these out and let me know which ones are your favorites or what websites I am missing. I'd love to expand my bookmarks with more information.
Care2 – if it is creating a more green lifestyle, eating healthier, or taking action into causes you like; Care2 provides information on just about everything.
MNN Mother Nature Network – "Improve your world" is MNN's motto and the site does just that. MNN has up to date news and information on environmental and social responsibility issues that encompass your family, health, lifestyle, business, community and planet.
Eartheasy – not just a blog to read, but products to actual put to use to make your life greener. The blog is full of great advice while their store covers just about everything inside and outside the home.
Chasing Green – a site that shows small things that can be done in everyday living to improve the environment, look no further. Chasing Green provides projects, discussions, and encouragement for finding simple tasks to make a change.
Smart Planet – focusing on business, technology, innovation and energy, Smart Planet gives a view to major aspects on how to improve all aspects of the environment.
Earth Techling – a consumer publication that focuses on all types of green technologies from clean energy, electric vehicles, green gadgets, and green buildings.
Clean Technica (cleantechnica.com) – news and individual's views on solar, wind, water, and geothermal energy, energy efficiency, and green jobs. They also have more specific sites to choose from for other green topics.
TED – Ideas Worth Spreading is the only mantra of TED. A conference that brings people from technology, entertainment, and design together to talk about all topics. A Greener Future is specific to helping the environment and making the world a greener and self sustaining place.
Global Cool – inspiring people to think and live differently through work with celebrities and entertainment to show people how to live a greener life and enjoy it.
Treehugger – from becoming informed, interacting, to taking action, Treehugger.com covers news, solutions, and product information. There is tons of information available for any type of audience.
Well that wraps up my top ten. Leave me a comment below with information on your favorites so I can go check them out and report back.