Jimmy Carter introduced the solar tax credit and renewable energy policies, along with being the first president to install solar panels on the roof of the White House, so it would make sense that the place markers of the home of Jimmy Carter would be lit by solar energy. The home of Jimmy Carter is in Plains, GA and is where he resides today. This is a huge attraction for the area and many people stop to take pictures of the area and plaquings located along the way.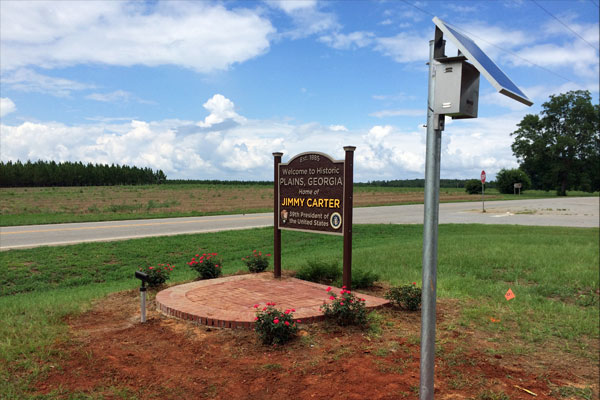 We were contacted by SolAmerica Energy, a leading solar developer based in Georgia, to provide the solar lighting systems for SolAmerica to install in Plains. The Plains Better Home Town civic group and Chamber of Commerce were installing new plaques to mark Jimmy Carter's home town and wanted to put up new colorful signs; however, they were requiring lighting at night. Since there was no available power nearby, and the former President had always pushed for solar energy, using a solar lighting system was the preferred choice.
The design called for an Architectural Flood fixture to provide the necessary lighting all night for these plaque signs. This provides ability for travelers to take pictures and night and showcase the area at all times. The system is powered by a 50 Watt solar power system that provides plenty of power to light the signs all night and provides five days storage for inclement weather, ensuring the system runs reliably for years to come.
We at SEPCO hope Jimmy Carter enjoys his new solar lighting systems.