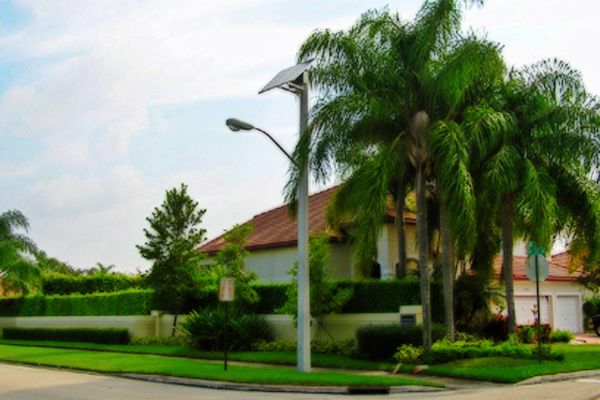 Communities all across America are trying to improve their green image and reduce costs, but some are having a hard time figuring out where to start. Here are some ideas that can help improve your community and lower overall costs in the end.
New buildings, either commercial or residential, should be done to the highest green standards. Using highly efficient HVAC systems, energy efficient building materials such as Low-E or thermal windows, plenty of insulation and energy star qualified appliances will lower the energy pull for every building. This lowers not only your impact, but month to month electrical costs as well.

Remodel to Higher Standards

The same as above can be used for remodel projects. Sometime the integrity of the original construction is what the community wants to preserve, but this doesn't mean energy efficient improvements can't be made. Increasing insulation and efficiencies, such as sealing windows and doors, upgrading appliances and light fixtures and increasing the HVAC system efficiencies will all will help.

Use Solar Lighting

Solar lighting can be installed anywhere since no electrical grid is needed. Solar lights for community entrance signs, parking lots at community buildings and parks, streets and sidewalks around the community, etc. will lower the costs to the electrical company and provide more sustainable lighting systems. Best of all, the community will own all the lighting and will have no additional electrical costs from leasing the light poles and the electricity used to illuminate. Also, lighting designers are not always used to provide even illumination with the electrical company pole; therefore, can provide uneven illumination in many areas.

Provide More Bike Lanes and Sidewalks

People are becoming more eco-conscious and are doing things on their own. One of the largest issues is traffic for bikers. If communities would install more bike lanes or sidewalks and crosswalks where people can safely travel, more people will chose to use their own two legs to power themselves where they need to go.

Promote Local Farming

if there is farm land nearby, promote using these farms for local restaurants and grocery stores instead of importing produce and meat from far away. The quality is usually better and lower transportation costs. Comunity gardens are another great way for people to work together to keep it local. If you have someone in your neighborhood that has more property, working with them to create a community garden is a great way to reduce our impace while doing something good.

Install Recycle Bins

Instead of just having trash cans everywhere, put recycling bins out as well. By making recycling easy, more people would be inclined to actually do it, even the not so eco-conscious.
Just doing some simple things will provide a much greener community. What steps has your community taken to improve its green image and lower costs? What else do you think should be included on the list?
Editor's Note: This post was originally published in May 2013 and has been completely revamped and updated for accuracy and comprehensiveness.