So you are building a new place of business or are taking over an existing building that has no lighting available. Well there is something you can do that will keep costs low, provide a sustainable option, and the installation will preserve the already installed structures. What more could you ask for.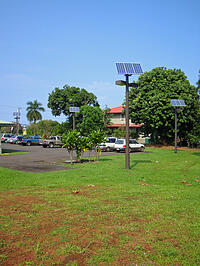 Solar powered parking lot lights can be installed even on an already existing parking lot since all the wiring and electric needed is located at the top of the pole. There is no need to rip up the existing parking area to bring in outside electric, just set the pole, put the solar power assembly at the top with the solar light fixture below, and wait for dark. The light will automatically come on at dusk and run.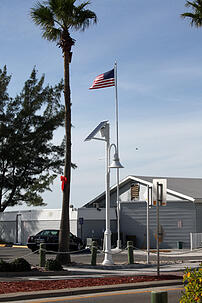 Don't want standard parking lot fixtures? That's fine. With solar powered LED light fixtures there are many options available today. Decorative style solar light fixtures can be used to provide architectural fixtures that work well with the surrounding area. These fixtures can also provide directional lighting for less light pollution.
What about building perimeters you ask? Solar lights can do that as well. There are wall mounted fixtures that can have the solar mounted on the wall or roof of the building. One solar power system can even provide power to multiple fixtures or even the lighted sign on the building.

Finally, if you don't want to pay a power company to power your lights, solar is a great option. Since solar power is renewable and doesn't cost anything, there are no additional costs to power companies. Check out a great study on the cost difference between solar lights and electric lights.