Cast some light on your project needs
Please provide as many details about your project as possible to get the most accurate information on how we can best help you.
SEPCO needs the contact information you provide to us to contact you about our products and services. You may unsubscribe from these communications at any time. For information on how to unsubscribe, as well as our privacy practices and commitment to protecting your privacy, check out our Privacy Policy.
Frequently asked questions
What information do I need for a complete solar lighting design?
Type of application - Pathways, Roadways, Area, Security, Perimeter, Sign, etc.
Specific light level requirements
City or address of the project installation location
Operation Requirements
Do you have something to match a ___ Watt light fixture?
Wattage is a function of power consumption, not brightness. We look at the lighting requirements and meet those requirements with the needed light output. There is no one-for-one replacement with directional LED fixtures and old-style lamp options such as metal halide, HPS, and LPS fixtures. Learn more about a new way to think about lumens and watts.
Does solar power lighting have limitations within the design?
Solar does have limitations to the design. Solar is usually offered to provide cost savings as well as for environmental reasons. High wattage fixtures require a much larger solar panel that may not be able to be a self-contained unit. Solar is not usually able to operate a light fixture cost-effectively in order to meet light level requirements for banks, car lots, or large six-lane highways. Applications, where solar is feasible, are standard parking, minimum security parking, perimeter areas, and two to four-lane roadways (.20 min to .50 min foot candle).
How long will the lights stay on each night?
The lights can be programmed to operate however the customer specifies. If the operation is dusk to dawn, then the system will turn on at dusk and turn off at dawn, which may be up to 15 hours in the winter. Our systems are sized according to the operation profile along with the load to ensure plenty of solar power is generated during the day to operate the light or powered equipment for the specified amount of time.
Can I replace an existing light fixture with a solar light fixture?
Replacing an existing fixture with a solar fixture requires an in-depth analysis from one of our solar lighting specialists. Typically if there is power at the site, it is more cost feasible to install traditional grid lights; however, there are still cases where solar is the more cost feasible choice. Contact your solar lighting specialist to find out more information.
Can I mount the solar package and fixture to an existing light pole?
The existing poles are usually designed for a specific weight and EPA loading. The pole requirements for solar usually require a more substantial pole. Solar is designed with approximately a minimum EPA of 4 to 25 square feet and weighs from 150 to 500 lbs. There are very rare cases where using an existing pole is an option; however, that only typically includes wood utility poles.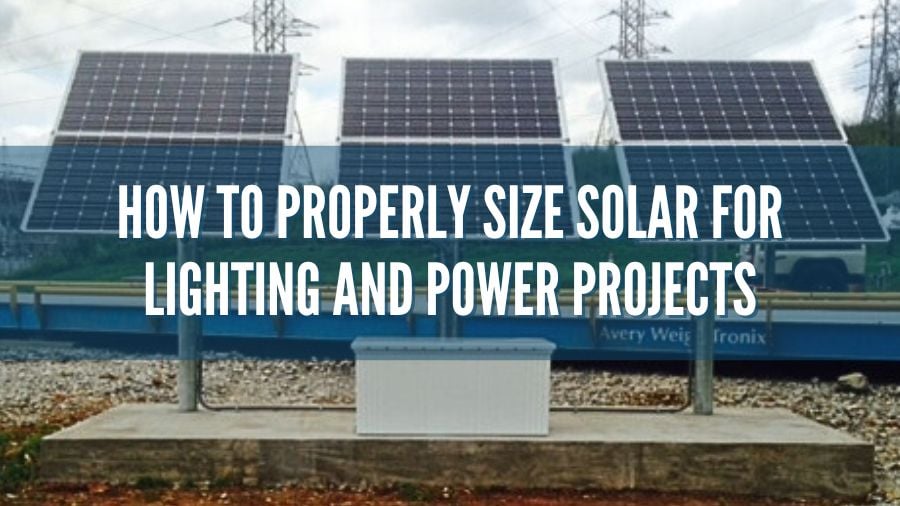 How to Properly Size Solar for Lighting and Power Projects
When embarking on a solar project, it is crucial to determine the specific solar system needed to power the light or component you are working with...