Solar Lighting Applications
Check out different applications for our solar light and power systems to see what type suits your needs best. This ranges from large roadway lights to smaller sign lights and remote power systems.
Solar Lighting Systems
Check out the overview of our complete systems with specifications for each type of system. The specifications can be easily filled out and sent in via email or fax to get your quote quickly.
30+ Years Experience
The founder of SEPCO has over 30 Years of experience in the solar industry, starting out in PV and hot water, later on going to develop and patent the first solar street light system.
Long Life Span
SEPCO commercial solar LED lighting systems are designed to be field operational for 25+ years, providing a great return on your investment, and outlasting the competition.
Pioneers in the Industry
Steven Robbins patented the first solar street light system, allowing for areas to have illumination where grid power didn't exit or was cost-prohibitive to bring to a site.
Longest Warranty
SEPCO offers the longest industry-standard warranty on our systems. We stand behind our systems as we design them to be operational in the field for years to come.
High Performance LED Fixtures
SEPCO has partnered with Hubbell Lighting as their light fixture partner. Every SEPCO system features a Hubbell fixture to provide a long-lasting system with virtually no maintenance.
Custom Designed Systems
SEPCO doesn't have a one-size-fits-all solution like many of the others. Instead, we custom design our systems to fit the need of the customer and to meet a specification.
Outstanding Customer Service
From our Solar Lighting Specialists to our Technicians, we offer support from the initial quoting phase to years later after install, we are still here to provide support.
Hurricane Wind Load Rated
Every commercial solar LED lighting system is designed to meet harsh environment installations with poles rated to meet local AASHTO wind loads, including hurricane-prone areas.
Solar Lighting Design to Install Process
Initial Design Phase
The initial design phase takes information such as project location, light level requirements, operation requirements, and puts all this together to design a system to meet the needs of the project. Engineered documents such as IES reports and light layouts are provided free of charge.
Project Setup Phase
Once the customer decides to move forward, SEPCO builds the system here in Stuart, FL, to meet the specifications laid out by the sales team. We have standard items that can be built for quick ship and highly decorative and custom designs for municipal projects with longer lead times.
Configure Solar Power
Once light levels are determined and the fixture is chosen, the solar is then sized up using local solar insolation reports for worst-case scenario (December) and the longest operation profile. The solar is sized accordingly with a minimum of five nights backup, more in northern areas.
Install System
Once the system arrives on site, complete manuals are included in the shipment for installation instructions. We are available with trained technicians to offer installation assistance if needed. Install the system in a nice sunny location with no shading and facing the equator, and you will have a long-lasting system.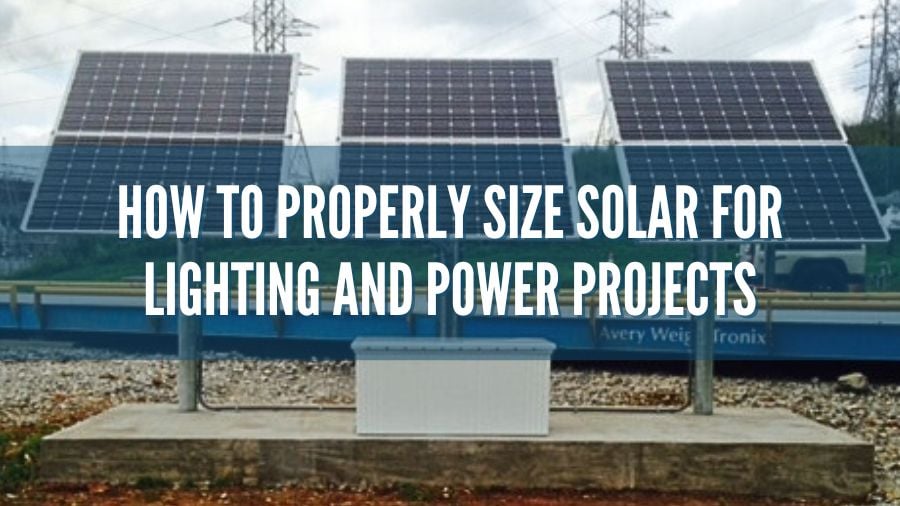 How to Properly Size Solar for Lighting and Power Projects
When embarking on a solar project, it is crucial to determine the specific solar system needed to power the light or component you are working with...
Not sure where to start?
Check out our solar lighting design guide and see what it takes to design a commercial solar lighting system
Check Out Our Design Guide