Commercial Solar-Powered LED Sign Lights
Provide lighting without the need for standard utility power with SEPCO's commercial solar-powered LED sign lights. Our commercial solar sign lights save companies money because they eliminate the need to trench standard electric wires for installation and the life of the system doesn't produce an electric bill. We've installed custom solar sign lights for many businesses, kiosks, cities, colleges, schools, and HOA signs that provide the utmost security, sustainability, and an overall green image.
Commercial
Solar-Powered

LED Sign Lights
Features & Benefits
Grid-free solar lighting for small signs to large monument signs

Solar power for internal sign systems

Lower costs for installation and zero electricity bills

Multiple control options for various needs

5 years maintenance-free and warranty up to 25 years

Rated to meet local AASHTO ratings

Made in the USA in Stuart, FL
Every SEPCO commercial solar-powered sign light system comes complete with a self-contained solar power assembly, which we specialize to run the specified solar light fixture as per the requirements est by our customer. Our team designs each solar LED sign lights assembly system based on the power consumed by the fixture and available sun provided by the geographical location of installation. To ensure maximum battery life and account for local weather conditions, our battery backups provide a minimum of five days of autonomy for solar-powered LED sign lights.
Solar power assemblies range from 30 Watts to 550 Watts, and battery assemblies are available from 36 Amp-hours to 672-Amp hours. A complete solar-powered sign light system comes with the controller to operate the light fixtures per the specified operation profile set up with the solar specialist during project analysis. The solar and battery are selected to operate the load for the set period of time with plenty of backup power for times of inclement weather.
The Ratio flood fixture is the best fixture for floodlighting sign faces. Each commercial solar-powered LED sign light fixture provides the needed lighting levels and distribution pattern to provide the perfect lighting solution to meet the application's requirements. One RFL can easily cover a 10' x 10' area with around a 5' setback.
FB Fixture Bracket is a 48" direct burial mounting bracket with a top cap that allows for the floods to be mounted on the ground at the desired height and provides protection from landscapers. Poles are all designed with the complete system aesthetic in mind and ensure structural integrity to handle the local wind load requirements of the installation area. The solar is mounted separately from the solar sign light fixtures in almost every sign system installation.
Solar Sign Lighting
Projects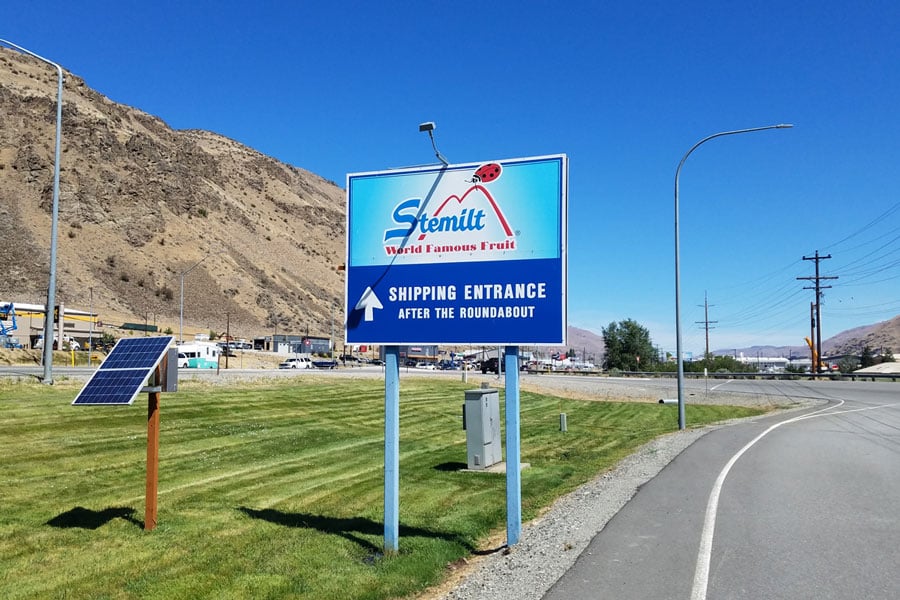 Stemilt
Solar Sign Lighting System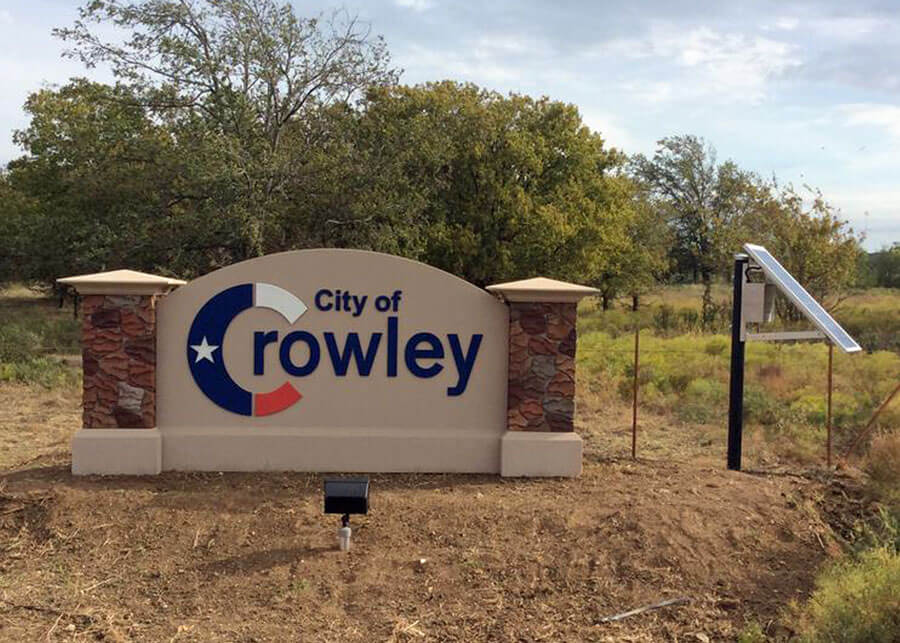 City of Crowley
Solar LED Flood Light for Sign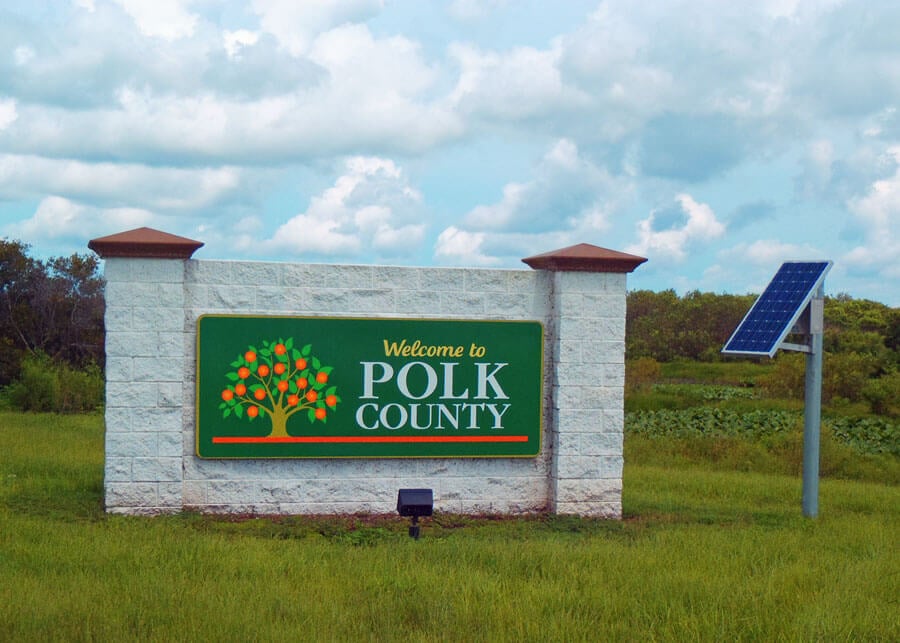 Polk County
Rural Solar LED Sign Lighting System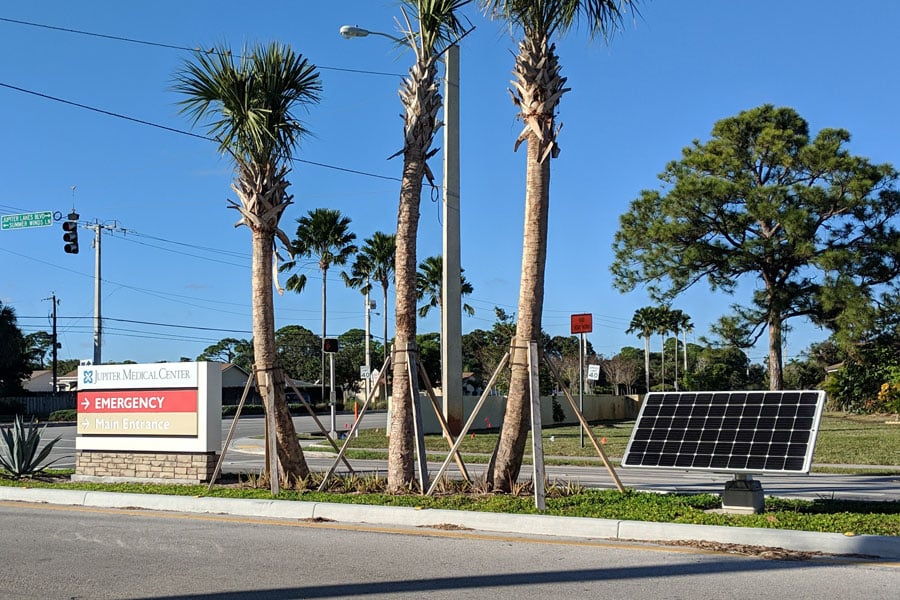 Jupiter Medical
Internal Sign Solar Power System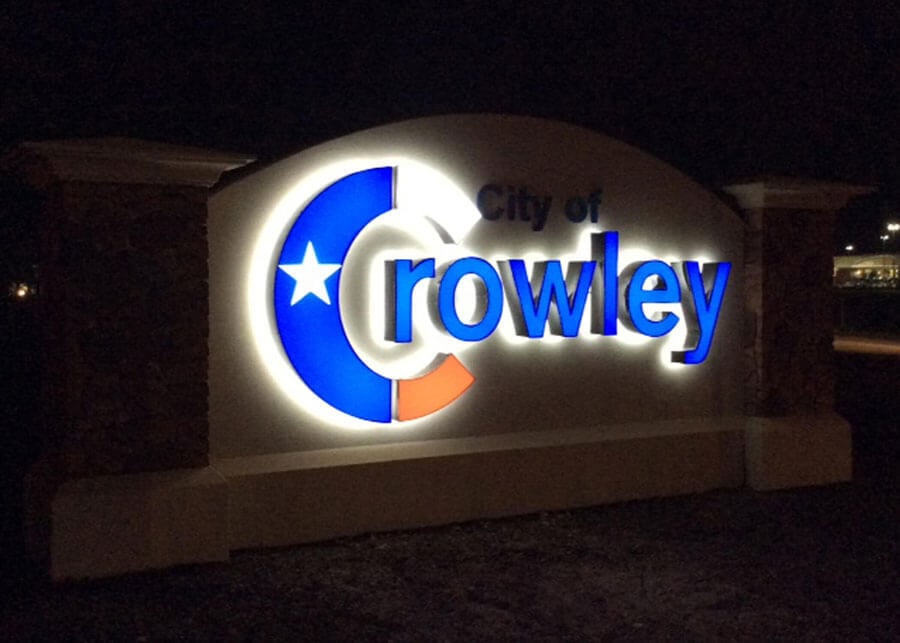 City of Crowley
Internal Sign Solar Powered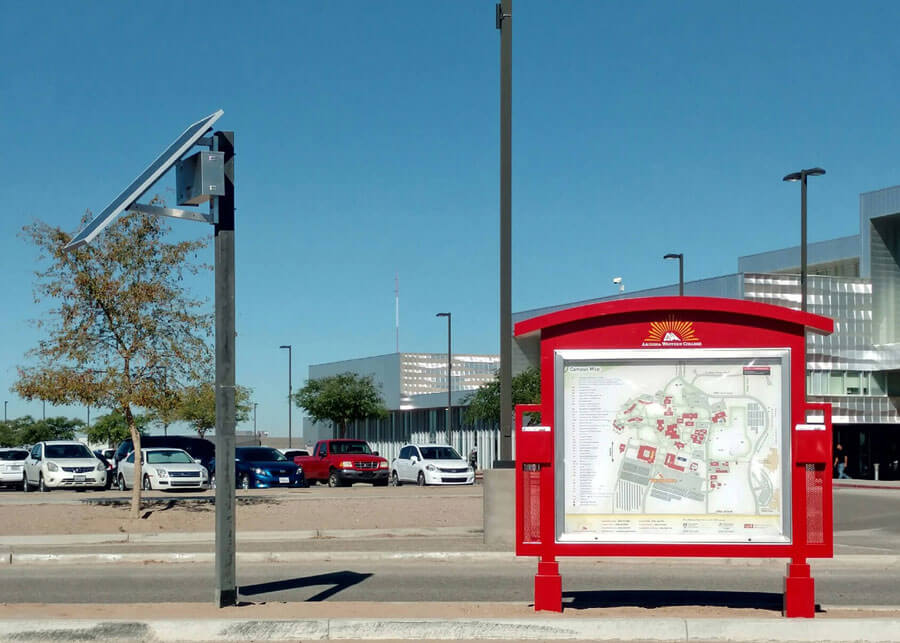 Arizona Western College
Solar Kiosk Sign Light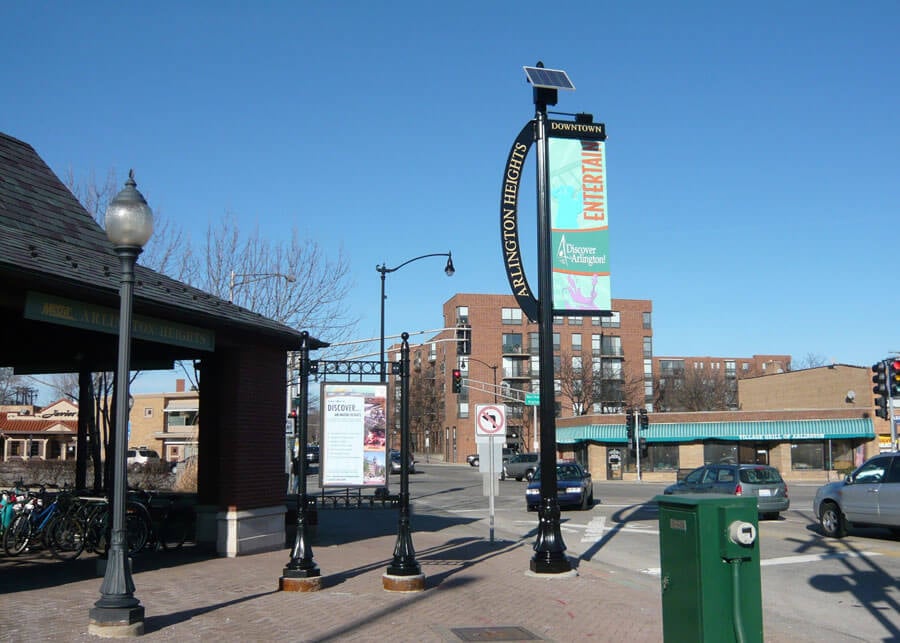 Arlington Heights
Solar Banner Sign Lighting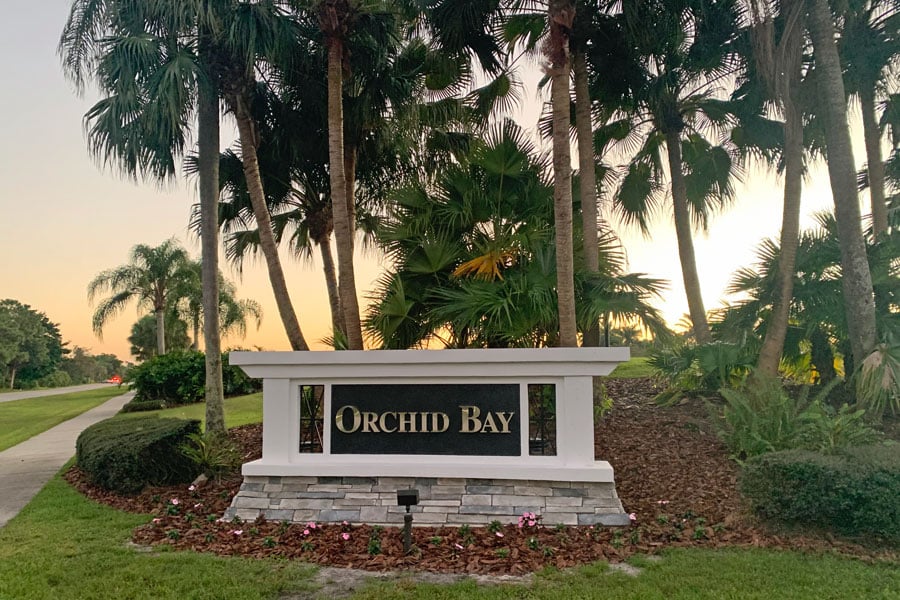 Orchid Bay
Monument Solar LED Sign Light System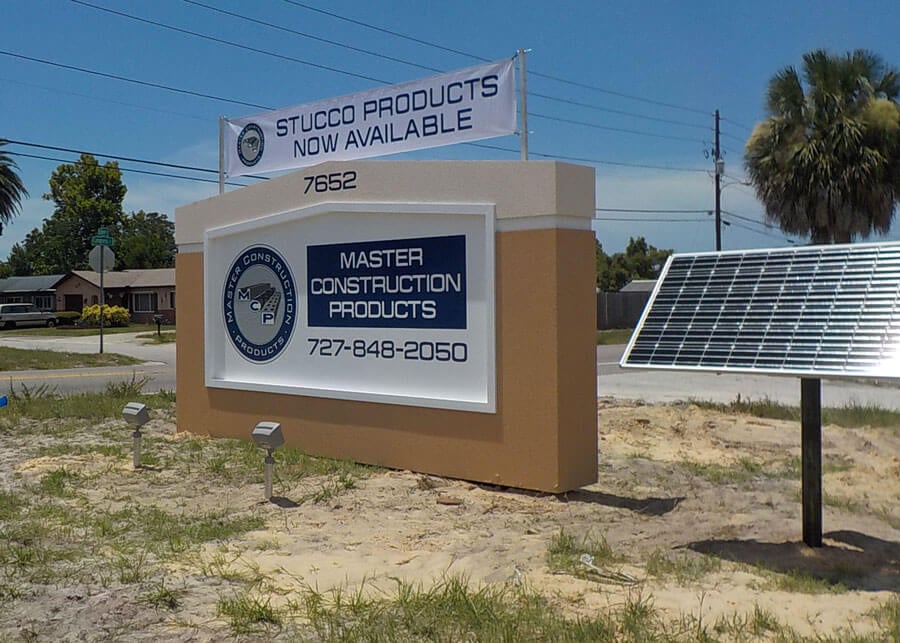 Master Construction
Solar Flood Sign Lights
Solar Sign Lighting
Systems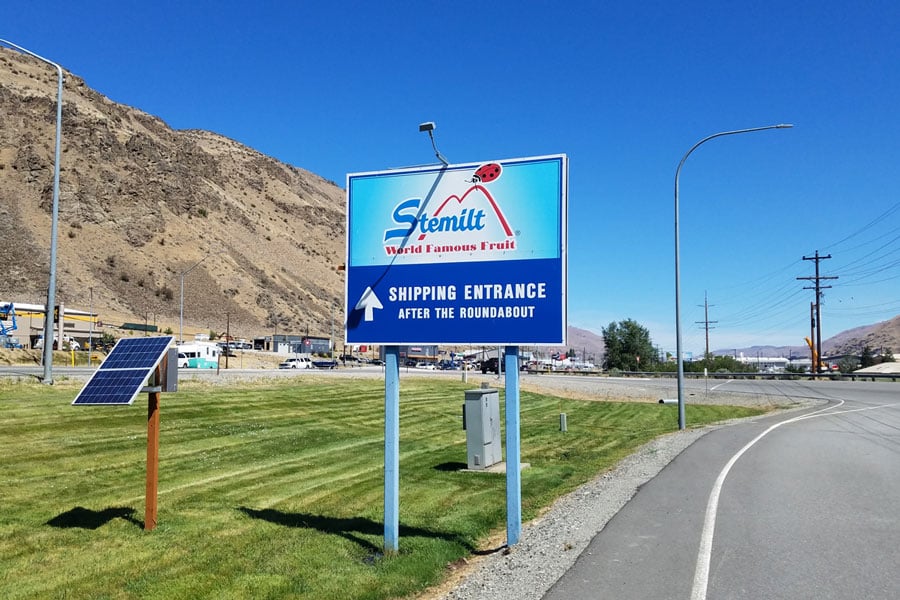 The SolarRFL system is used for flood illuminating signs, monuments, and billboards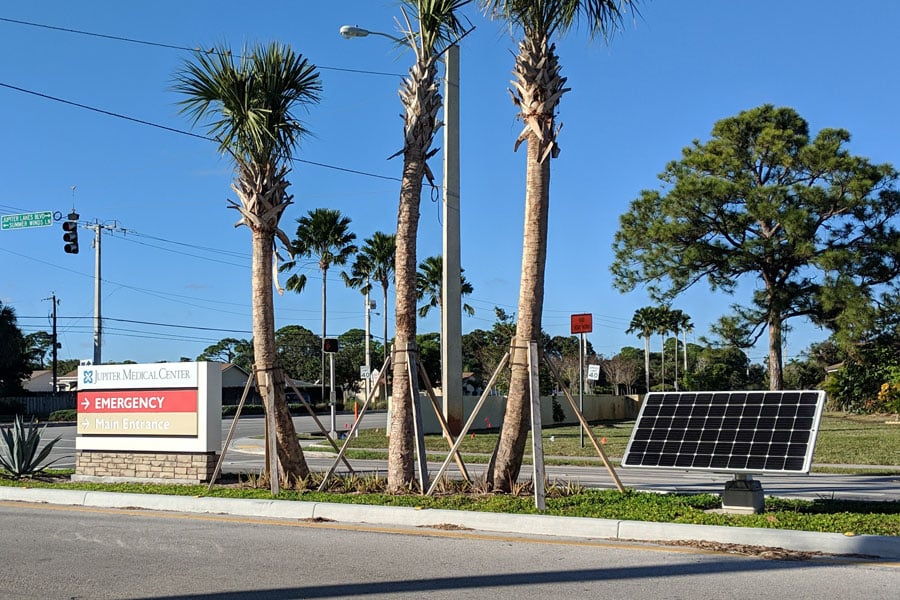 The SolarPower system is used for powering LED modules for halo or internal sign cabinets.
Solar Sign Lighting
Quote
Want a quote for your next parking lot lighting project? Fill out the below and we will have one of our solar lighting specialists get in touch with you.
SEPCO needs the contact information you provide to us to contact you about our products and services. You may unsubscribe from these communications at any time. For information on how to unsubscribe, as well as our privacy practices and commitment to protecting your privacy, check out our Privacy Policy.
Solar powered LED sign lights are ideal for the illumination of signs in locations that do not offer easy access to electrical power. These solar sign lights provide a much less expensive alternative to trenching wire cables. They also do not generate monthly electricity and meter costs. Solar lights for signs may be used for commercial or residential applications for both external and internal illumination. Our team at SEPCO has designed custom solar sign light systems for numerous businesses, cities, schools, colleges, kiosks, and HOA subdivisions, delivering the illumination and security our customers need with a clean energy solution.
Commercial LED Solar Sign Lights
When signs such as billboards are needed in areas that have little to no access to the electrical grid, or when making this connection involves a considerable investment of time and money, including trenching, cabling, and permitting, a more economical solution is available. Solar sign lights eliminate the installation and electrical costs associated with connecting to a standard electrical utility power source. Our solar sign lighting is self-sustained. It charges and stores power during the day, which allows it to provide the needed illumination throughout the night.
When the application involves floodlighting a sign face, the ideal fixture to use is the ratio flood fixture (RFL). A single RFL is sufficient to cover 10 foot square area with an approximate 5 foot setback. Each of the solar sign lights we offer provide the optimum lighting for the intended application.
The FB Fixture Bracket is a 48" direct burial mounting bracket that includes a top cap enabling the mounting of the floods on the ground at the required height. This method of design also keeps it protected from landscapers and takes into consideration the structural load wind requirements of the local area along with the total system aesthetic. In almost every sign design, the energy system is mounted independently from the solar sign light fixtures.
Contact Us for Solar Sign Light Options
To learn about the solar sign lighting we offer at SEPCO, call us today at 772.220.6615 or request a quote using our online form.
Not sure where to start?
Check out our solar lighting design guide and see what it takes to design a commercial solar lighting system
Download Our Free Design Guide