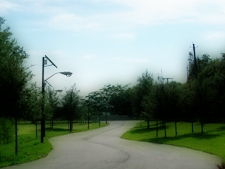 Solar street lights are becoming more popular as a green alternative is becoming the go to option for sustainability. Solar street lights provide a better value for cost, optimum lighting, a renewable source of energy, lower maintenance, and easier installation. With all these factors added up, solar street lights can be the best replacement for most applications.
The lights are grid free and can run under reliably under most any condition, even in the snow covered winters or after a hurricane. The lights can run from dusk to dawn or any other needed operating configuration. They can even reduce light pollution by using cutoff fixtures and aimed optics through new LED technology.
What powers a solar street light?
Solar street lights are comprised of a solar panel assembly mounted to the top of the pole. The solar power system is wired to a battery assembly either located directly under the solar panel assembly or in the pole's base. The solar panels charge the batteries during the day to provide the needed energy for operation of the solar light at night.
What about the fixture?
The solar street light fixture is located on a bracket below the solar power assembly. The fixture can operate many different types of lamps depending on the needs of the area. Compact fluorescent lamps (CFL) and light emitting diodes (LED) are the most common types of lamp configurations used with solar powered street lights. High pressure sodium (HPS) and induction are also available.
There is no standard street light fixture, although a Cobrahead style fixture is the most typically used. With new LED technology available, street light fixtures are changing to be more architecturally pleasing while keeping with the high intensity light used with the Cobrahead style. These architectural fixtures fit in perfectly with urban and downtown areas.
How does the solar light work?
As stated before, the solar panel charges the battery during daylight hours. When the sun sets, the solar panel acts as a photocell and turns the light fixture on. The control electronics keeps the light on from dusk to dawn, from dusk for a set number of hours, or many other operating profiles available with commercial solar street light systems. Simple.
So there you have it. A solar street light provides an all in one solution to a lighting application. There is no need to trench since all the power needed is located at the top of the pole, and even if there is a brown or blackout, these solar powered lights will still be going.