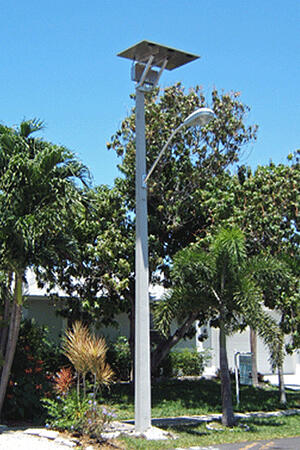 The industry of solar street lighting manufacturing has advanced immensely from 2008 to today. Many solar companies have emerged as solar lighting experts, but how can you know if the solar street lighting manufacturer is a company that you can rely on? The following five questions will help clients to ask the correct questions to choose the solar street light manufacturing company they can actually count on:
What light fixture are you recommending with the solar assembly? Many manufactures do lighting, but there only a select few that actually are the best in the business. For example; Hubbell, which we provide street lights with our solar assembly, is one of the biggest in this industry. This is a light fixture you can rely on because it comes from a lighting company with experience.
What lighting distributions do you have available? Street lights would usually use a Type II distribution, but not all the scenarios are the same. Maybe you want a Type V rectangular distribution. Do the other solar street light manufacturing companies have this type of distribution? A reputable manufacturer has a variety of lighting distribution to choose from.
Do you have a photometric layout to see how much foot-candle I will have below the light fixture and up to how many feet I would have light? This question is a tricky one because you can have 5 foot-candles below the light fixture but at 20 feet from the light fixture there isn't any light. That's where the light distribution comes on handy since you want a great distribution to a big area and not only a spot.
How much battery backup you are offering based in days? Some solar street lights manufactures offer 2 day battery backup which is actually a bad solar system assembly design. Mother Nature doesn't let us have everyday a sky without gray clouds or even rainy days that are quite dark. So what happens if weather inclement happens for two days? The street light fixture won't turn on the third day and that's why SEPCO battery backup has a minimum of 5 days storage due to inclement weather.
Warranty Document and Customer Service response? The warranties are very important because you don't want one year warranty for the complete solar street light assembly. Yes, it could be less expensive but do you really want a solar system for one year and pay again. Also, what about the customer service response when you have problems? Check how many installations have been made through that solar street light company and there thoughts.
Anybody can provide service but there is a difference of service and confidence in the product that it is offered. Check the facts always and remember SEPCO will help you in your solar needs from the quotation to the installation. We will always look for exceeding customer service and provide help when you need it the most.