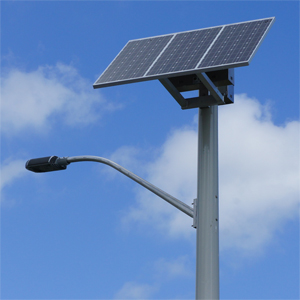 Before examining the means with which to create a BETTER solar street light specification, let's start by taking a closer look at very bad solar street light specification from a recently released bid—as there is much to be learned in the process.
Purchase and delivery of 10 solar street light systems with the following salient characteristics:

Solar panel
Sealed lead acid battery
Solid state system controller that regulates batteries and has a low voltage disconnect
Light fixture with LED lamp that produces good street lighting
Light fixture mounting bracket
Entire solar lighting system mounted to a pole
The primary reason why this specification is so bad is because it is too vague and thus open to a host of different interpretations. The net result will most likely lead to the purchase of cheap solar street lighting systems that offer poor performance, reliability and return on investment (all of which, quite frankly, gives the solar lighting industry as a whole a bad reputation)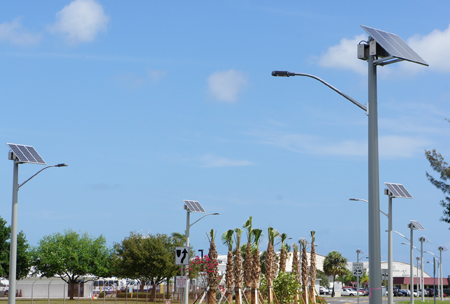 The only sure way to avoid this situation is create a detailed specification that establishes precise solar street lighting system design and performance parameters including:
Solar Array

Type and number of solar module(s) used in the array
Total solar array wattage
How is solar array mounted to the pole


Light Fixture

Type of Light fixture
Type of lamp
Salient characteristics of light fixture
Fixture bracket arm
Fixture mounting height


Light Level Requirements

Specify area to be illuminated (ex. 2 lane street, each lane 12' wide with no median, light pole set back 5' from edge of street)
Light level requirements—the more detail the better (ex. lighting on street must be .3 foot candle average with lighting uniformity rations under 10:1)
Note: Never specify light levels according to 'equivalency' (i.e. LED fixture equivalent to 150 Watt metal halide) –as this type of spec lends itself to many different interpretations! Such is not the case with foot candle specification as a foot candle is a quantifiable measurement of light


System Controller

Type/description of system controller
Detailed description of nightly system operation—which is critically important to ensure the solar lighting system meets needs

Ex. Dusk + 6 hours at full 40 Watt fixture intensity…dimming to 20 Watt intensity…returning to full 40 Watt intensity 1 hour pre-dawn.


Battery

Type of battery
Total amp hours of battery
Autonomous battery storage to ensure reliable year round system performance

Note: 5 nights of battery storage should be a minimum (in certain parts of the world more than 5 nights of autonomous battery storage needs to be specified to help ensure ultra-reliable year round system performance

Salient characteristics of battery box and battery box mount


Light Pole

Type of pole
Light pole must support the total weight and EPA of the specified solar power street lighting system in MPH wind loads for your particular area
With these design and performance parameters incorporated woven into the specification, there is no question that the buyer will ultimately get high quality solar power street lighting systems at the best possible price.