SEPCO
Solar Lighting Presents:
Solar Lighting System Solutions for your

Providing You Security, Savings and Sustainability with Commercially Designed Off-Grid Solar Lighting
Solar LED Lighting Systems
Solar lighting systems are the preferred option for many applications today due to the cost and availability of energy and new infrastructure. There are also several financial incentives in place that make solar lighting an attractive choice. The solar LED lighting options we offer at SEPCO provide exceptional quality illumination to meet the needs of our customers. Our team is equipped to provide you with the lighting design, engineering, education, and long-term customer service you should expect from an experienced commercial solar light company.
Solar Powered LED Lights Tailored to Your Application
We understand the solar lighting solutions that work best for various applications, regardless of geographic location or industry. Our team offers an extensive selection of solar powered LED luminaries that provide maintenance free operation, dependable performance, and a long service life.
Our Solar LED Lighting Products and Systems
The various commercial solar LED lighting solutions we offer include: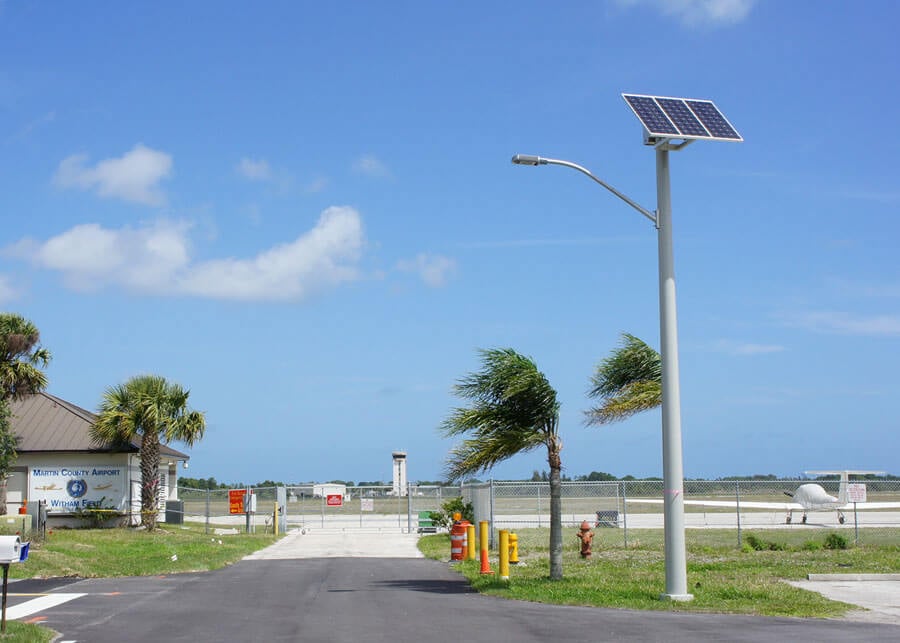 Customized Solar LED Lighting Solutions
We recognize that the ideal lighting solution for each customer requires unique considerations before implementation. These include the particular lighting design requirements for the project and its geographical location.
Our team provides commercial LED solar lights and systems that deliver the design, control, security, LED fixtures, cost savings, and renewable solar power you need for your applications.
Contact Us for Solar LED Lighting
To learn more about the various LED solar lighting systems we offer at SEPCO, give us a call today at 772.220.6615 or complete our online form to request a quote.
Kilowatts of Solar
SEPCO has installed over 3990 kilowatts of solar power through off-grid solar lighting systems to reduce energy demands and provide energy savings.
Years Experience
SEPCO has 27 years of experience installing commercial solar LED lighting systems and off-grid power systems in the field.
Tons of CO2 Reduced
SEPCO manufactures independent solar solutions to help reduce cities' carbon footprints.
Our Specialty
Commercial solar LED lighting solutions are our specialty. Common applications include:
Street & Roadway
See where you are going and improve road safety with solar street and roadway lighting systems.
Parking
Lot
We protect businesses and customers by providing security through visibility.
Pathway & Walkways
Illuminate bike paths, walkways, and other high-traffic routes using our solar off-grid lighting systems.
Signs & Billboards
Large & small, internal & external – SEPCO has a variety of solar power solutions that will shower your signs with light.
Area Security
Our commercial solar LED lighting systems promote safety and security in remote areas, perimeters, etc.
Remote Power
We provide reliable remote power where you need it, when you need it - guaranteed.
Work with Experts
We know what solar lighting solution best suits your application, no matter the industry or geographic location. The availability and cost of energy, new infrastructure, and many government financial incentives make solar the bright choice. We offer a broad array of solar-powered LED luminaires that provide reliable performance and maintenance-free operation, coupled with the long life of a solar power assembly.
Security
Protecting property, people and assets is the job of exterior lighting. Solar LED lighting not only offers better visibility and wardens off potential threats, but it also offers security from brownouts and blackouts.
Savings
Energy savings are natural with solar LED lighting systems. Sunlight is plentiful and photovoltaic panels can harvest energy where grids don't reach. Low maintenance and ease of installation are the cherries on top of the energy savings.
Sustainability
There is no more renewable resource than the sun. Capturing its energy to light up dark buildings and roadways is a great way to honor our resources. The ease of installation makes adding light to fragile environments less of a hassle and less harmful.
Economical
As a leading solar lighting system supplier, SEPCO wants to help you save energy costs and go greener with your next exterior lighting project. Our lighting designers will assist you in choosing the right illumination levels and luminaires from our broad selection of solar-ready LED fixtures.
Solar Power
We offer Solar Power Systems sized for each project location. Every solar power system is built to meet the needs of your project and provide flawless operation year-round using local solar insolation and the length of the night in worst-case scenario operations.
LED Fixtures
High Powered LED Light Fixtures provide better light. SEPCO has a wide range of fixtures available to meet every project requirement. With our partnership with Hubbell Lighting brands, our solar lighting systems can easily adapt to your needs.
Controls
Custom Control Electronics provide light when you need it most. We design our commercial solar off-grid lighting systems with a standard set of controls to provide lighting as the project design parameters require. We always size our designs for winter nights and for dusk-to-dawn operations.
Design
SEPCO offers comprehensive Light Plan Engineering. Our on-staff engineering team can help design your lighting plan by using standard IESNA lighting levels and your digital files. From small signs to large parking lots to complete developments, our engineers can handle it all.
Free Guide on Solar Lighting Design
Learn more about what goes into designing a solar lighting system to provide a long-lasting solution.
Reliable solar lighting and power systems require more than an off-the-shelf setup.