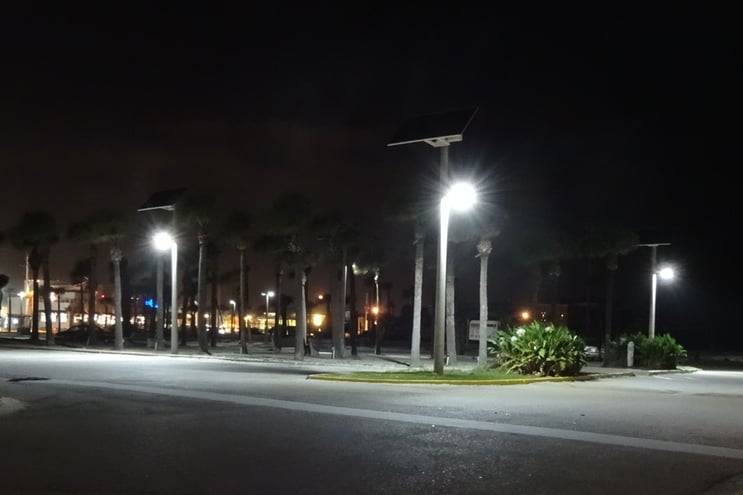 Every lighting application has different requirements, and there are many custom options to control commercial solar lights. These options allow for peak efficiency and specific lighting during times required by a specific project.
Dusk to Dawn
Dusk to dawn is the most popular run time option. The light, if sized correctly, will do exactly as suggested, turn on at dusk and turn off at dawn. This time ranges from 12 hours to 15 hours in the winter in most parts of the world. Since commercially designed lights should be sized according to worst case, this is the longest operation available and uses the most amount of power, requiring the largest solar power assembly and battery backup. It is typically the best option for solar street lights and some solar parking lot lights.
Dusk Activated Timer
Dusk activated timers are used for operation of the lights for a certain amount of time. These settings are used for situations such as a business that closes at 10 pm and opens again at 6 am. The lights for the parking lot can operate till midnight, turn off, then on maybe an hour or so before dawn. This lowers the power consumption by having a short "off" period and saves energy throughout the night. Other best practices for this type of setting would be for solar sign lights, solar park lights, and solar pathway lights.
Motion and Switches
Motion can be used for specific projects. Typically this is used for applications where issues may have happened in the past or for an added security. If the lights are off, and motion is detected, the lights will come back on and illuminate the surrounding area.
Switches can be used to turn the light on and off either with a spring loaded timer, a button that when pressed turns on the light for a set time, or passive infra-red detectors. The lights that would utilize this type of configuration would include solar restroom facilities, solar bus stops, solar mailbox clusters, and solar pavilion lights.
Adaptive Lighting
Finally, a technology now being utilized is adaptive lighting of solar lights. An LED light can run at full power for part of the night, and then reduce down when lighting isn't required, but still wanted. The solar lights can also have an option to go back to full power if a sensor is activated. This option is becoming more widely used as it lowers the needed power for a large light to run all night when the light output at midnight is different than at 9 pm. Adaptive lighting options are best used for solar parking lot lights, solar street lights, and solar pathway lights.
So next time you are looking into lighting, especially solar lighting, find out exactly what your needs are. We can offer a wide range of options to lower the power needs while helping you achieve a green image by installing solar lighting.
Editor's Note: This post was originally published in September 2011 and has been completely revamped and updated for accuracy and comprehensiveness.