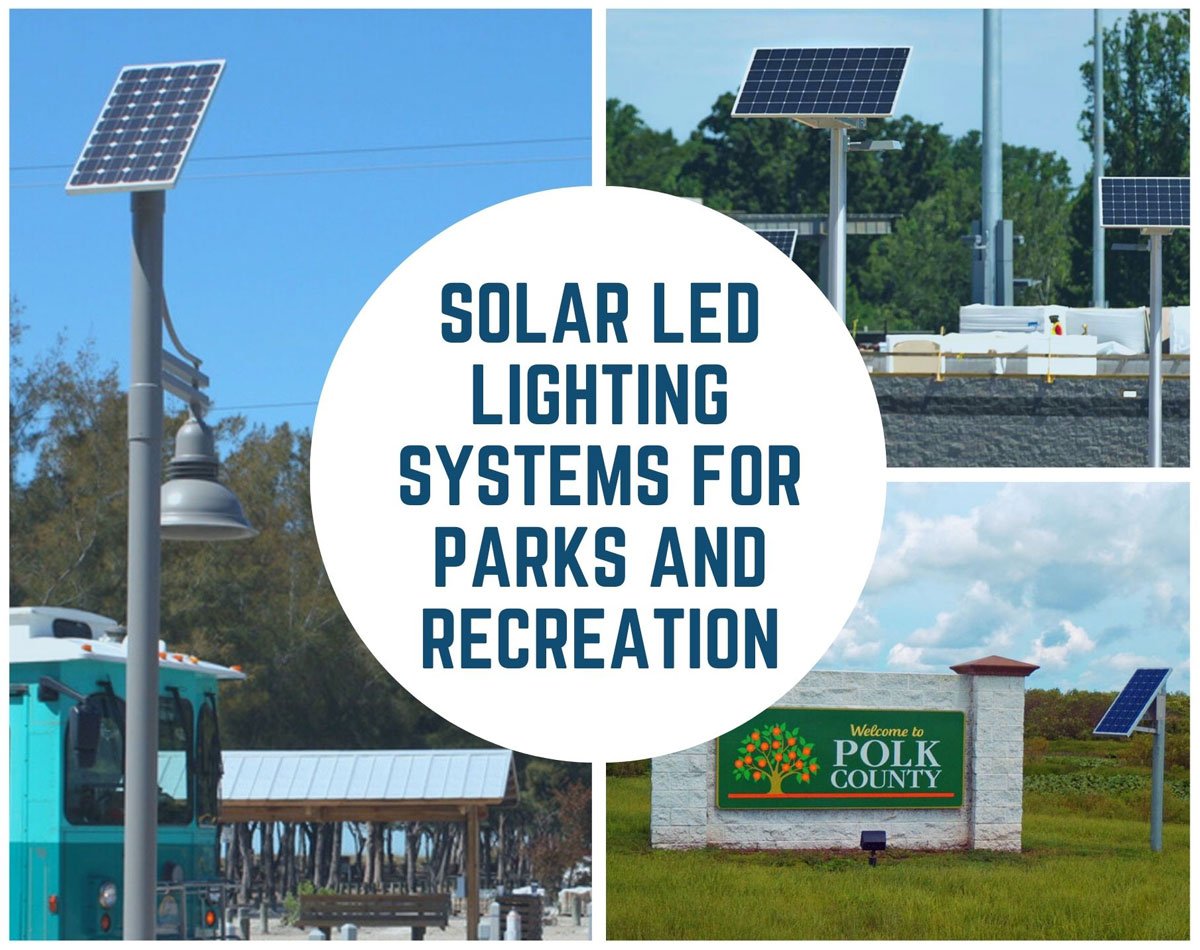 There are many different areas that can be illuminated in any park; from entrance and directional signs, to parking lots and roadways, walking or biking trails, boat ramps, remote areas, pavilions, and general area lighting, solar is a great option to ensure illumination meets standards and provides lighting without disturbing the surrounding area like with traditional power and trenching. In a previous post, we went over why solar lighting systems are the best option for parks and recreation. This time I would like to focus on the individual systems and their uses for each section.
Sign Lighting
Parks have large entrance signs, typically located out on a roadway and far from traditional power. These entrance signs can easily be illuminated by a solar LED sign lighting system. These can be customized to use a single fixture for single sided signs, to up to 6 fixtures for large billboard size signs, for most installation needs. The solar is sized to either have the lights operate all night, or if the park closes and does not want to advertise in the middle of the night, shut off after a set period. The number of fixtures, location of installation, and length of operation all is a deciding factor in the amount of solar power required for each project.
Parking Lot and Roadway Lighting
Parks also have smaller two-lane roadways and parking lots throughout the area. Some parks only have a small, short entrance road with a small parking lot, where others can have extensive roadways and multiple sections, each with their own parking areas.
Depending on the usage of these areas, especially after dark, will determine how much illumination is required as well as for how long per night. The best options for parking lots are to utilize motion sensors as to not disturb the surrounding wildlife and probably dimming or set off times for roadways. This way you have the least amount of impact on the wildlife while also providing guidance and visibility for visitors at night. Best of all, the solar parking lot light systems can be placed almost anywhere, allowing for light without disturbing the vegetation. This is basically the same for roadways since there will be no reason to trench up the roads to add some light.
Walking and Biking Trails
Walking and biking trails are becoming more and more popular, especially with cities providing nice trails to their residences to navigate around. Trails do require some light, especially shortly after dusk or very early in the morning. These trails can be illuminated to a lower amount than roadways since the pathway is typically only needing to be fully illuminated when people are present. These lights can operate all night if necessary but can also operate all night at a reduced output until motion is sensed, then come to full to make sure people along the trail are safe, then reduce again when things quiet down. The mounting height also tends to be lower than other large overhead lights. Bollards work for these areas too, but the costs associated with bollards can sometimes be outside the scope of a project.
Boat Ramps and Remote Areas
Boat ramps and other remote areas tend to stick with one high output fixture to illuminate a large area. These do not always need to meet a light level requirement, and the more remote the area, the less actual wattage is required to provide the same amount of light. Typically, these lights are setup to handle time frames until the park closes and then shut off; however, we have seen many applications where dusk to dawn operation is requested. In some northern climates, dusk to dawn is not required since the area freezes during the winter months, but all-night illumination is required during the warmer months. SEPCO's custom solar security lighting solutions can take all this into consideration during initial design phases of projects.
Pavilions and Remote Restrooms
The final area found in almost all park projects is pavilions and remote restroom facilities. Both setups utilize canopy and wall pack fixtures to illuminate the area. Pavilions can have the lights operate all night or can have them setup with a switch for after dark hours. Restrooms always utilize switches such as a spring-loaded timer so that the lights come on only when they are needed, saving on solar power and battery systems. Again, in these remote areas, a little light goes a long way. Installing fixtures that are 3K or 4K CRI will also help not blind your visitors and keep from disturbing the surrounding wildlife.
There are many areas where commercial solar LED lighting systems can be a benefit to parks and recreation facilities. Working directly with your solar lighting specialist will ensure you are getting the system that is designed for the specific purpose you have requested. There are options to help stay within budget by just making some simple adjustments to how the system is setup, so never be afraid to ask and have the systems adjusted to meet your needs best.