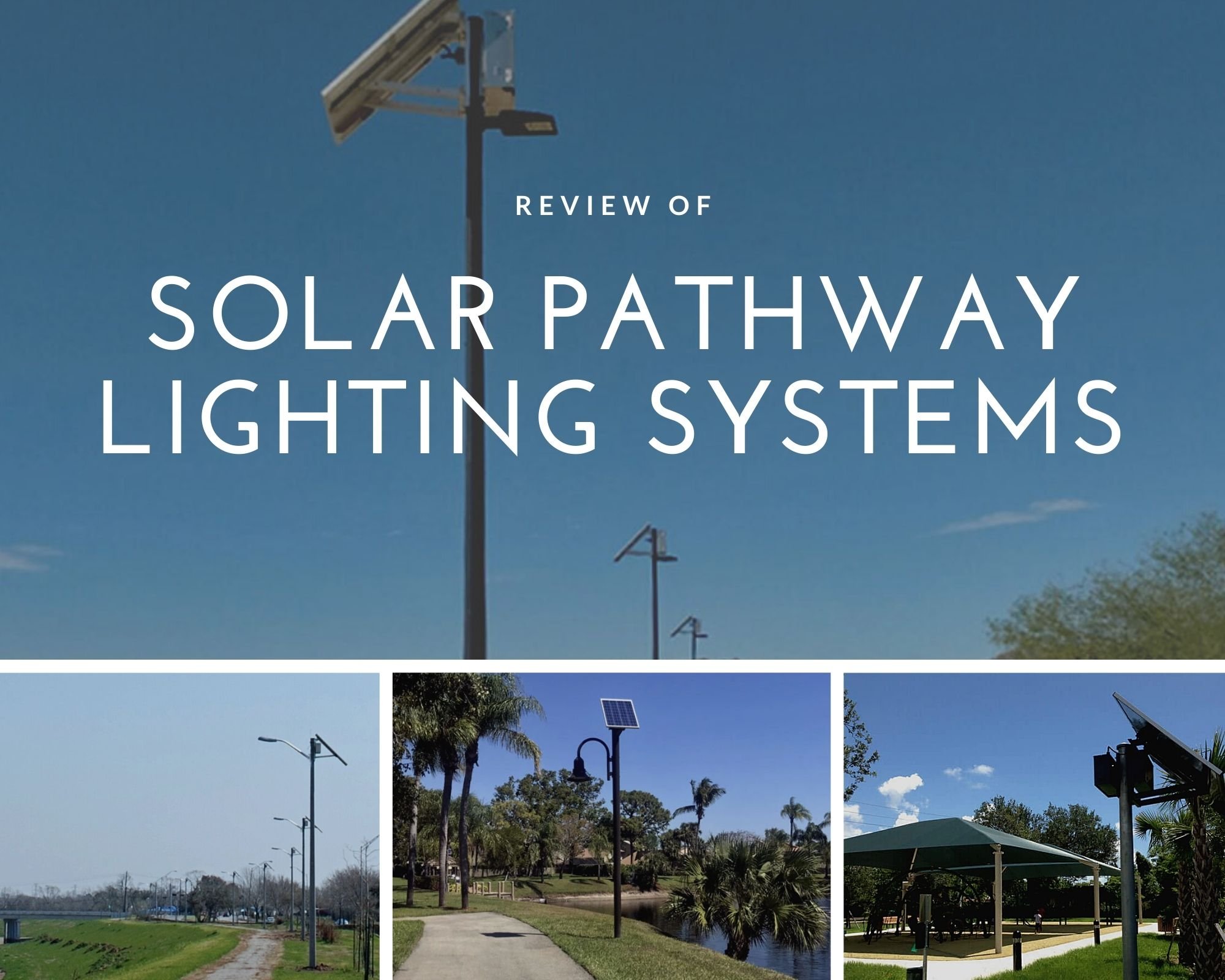 Solar lighting systems come in many shapes and sizes. From large scale overhead systems that operate all night and have huge solar panels and battery backups, to small scale systems that operate the light only a few hours per night, solar can fit in for most walking trail applications. Here is a quick overview of some of the systems that you will find online today and their pros and cons.
Large Scale Solar Pathway Lighting Systems
These larger solar pathway lighting systems usually have a high wattage fixture that is used to meet very specific light level requirements and operate all night at full intensity. These are great for larger cities where people are out and about all hours of the day and night.
The lights feature a larger solar power assembly and battery backup to allow for operation of these higher wattage fixtures. These consist of fixtures mounted at 15-20' above grade, have larger anchor base poles, and are designed to function flawlessly for years to come.
These systems can also feature smaller fixtures, such as illuminated bollards, that have multiple operating off a single power assembly. Again, these are setup to meet a light level requirement and typically operate all night. Bollard systems tend to be more costly than overhead lights since it takes more fixtures to provide the same light in the same amount of space as a single overhead light.
Small Scale Solar Pathway Lighting Systems
Smaller systems provide some light early on in the night and either reduce or shut off after a set period of time. These solar pathway lighting systems are much more economical and used in more rural areas since people tend to stick to a more familiar schedule. Some of these system also integrate motion sensing technology to allow for light only when it is needed, not wasting the energy for times when there is no one around
Integrated solar bollards are also popular on installations such as these. These fixtures have a small solar panel that is mounted inside the top of the fixture and charges a small battery pack inside the fixture. These then operate at night for a few hours and then shut off. These fixtures are also lower in illumination levels, typically 3-5 Watts or 300-500 Lumens.
Residential Scale Solar Pathway Lighting Systems
Residential scale solar lighting systems for pathways are very tiny integrated systems. These tend to have a half or a one watt panel, a AAA or AA battery, and can operate for a couple hours at night during the worst cases, even so in the best cases too.
These systems are found online and at big box retailers. There is little to no design that goes into these lights and they meet no light level requirements. They are definitely great for providing some ambiance around a home, but beyond that, they are not good for commercial applications and installations.
No matter which installation type you have, solar provides a great option to standard electrical lighting for a pathway. Solar can easily adapt to various types of installations, and when designed correctly, provide a reliable source of lighting. Working closely with your lighting designer will ensure that the correct amount of light for a commercial application such as a walking trail, will operate as you need it.