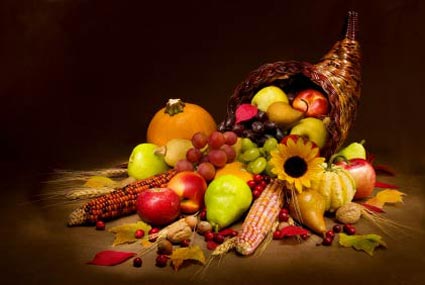 The holidays are fast approaching with Thanksgiving coming first in just two days. I wanted to share a couple tips for keeping your Thanksgiving celebration as green as possible.
1. Open Up – With all the cooking and people, homes get very warm. Open up the house and let some cool air in. If it is too cold outside, use the oven heat to warm up the house during the cooking and after all the cooking is done. This reduces heating and cooling costs while keeping everyone comfortable.
2. Reduce, Reuse, Recycle – Reduce the amount of goods used for dinner by purchasing just enough food for the guests or have each guest bring their favorite dish. Also, decorate with items found in nature like fallen leaves, pine cones, fresh flowers, etc. and reuse items from last years decorations. Finally don't forget to recycle all the packaging materials from purchased items. This doesn't just help the environment, but the wallet as well.
3. 100 Mile Thanksgiving Challenge (http://www.treehugger.com/files/2006/10/treehugger_100.php) - Participate in the 100-Mile Thanksgiving challenge from Treehugger. The challenge is over for this year, but it has a lot of great ideas on how to purchase ingredients from local farmers and would be a great challenge to participate in next year.
4. Plant – Plant a tree or a plant that produces something that you can consume during the year. Next year you may even be able to cook most of your meal with items in your new garden.
5. Give Thanks!
From all of us here at SEPCO, we hope you have a wonderful Thanksgiving!