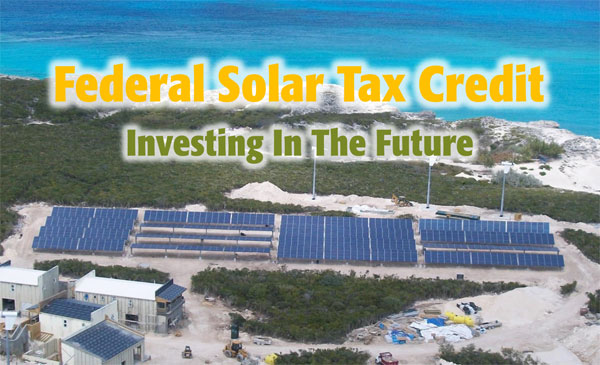 The solar tax credit helps homeowners and businesses alike to lower the cost of using solar for their home and business. This tax credit provides a 30% Federal Tax Credit that can be applied to homeowners towards their personal income tax or to businesses to apply towards their Federal business income tax. This can add up to huge savings. And if all of the money isn't used that year, it can be rolled over to the next, up to five consecutive years.
The Federal Solar Tax Credit is only good till December 31st, 2016 and the solar project needs to be purchased and installed before that date. This leaves just under 2 years left to take advantage of this and there is no word yet to extend the program. The best information in regards to the Federal Incentives is DSIRE – Database of State Incentives for Renewables & Efficiency. Best of all, they have a complete list of all state and local incentives as well sorted by state to increase the savings of a renewable energy project, not just solar.
Who Qualifies?
Residences qualify for their home, whether new construction or existing, and for their first and second residences; however, rental properties do not fall under this program. This is for full installations and not for PPA – Solar Power Purchase Agreements or Solar Leases as the tax credit goes to the company you work with instead as the savings is typically already figured into your agreement.
For Profit Businesses qualify for their business, both new and existing construction. These systems typically are much a larger scale than a system for a residential application and are almost always completely owned by the business.
How To Calculate?
Both residential and businesses applications include the purchase and installation when calculating the tax credit; the only difference is how discounts are calculated. With residential applications, if the owner is able to get a state, local or utility rebate, that amount is deducted before you do the final calculation for the Federal Tax Credit. For example, a $20k system that qualifies for a $5k state rebate is then only calculated as $15k on the Federal side.
Businesses on the other hand get the complete $20k as their Federal Tax Incentive regardless of the rebates and other incentives they qualify for. This is due to the way the IRS considers the other incentives. Businesses pay taxes on all incentives as the IRS considers it income, whereas with residential, the IRS considers it a reduction in cost.
Other Incentives
There is a lot of information in regards to all other types of incentives on DSIRE's website; however, there are other resources available. Doing a good search online and asking your local solar representative is the best way to find all the incentives available for you. Most solar companies have a good familiarity with incentives that are available and would be able to do the search to help you find everything that is available.
What About Nonprofits?
Nonprofit companies are not able to take advantage of the Federal Tax Credits and are stuck with the whole bill; however, there is some hope. There are grants that nonprofits are able to take advantage of which can be found online. Other suggestions include fundraising (get your community involved in what you are trying to accomplish), crowdfunding (so much good can come from a crowdfunding campaign) and leasing (let the solar company take advantage of the incentives and give you a lower price). There are more details in a post done last year: Finding Funds for Nonprofits Renewable Energy Projects.
In the end, no matter what your project is backed by, there is funds available to make your solar project come to life. Speak to your solar specialist to see what they can do to help work through the red tape and make the sun shine on your solar system.