Solar has become increasingly popular over the last couple of years, and solar LED lighting systems have picked up popularity in their wake. There are many things I could talk about when it comes to solar lighting – have you seen the rest of the blog?
That's not what I am going to do here. Instead, I'd like to focus on the best solar LED lighting system applications I know make the most significant impact. So let's look at each application and why a solar lighting solution would be beneficial.
Solar Street Lighting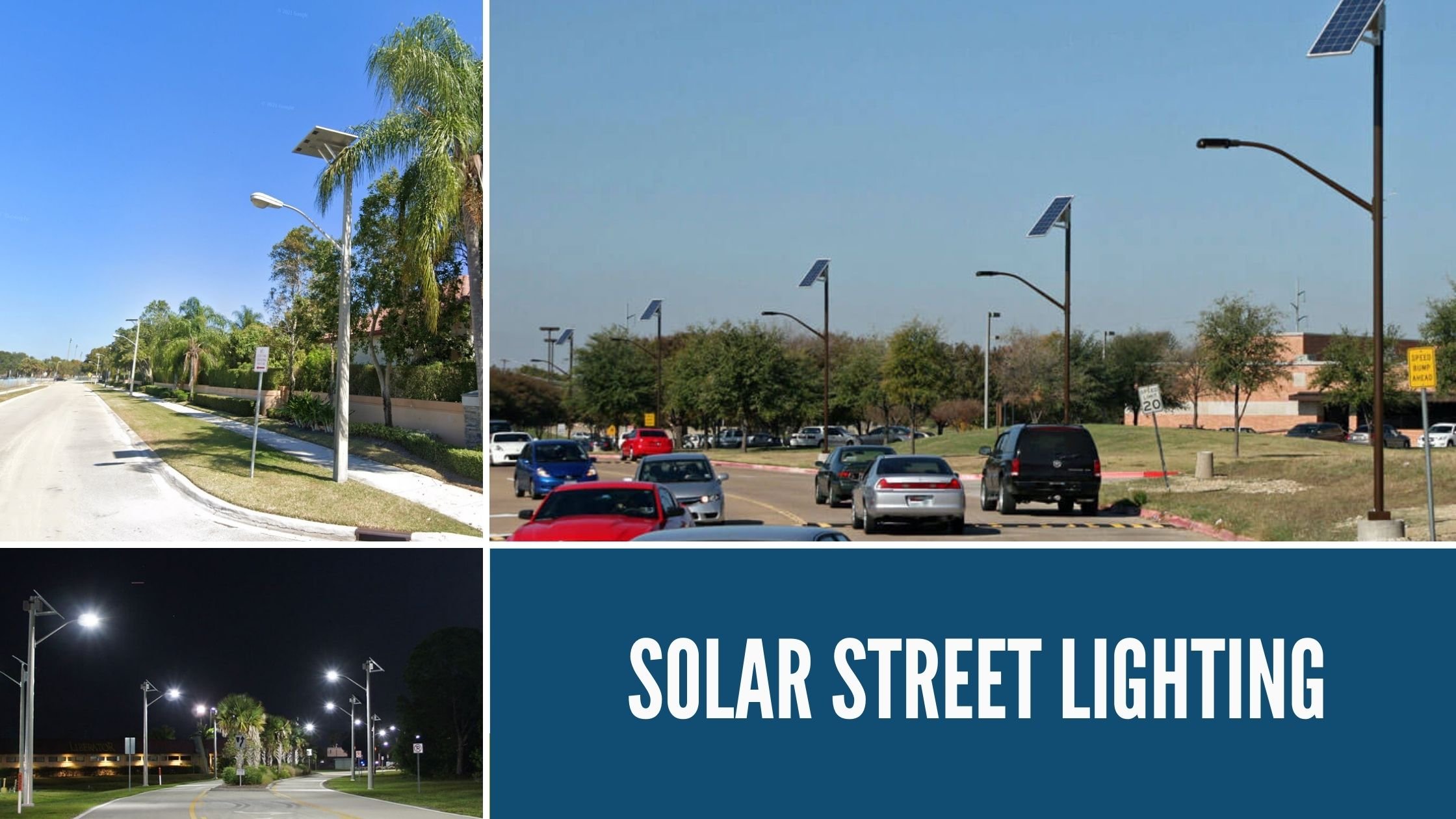 Driving down a long dark road with no visibility can be dangerous. Illuminating those dark streets will improve the safety of travelers at night.
There are many cases where grid power is brutal to run out along a roadway, either due to the area's remote nature or just because the city or municipality doesn't want the added expense.
Solar street lighting systems are a great way to provide the light without all the additional cost of trenching out the grid, adding the additional electrical costs, and providing a green alternative to traditional lighting. This application is definitely a win, win, win.
Do you need to light up the whole roadway with no dark areas? Technically speaking, probably not. However, sometimes, adding some light to obstacles and intersections may work for a specific street.
Any addition of light to remote dark areas always provides some visibility improvements, and because remote areas are so dark, not as much light is required to make a difference. In addition, a low wattage fixture can provide plenty of visibility since there is no ambient light. Finally, you can use a dark-sky-certified fixture and not affect the nighttime sky for others.
My favorite LED solar lighting system for a solar street lighting application is the SolarViper system. The SolarViper provides dark-sky-friendly lighting while providing excellent coverage to large areas at much lower wattages.
The Viper fixture is dark sky certified at 3K and mounts typically between 12' and 25' and can produce a very clean and even illumination pattern. The SolarViper system also looks great whether it is used with raw aluminum equipment, powder coated to a finish, or even mounted to a wood pole. This fixture provides you the light where you need it without all that excess spill.
Solar Parking Lot Lighting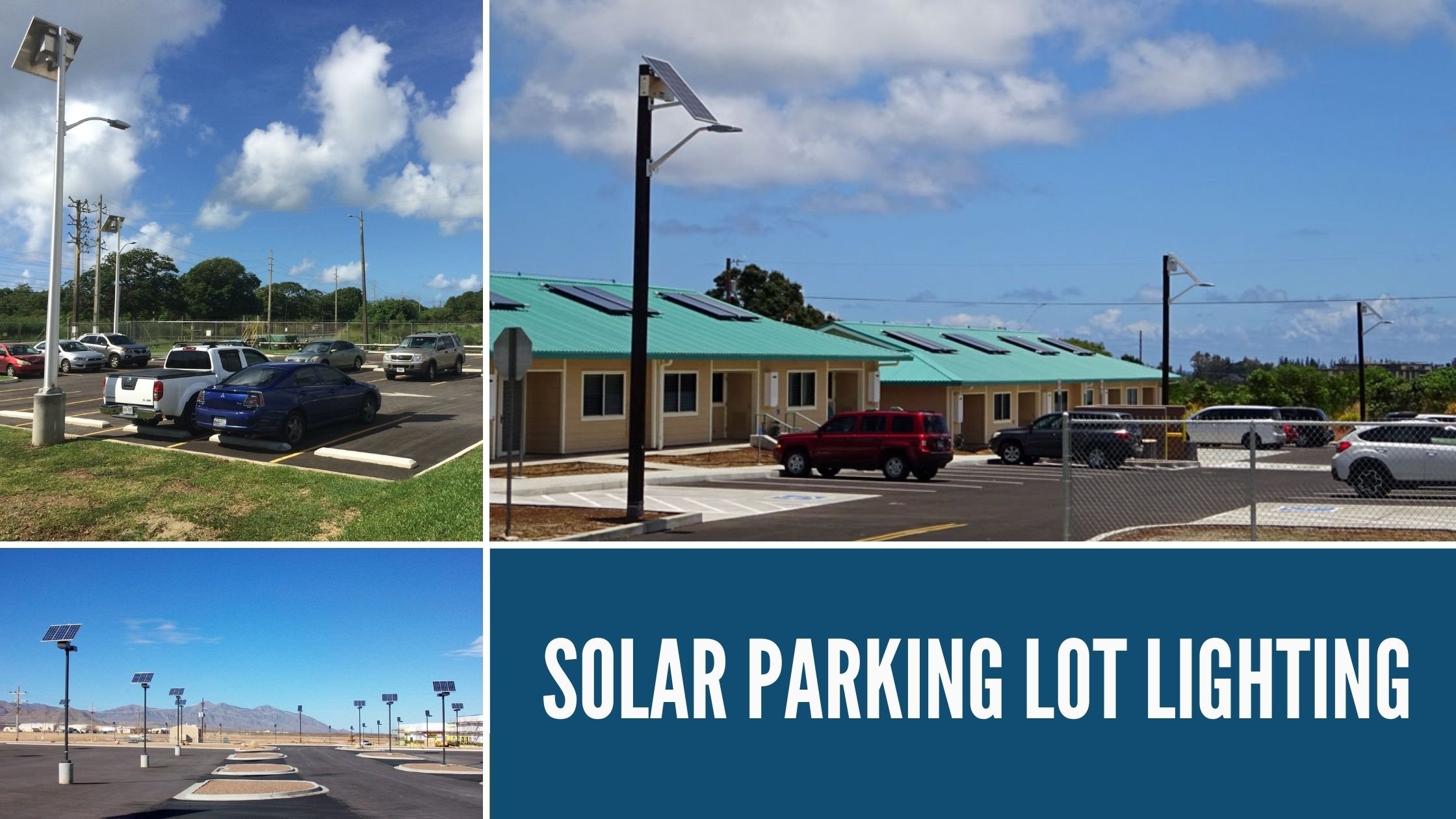 After dark, moving around some public places can be difficult when not correctly illuminated, especially in parking lots. Therefore, ensuring that you meet IESNA standards for parking lots is vital to ensuring the safety and security of customers and employees alike.
Many older parking lots have traditional powered lighting systems that are beginning to have problems with the underground wiring or forgot to put the lighting in when designed initially. A commercial solar light can come in and save the day.
Solar parking lot lighting systems are fantastic at providing the proper illumination for the area while also being environmentally friendly. Solar can be installed anywhere in the parking lot without digging up the concrete or asphalt or disturbing the area around the installed lights. Instead, the foundations can be set and the pole erected in a short period of time with no additional need for repairs.
Best of all, the parking lot lights can operate all night or only when people would be in the area. So if your business closes at 10 PM, the lights can stay on for an additional hour or two and then reduce or shut off completely, making the needed solar smaller or allowing more light when the area needs to be illuminated.
Complete photometrics can be performed to show where the new solar lights would need to be installed, how much light is produced, and the light levels in all areas of the lot. This helps you ensure that all areas are covered and that no dark spots will exist.
My favorite LED solar lighting system to use for a solar parking lot lighting application is the SolarRatio. The old-school shoebox-style fixture with a modern twist is perfect for parking lot applications. It, too, is dark sky friendly and provides excellent coverage using lower wattages, but is also available in higher outputs when required.
The Ratio fixture is dark sky certified at 3K and mounts typically between 12' and 25' and can produce a targeted and even illumination pattern. The SolarRatio system also looks best with a dark bronze or black finish but looks great with a gray fixture and a brushed aluminum pole.
Solar Bike Path Lighting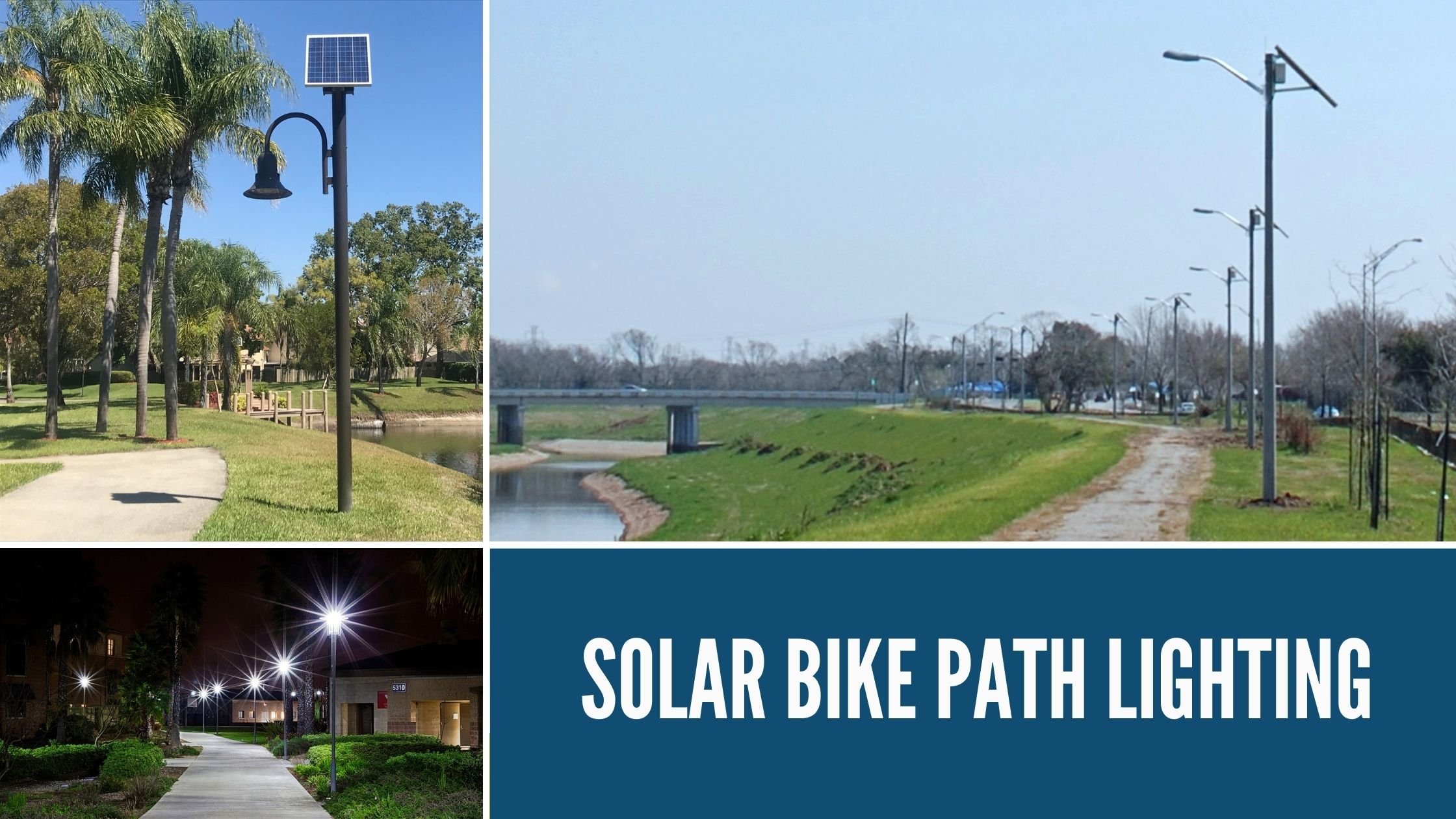 Pathways are becoming more popular and are popping up everywhere. The Rails to Trails Conservancy has been working with many other municipalities to provide trails around larger cities and connections between, like the East Coast Greenway, to provide a way to get from one place to another. Solar lighting systems for bike paths and walkways are perfect for these installations.
Since most bike paths are in remote areas, pedestrian solar lighting systems with lower mounting height and lower light levels are a perfect solution. There is no need to bring the grid power out to these remote areas, but there is a need for lighting in some of the areas. Solar can easily fill the gap.
Solar pathway lighting systems provide the needed illumination in the areas along these pathways for people moving around at night. From the dog walker who is only out there for a short period of time to the pedestrians and bicyclists that use the pathways for their daily commute, ensuring their safety and security by installing lights is crucial.
Best of all, these lights don't need to be very bright, should probably utilize motion sensing technology after a specific time to reduce the solar sizing, and can be installed just about anywhere. The fixtures can be wildlife friendly if dealing with an area where you don't want to disturb the wildlife's circadian rhythm, and can also use shields to ensure the light doesn't affect the surrounding area.
My favorite system for bike pathways is the SolarASL. This system is a more economical system that can utilize the lower mounting heights, say between 12' and 17' above grade, while still providing a nice even illumination to the pathway. Spacing for even illumination is around 100' between fixtures; however, additional spacing can be used if even illumination is not required, or even just a single fixture to show where an obstacle or crossroad is located.
The ASL fixture is a full cutoff fixture and doesn't produce much light pollution. This fixture is perfect for these remote locations that don't want to light the sky but need some light on the ground. These fixtures are available with the same output and optics as the last two systems. They look great in any configuration and can mount to direct burial poles for easy installation in remote areas.
Solar Sign Lighting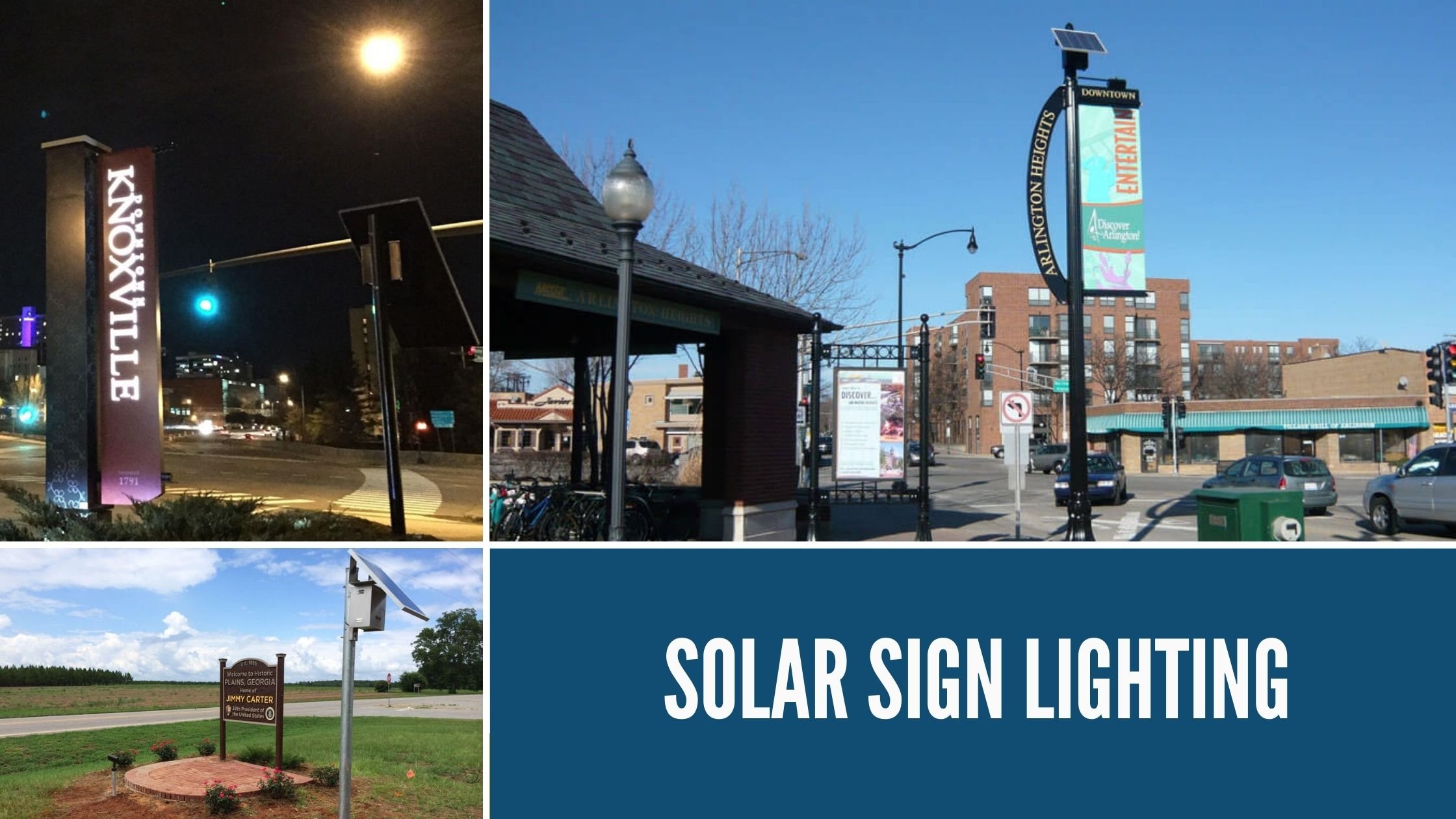 Signs tell us many things. They let us know where businesses exist. They advertise to us on the side of a highway. They also let us know where the entrances to communities are. A simple sign can convey a lot of information, but not having them illuminated at night leaves your message in the dark.
Signs can be located just about anywhere. The outskirts of town on the side of the road. In a median. On the side of a mountain. So many places that the grid just can't reach, at least not cost-effectively.
This is a great place for a solar sign lighting system to be utilized. The solar can provide the necessary power to the SEPCO-provided flood fixtures or your LED modules supplied by the sign company. Either way, solar has you covered.
There are two main systems used in sign projects; SolarRatio systems or custom solar power systems, depending on the application. The Ratio fixture can easily cover a 10' square section or about 8-10 linear feet of a billboard with a larger setback. The fixture can mount to just about anything as it comes with a standard 1/2" knuckle, and the solar is always mounted separately. This allows the solar always to be located in the sun, no matter the location installation of the sign.
The solar power assembly can be used to power internal and backlit signs. Internally illuminated signs have LED modules or tube lights inside the sign cabinet or have LED modules used for a backlit glow. The solar power assembly sits remotely, and the power is then fed over to the LEDs, up to 100' away from the solar. This is the perfect solution, especially when the grid power doesn't exist at many sign installations.
The final thing I have to point out is this – a solar sign solution can also power landscape lights on the same system if there is enough sun to operate. A number of our systems were installed in this fashion, where not only did one or two flood lights be used to illuminate the face of the sign, but also a few more uplights to illuminate trees or smaller floods to illuminate the surrounding landscape. Because of the custom nature of all of our systems, we can design to the customer's needs.
Solar Boat Ramp Lighting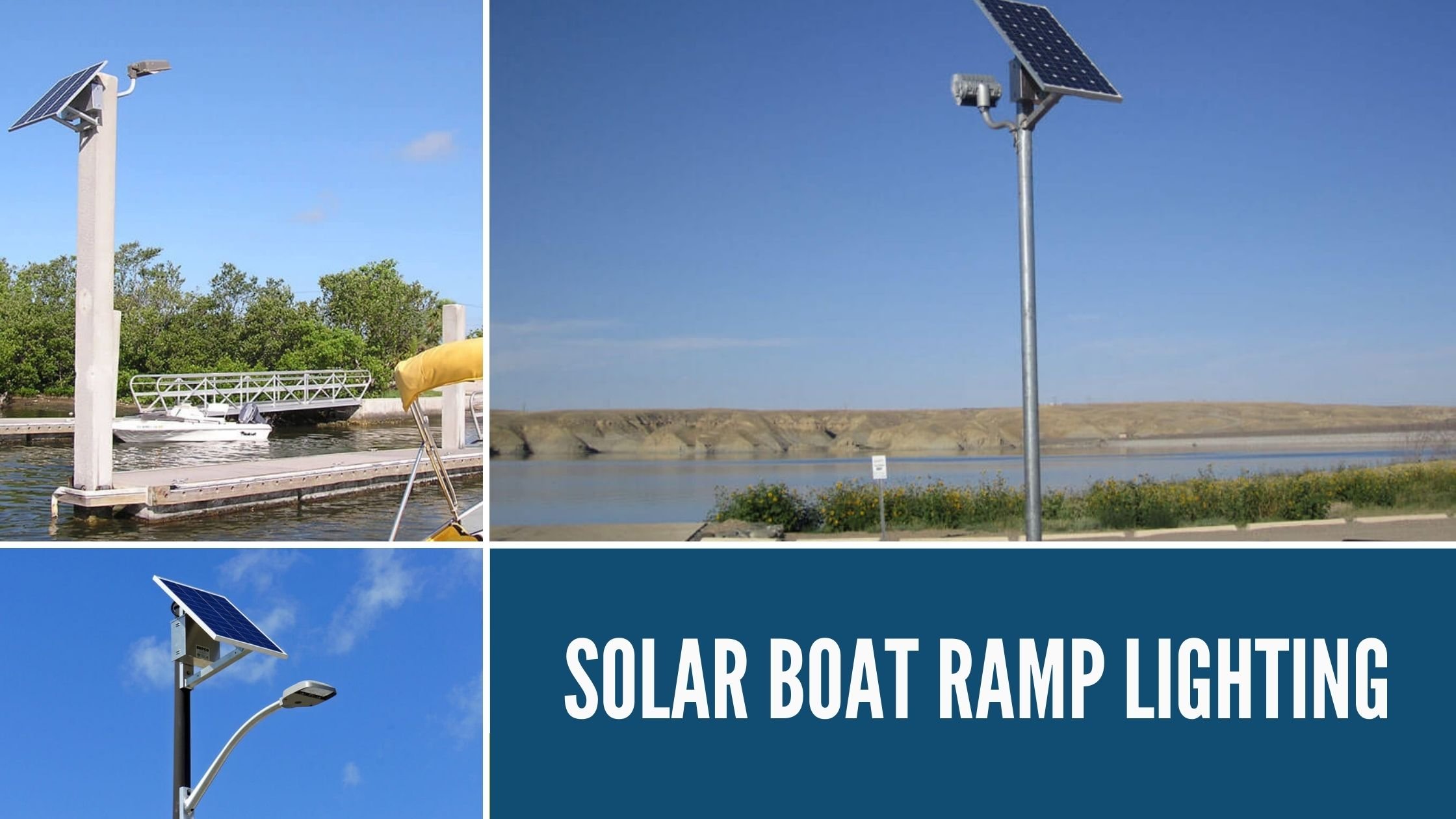 Boaters typically like to go out in the wee hours of the morning and sometimes stay out late at night. Boat ramps are used to launch the boat and get it back out of the water for storage. Many boaters would like to have adequate lighting at these spaces so they can see what they are doing more easily.
Most boat ramps are located in very remote areas, typically at the back of a park, and far from the grid. This can make illuminating the boat ramp and adjacent areas very difficult and costly. Using a solar solution here is a great alternative and would ensure the safety and security of boaters coming and going in the late evenings and early mornings.
Solar boat ramp lighting systems can definitely provide a great solution for these areas. Because all the wiring and power is located at the top of the pole, there is no need for underground wiring. Best of all, there is typically a large area that is cleared out at most boat ramps, so access to sunlight is not usually an issue. A single solar light can usually do the trick with ease, but additional solar lights can be used to illuminate the surrounding areas, such as parking lots, pavilions, and so much more.
My favorite system for boat ramps is the SolarASL. This is an economical system that provides a big bang for the buck. The fixture provides great illumination with full cutoff lighting, so as not to disturb the surrounding wildlife. It also can be used with motion sensing technology, so when no one is in the area, the light can reduce or shut off completely, depending on the needs of the area.
Conclusion
In the end, choosing the best system to meet the needs of your application is best when working directly with a solar lighting specialist. We here at SEPCO work with our customers to ensure the correct system is provided for the application at hand. We provide a complete lighting analysis of the site using lighting layouts showing light levels and work to provide the bests solution for the project. Design elements are always taken into consideration, along with any requests by the end user.