Commercial sign lighting is essential to maintaining your business's visibility at night, either when your business is still open or even well after into the night. When the sign's location is far from the electrical grid, solar LED sign lighting systems can be a great alternative to traditional lighting. These systems can either retrofit into an existing project or be set up from the beginning to showcase your green initiative.
There are many different styles of solar sign lighting systems available, from floods for various sizes of signs to internal LEDs for fluorescent replacements. The solar can be sized to operate all types of projects to ensure yours is adequately illuminated at night and will provide optimum visibility to travelers on the road.
Types of Solar Sign Lighting Systems
Solar sign lighting systems can adapt to a wide variety of applications. From small marker signs to large billboards, from internally illuminated to flood illuminated, almost every sign can be illuminated by solar. Here are some of the ways solar can quickly and easily adapt.
Small Flood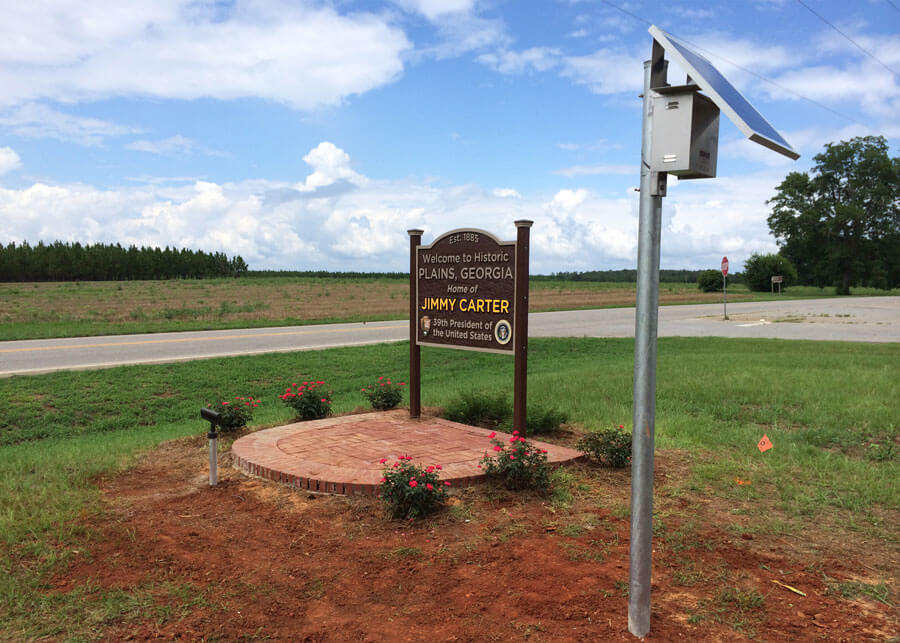 Small signs can use small spotlights, usually around 10 watts or less per fixture. These signs are typically around 5' square and can be single or double-sided, with one small spotlight on each side of the sign face. These are lower powered and very cost-effective since they don't require much for solar or battery due to the low wattage fixtures.
Medium / Large Floods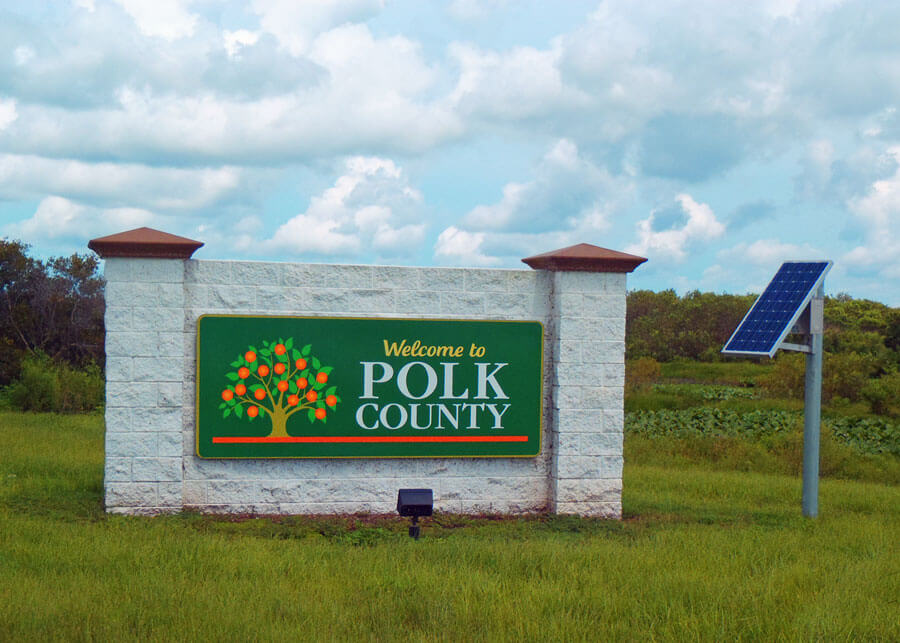 Medium to large floods are used for signs over 5' square and provide a bit more lighting. These fixtures start at 10 Watts, some going as high as 25-30 Watts each and covering a 10' square area. Larger signs use more than one fixture to provide even illumination, especially across larger monument signs. The solar and battery can be more extensive on these setups but can still be very cost-effective, especially for projects where the grid power is quite a distance from the sign.
Billboard Floods
Billboards require one flood per 8'-10' of the board to illuminate the sign structure evenly. Single- and double-sided billboards can be powered by solar. Depending on the operation requirements, how many fixtures, and a few other factors, one or many solar power assemblies would be required. Many customizations can be done, especially with these larger-scale systems, to make the system fit within the project's budget.
Oh, and while you are at it, check out our Billboard Case Study.
Internal Illumination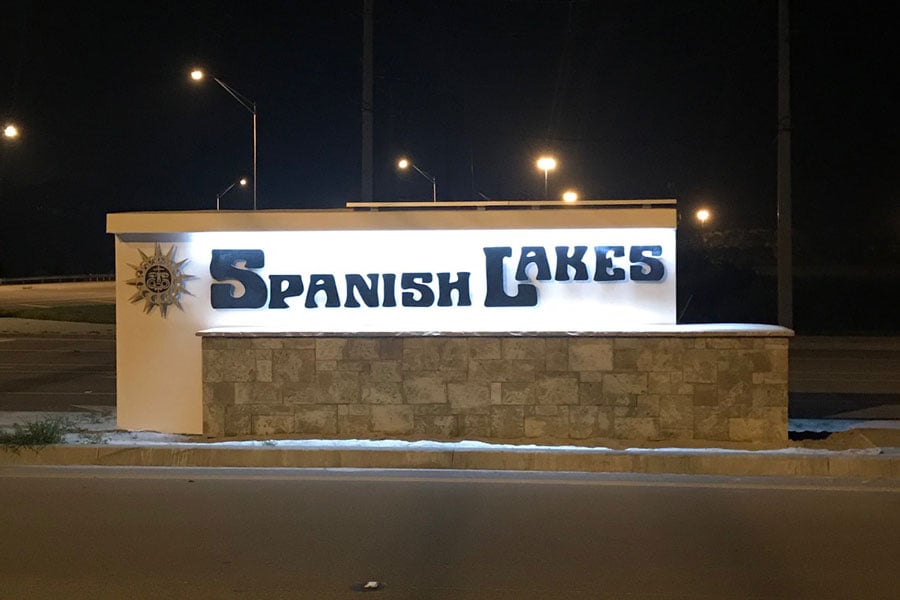 Internal solar sign lighting systems can be one of the more complicated systems to configure. Since the power draw is more than used on a flood illuminated sign, the solar power arrays can get very large and quickly. Working with a reputable LED manufacturer to layout the modules as efficiently as possible without compromising the light output will ensure that the system will work well with solar. Slight modifications can be made to the operation or LED layout to get the system to fit within the project scope and budget. And don't forget, we are removing the AC power supplies from the project, so don't factor those in when looking for a solar solution.
These are the most common types of systems used for sign lighting projects. There are occasions when we get requests for LED message board signs. Unfortunately, these are not efficient enough at this time to be able to be powered by solar. However, as efficiencies improve, they may fit in a solar scope in the next couple of years. We have some solutions for Open/Close signs and simple LED message boards, so let us know the details, and we will work with our partners to find an efficient way to go solar.
Designing the Solar Sign Lighting System
Now that you are familiar with the different types of solar sign lighting systems let's look at what goes into designing a reliable system. These five steps will ensure you have a system that will stand up to the test of time and never leave your sign in the dark.
Step 1 – Find out if electricity is available
The first step is to determine if electricity is available at the installation site. If not, what would it cost to bring the electricity to the site? Unfortunately, many people forget to factor in this part when comparing a solar solution to the standard power solution.
Also, what problems could bringing the electricity to the site cause, such as disruption to the traffic, destruction of the surrounding areas, etc. All these problems can cause additional costs for the project since repairs need to be made to damaged property, additional help to redirect traffic, and more.
Understanding these associated costs will allow you to make a more educated guess as to which options would work best for your project budget. For example, sometimes it can cost upwards of $10K or more to bring the electricity to a remote location, whereas a solar solution may only cost $6K. Best of all, there are no additional electrical costs associated with a solar solution.
Step 2 – Determine the size of the sign
The next step is how big is the sign? Is the sign single or double-sided? Also, does the entire sign need to be illuminated or just a section of the sign? The actual sizing of the sign and area to be illuminated will determine how large of a flood fixture will be required to illuminate the sign face.
If your sign is internally illuminated, do you know what LEDs are needed for illuminating the sign properly? What type of LEDs and how many will be installed inside the sign? This information is required for gathering the power draw. Sometimes, removing a couple of modules will dramatically change the size of the solar system. Talk to your LED person as well as the solar lighting specialist to make sure you are using the most efficient system.
The AC power supply information is not used in this situation. In addition, they will not be used to size up the solar power assembly as the LEDs will operate directly off the DC power provided by the solar.
Knowing exactly how much area will require coverage will help narrow down the design parameters quickly. Internal signs require additional engineering, but knowing the sign cabinet's height, width, and depth is part of the first step to determining how much light is going to be required. If the LED modules have not been chosen, we can work with the LED manufacturers to layout the modules to determine the power requirements.
Step 3 – Determine the lighting requirements
How much light will be required to illuminate the sign adequately? Any lighting company can help you determine the best light levels for a sign and offer suggestions. Our rule of thumb is that somewhere between 15-25 Watts per 10' x 10' area is adequate depending on the ambient light nearby.
Also, does the sign need to be illuminated from dusk to dawn? Again, for businesses, this could be a yes for nighttime marketing efforts or directional purposes, but not in all cases. For example, often, companies that close would like their signs to be illuminated from dusk until after the business closes and possibly come back on before the business opens again in the morning.
Other signs, like for HOAs, may be okay either way, having the lights stay on all night or have them shut off after a certain time after dusk. Having the lights shut off after a set period will lower the power consumption, lowering the solar requirements. Many options can be used to customize the system to fit the customer's budget and project scope.
Step 4 – Final all alternatives
Solar power sign light systems come in various shapes, sizes, and costs. Depending on the solutions available, these systems can range from a few hundred to a couple of thousand dollars, depending on the long-term requirements of the project. If something is only needed temporarily, opting for some lower-cost options may be the way to go.
If the customer wants something that will stand up to time, providing a reliable, long-lasting system is the better way to go. Commercial solar lighting system manufacturers offer systems that last 25+ years and have warranties to back up their designs.
Step 5 – Get lots of quotes
The last step is to send your information to companies for quotes. Like with anything else, get multiple quotes and weigh the pros and cons of every company and situation. The lowest quote is not always the best, so make sure to research companies and products before you submit a purchase order. Compare information from companies like light output, system components, warranty, life expectancy, etc., to help you determine what you are paying for and spending.
Installing the Sign Lighting System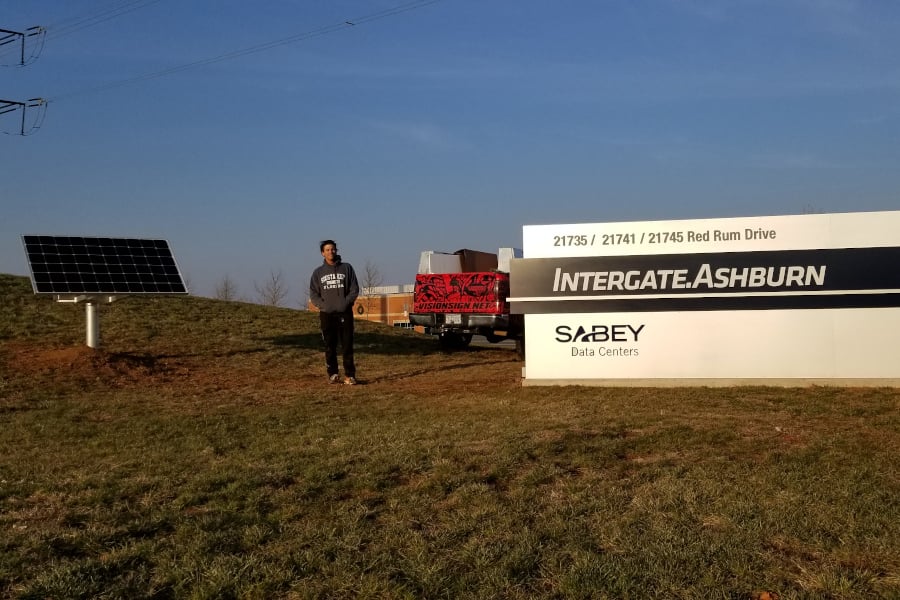 Depending on the installation requirements, the sign's fixtures can be installed on the ground using a direct burial bracket or a concrete slab with a j-box. The flood fixtures can also be mounted to the sign directly using a long bracket to push the fixture off the sign face or along the catwalk of a billboard.
The solar is typically installed on a pole nearby the sign. The SEPCO solar power assembly can be installed up to 100' away from the sign, where it has access to plenty of sunlight during the day to charge and supply power to the fixtures at night fully. There are cases where the solar can be integrated into the sign on top and the batteries within the cabinet or sign structure; however, this can only happen in sunny locations with no snow.
Who Uses Solar Sign Lights
There are many instances where solar is used to illuminate a sign. Signs are used to provide information to people traveling through an area, either to show the city entrances, a business location, or the location of a community. Unfortunately, not every sign is located where power is readily available, which is where the solar units can come in handy. Let's look at some of the various projects and what was used to accomplish what was needed.
Cities and Municipalities
Cities and municipalities typically have entryway signs indicating when you enter the area. Unfortunately, these signs are not always located in areas where grid power is available, either in the outskirts of the city or in medians in the middle of a larger roadway. In addition, illuminating these signs can be difficult when grid power isn't initially brought in when the sign is placed. Solar sign lights for these areas are a great alternative to the costs of trenching in the electricity for powering fixtures.
Here are some examples of cities and municipalities that have used our solar lighting systems for both internal and external illumination for their signs.
City of Crowley Solar Sign Light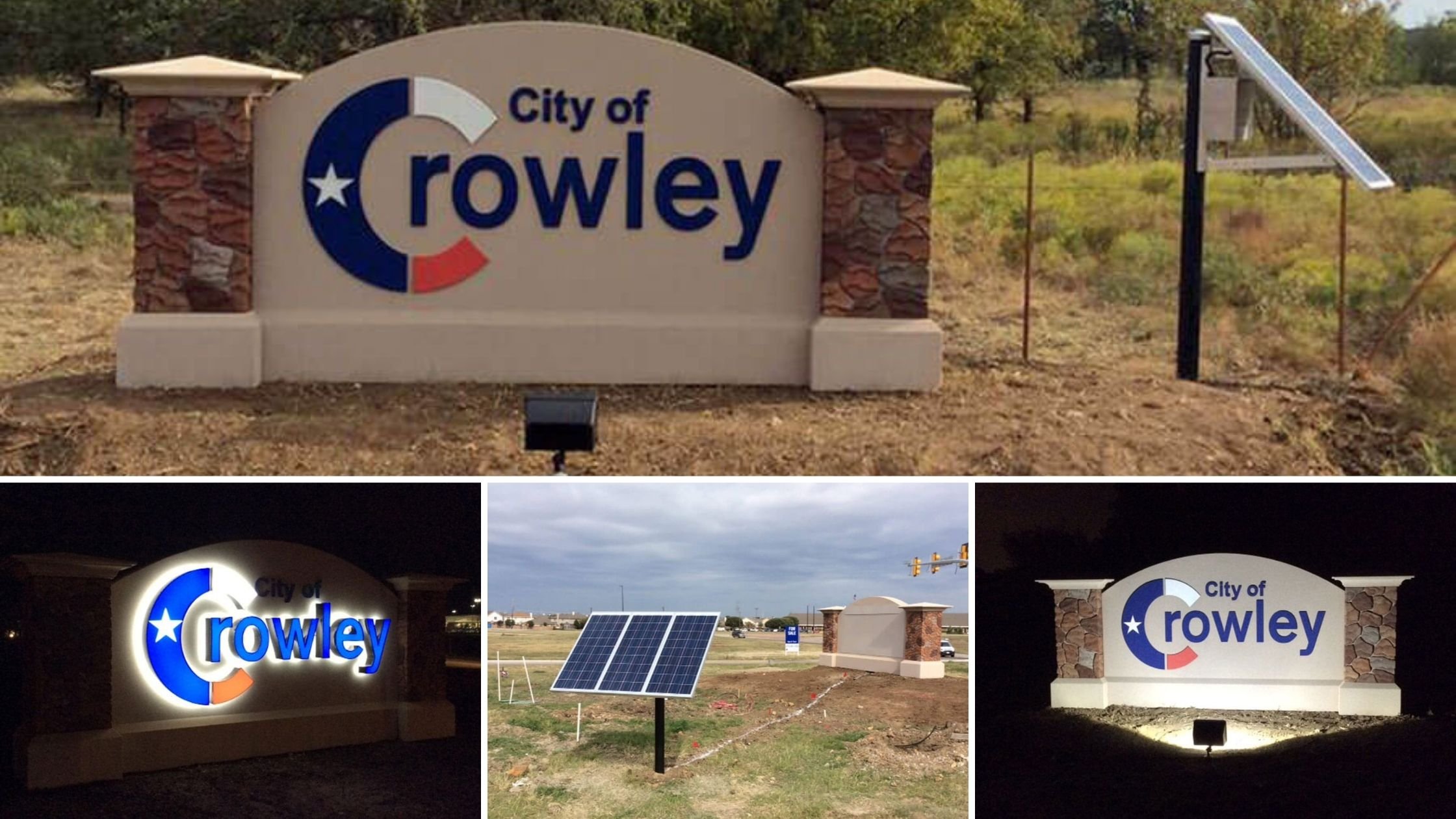 The City of Crowley has two different types of sign lighting systems. One uses a floodlight to wash the sign face, and the other uses backlit lettering to provide a glow to the city name. Both signs used a remotely located solar power assembly to provide power to the lights at night.
City of Pinedale WY Internal Solar Sign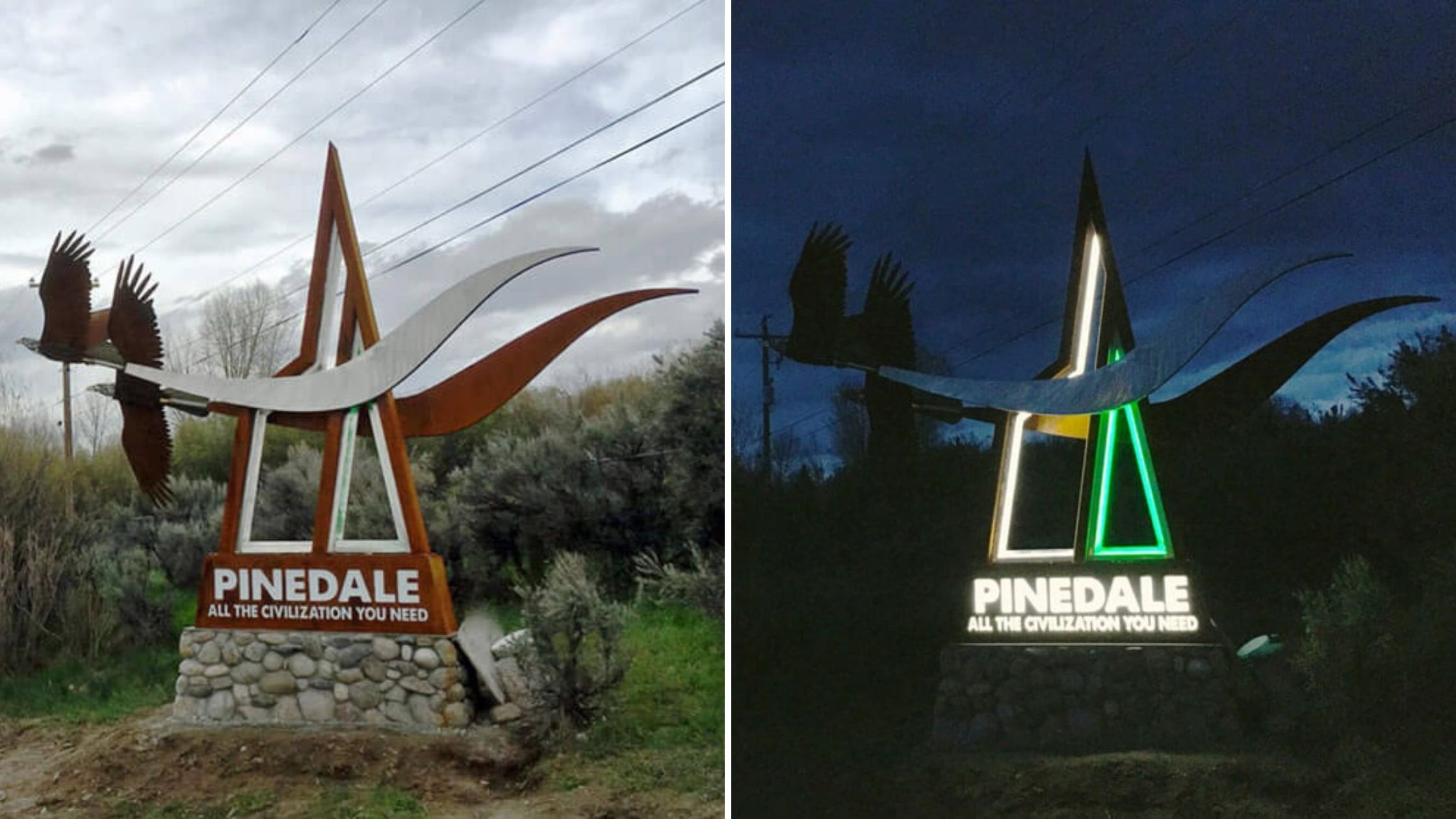 The City of Pinedale, WY, was looking for a way to power two decorative entrance signs that used internal LED strips. The power requirements were large in this area with very little sun; however, the custom-designed solar power assemblies could provide enough power to illuminate them. SEPCO worked with the artist that was creating the signs directly. This allowed us to provide the power for the LEDs used for the sign and strips along the art piece.
Businesses & Colleges
Businesses have signs that are used to show where their main entrance is or instructional signs to indicate where to move about, make deliveries, etc. These signs can sometimes be thought of later, as the business is developed, or may need to be illuminated using solar due to degradation of existing electrical over time. Here are a couple of companies that used solar to illuminate their signs at night.
Armellini Express Lines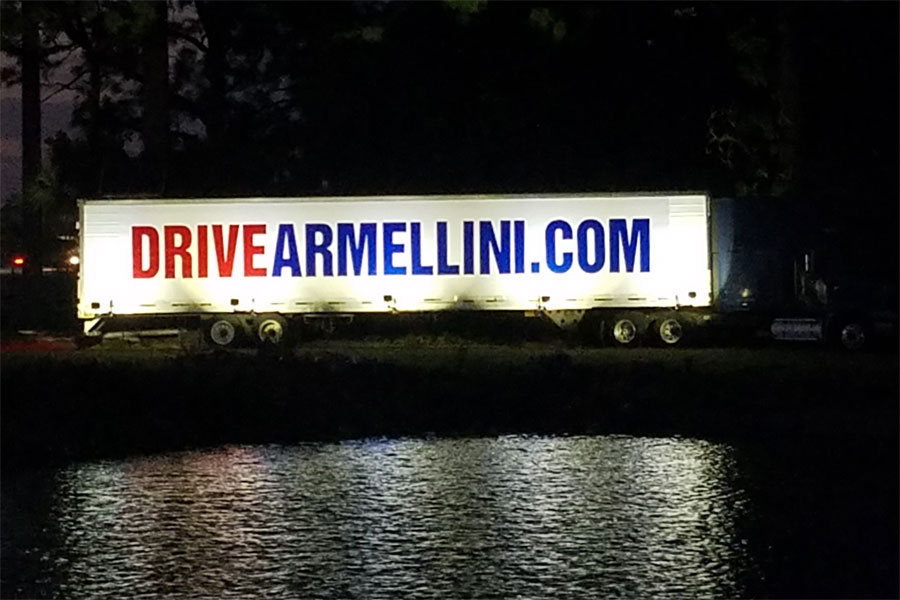 Armellini decided to illuminate a large tractor-trailer out along the highway to attract drivers to check out their company for work. This remote location was more than 200' away from the facility and would have been quite expensive to bring the electricity out. Instead, solar was able to illuminate this large trailer with five low-wattage fixtures. And because of the lack of ambient light, these low wattage fixtures fully illuminate the trailer efficiently and can easily be seen from the highway.
Stemilt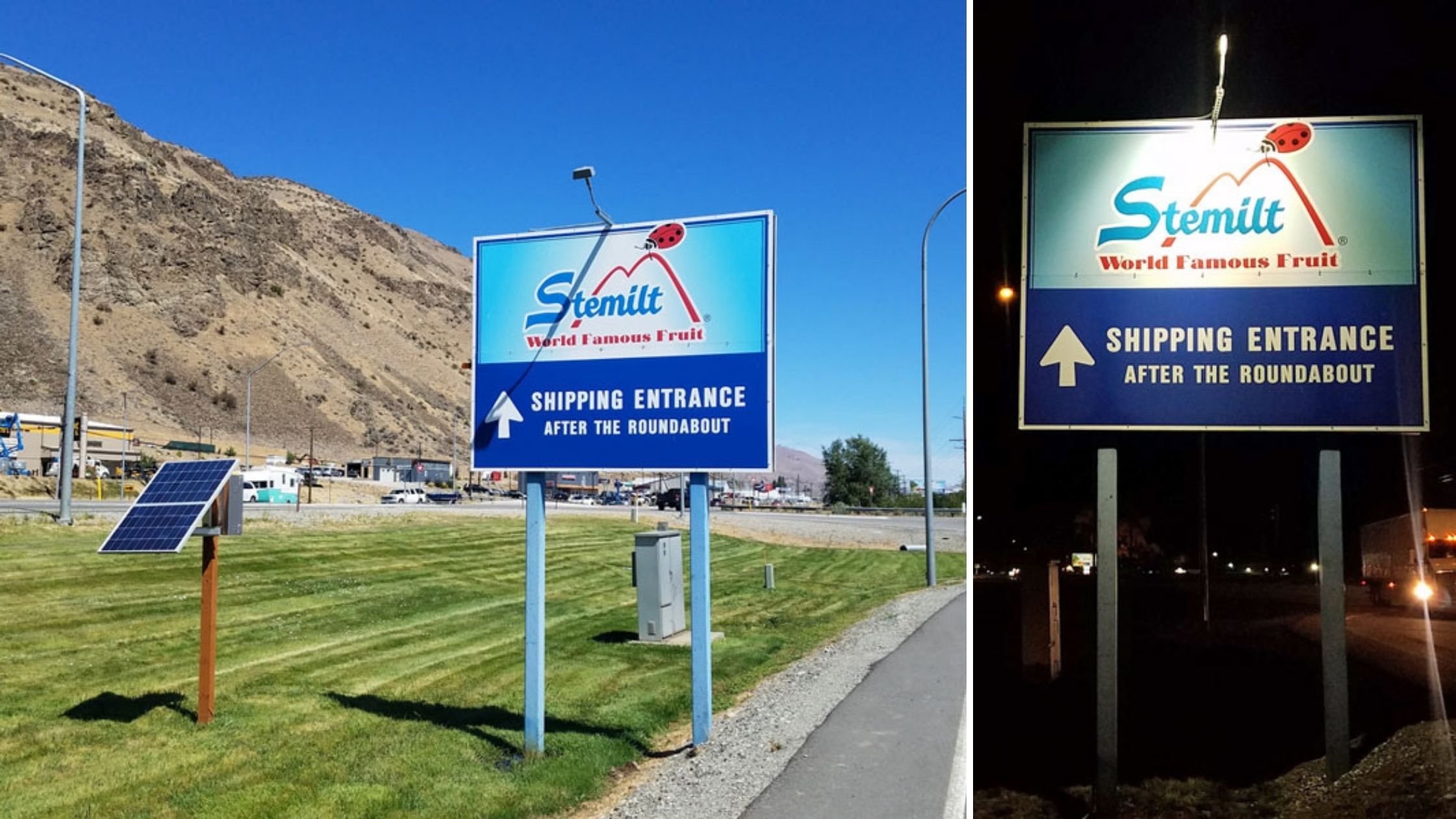 The solar sign lighting solution for Stemilt had to provide a reliable system for truckers coming and going, making deliveries all hours of the night. The sign is located in a remote area, far from the facility, on a curvy road where the trucks can enter. The solar lighting solution not only was sized to provide plenty of illumination at night but also powered a small flashing beacon to attract the truckers as they made their way. The installer fashioned a custom bracket for the fixture to mount to the top of the sign as this area gets a lot of snowfall in the winter months, so ground mounting the fixture was not an option.
Moraine Valley Community College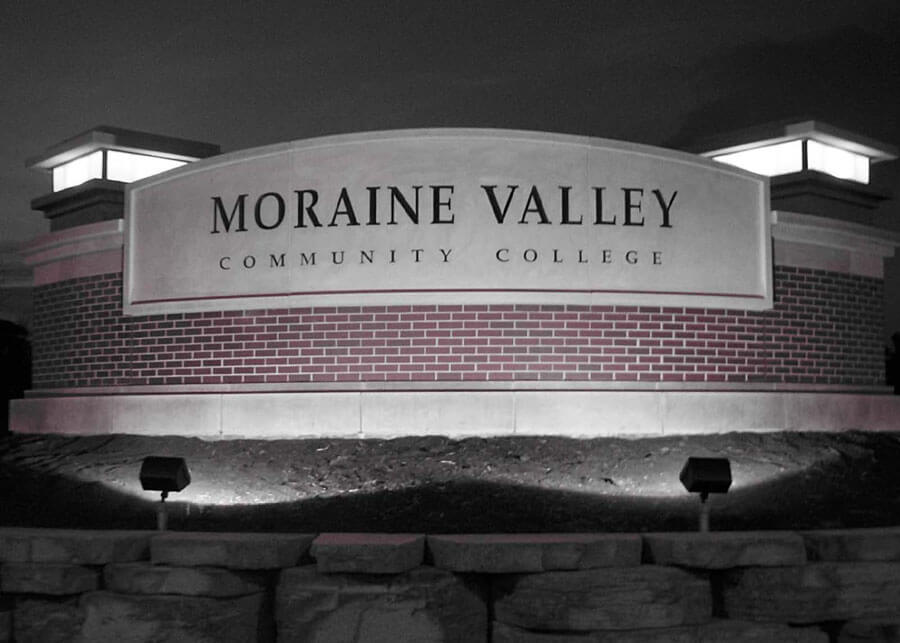 The Moraine Valley Community College needed not only their large, rounded monument sign to be illuminated with floods, but they also wanted the two square areas to glow as well at night with some LED modules. SEPCO provided a single large solar power assembly to do all of that and provide plenty of backup for this northern installation.
Homeowners Associations
Finally, let's look at how homeowners associations use a solar sign lighting solution. Many are located at the entrance, and power isn't always the first thing thought of when developing the area, especially not past the front entrance gate. A solar solution can illuminate the sign as well as some surrounding landscape.
Orchid Bay HOA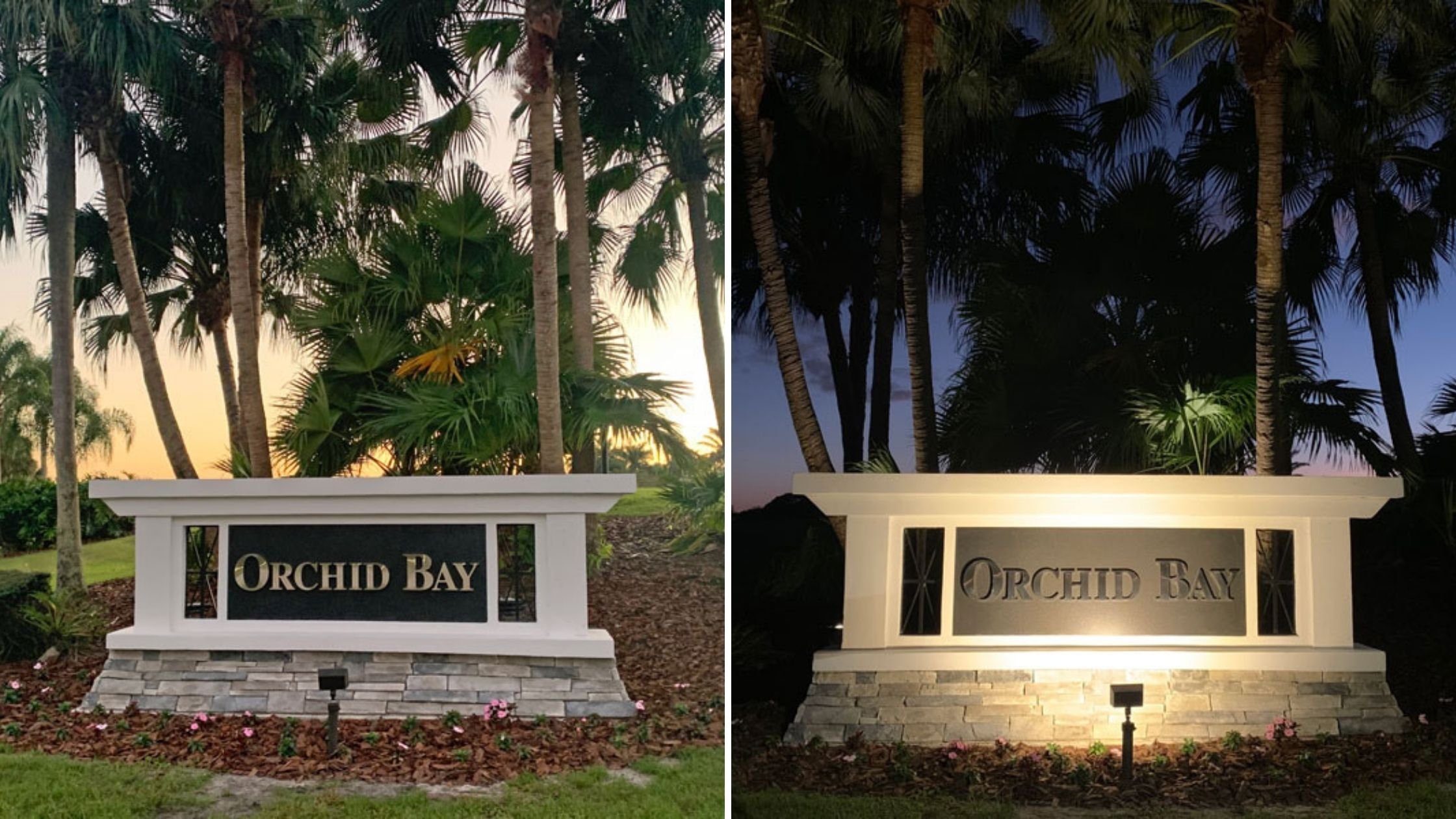 Orchid Bay redeveloped its main entrance sign and wanted to utilize solar to illuminate the large monument sign and some beautiful palm trees behind the sign. Everything is powered off a single solar power assembly and illuminates a couple in grade fixtures and a larger flood for the sign face. The fixtures were set in some new landscaping that will eventually help hide the fixture bracket, and everything was powder-coated to their liking.
Cornerstone HOA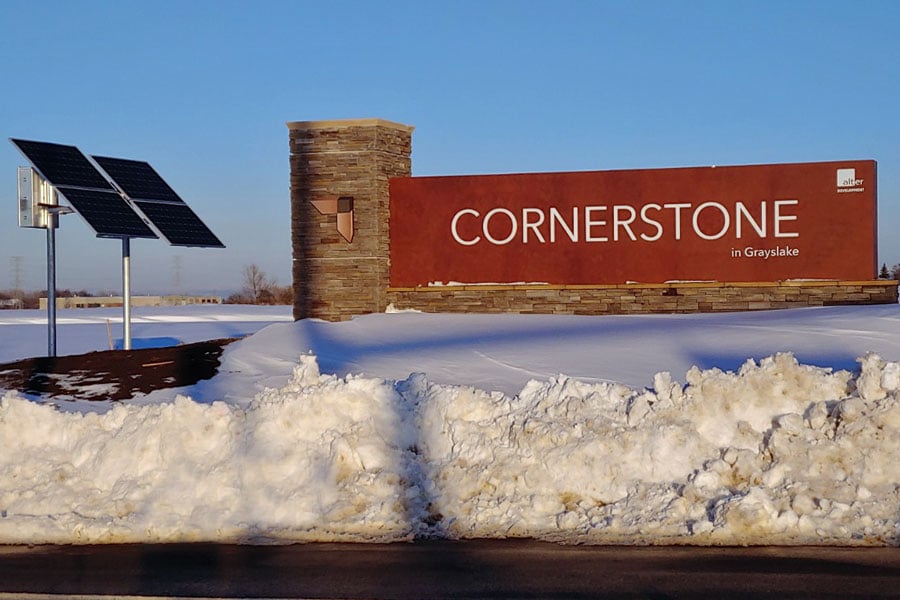 The Cornerstone development had a very large internally illuminated sign cabinet that required many LEDs to be fully illuminated. We worked closely with the sign companies to size up the needed solar to fully illuminate the sign and keep it illuminated all night long. This setup required half the LED modules to be operated off one solar power assembly, requiring two complete systems in the end. Though this system is large, it will provide adequate power for all the LEDs needed for this sign and provide plenty of backup during the winter months when nights are long, and the sun is scarce.
As you can see, solar outdoor sign lights are the perfect choice for many applications and installations. Working with a reputable solar manufacturer will ensure that the systems are sized correctly and will last you for many years. Hence, the versatility of solar to meet any need and provide a cost-effective solution to any sign application.