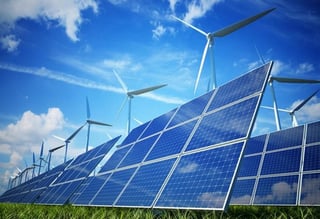 Renewable Energy and Green Power Energy efficiency opportunities have been available to some facilities across the county and some facilities may want to consider going green. It is studied that renewable energy is referenced as electricity distributed from energy sources in the form of Wind, Solar, Geothermal, Hydro and Biomass. These energies are abundant and based on energy flows that are replenished by natural process and does not become depleted when use, like fossil fuel or nuclear.
Renewable energy has unique costs and benefits than the conventional sources. Studies show that much higher level of renewable energy can be achieved while substantially reducing global warming emissions. Green power is more environmental, friendly, safer and healthy, if all the states embark on sound plan to created and maximize green, renewable energy and energy efficiency.
Benefits of Renewable Energy:
Renewable energy improves health and environmental quality. Electricity generated from renewable energy rather than fossil fuels offer significant public health, environmental and economic benefits.
Renewable energy will significantly reduce premature mortality, lost work days and overall health care costs. Like the fossil fuels, they emit pollutions to our air and water which has been linked to breathing problems, neurological damaged heart attacks and cancer.
Green power is huge and in-exhaustible in supply, throughout the world, strong winds, sunny skies, plant residues, heat from the earth and fast moving tide can each provide a huge and consistent energy replenished supply. The diversity sources of renewable energy have immense potential to offer all the electricity a nation needs many times over if properly harnessed and managed as well.
Another important factor in using renewable energy sources is to help reduce the negative environmental effects associated with non-renewable energy sources such as coal and natural gas. Willingness to use a renewable energy source will not only decipher into cost savings for you over the long haul, but will also help protect the environment from the risks of fossil fuel emissions of non-renewable energy sources.
Economic Benefits:
Harnessing renewable energy is more labor intensive, as compared to fossil fuels, which is typically mechanized and capital intensive. On average, it creates a lot of jobs for each unit of electricity generated from renewable sources than fossil fuels. Increasing renewable energy has real potential to continue still job addition and creation.
Green energy in 2014 supports thousands of jobs in various capacities in the United State, for example Wind and Solar industries. These job gains would be enough on their own to reduce the unemployment rate in today's economy by about two full percentage points, even after taking into full account the inevitable job losses in conventional fossil fuel sectors of the U.S. economy as they contract.
Sources: www.altenegy.com http://www.forbes.com/sites/realspin/2014/09/24/is-renewable-energy-really-green/
About the Author: Peter Okwudi is a Machining Sales Engineer at Lere Technology. Prior to joining Lere Technology, he worked in strategic business development and consulting at several companies. Notably, his four years Energy Specialist of Business Development for Green Energy Expert LLC, where he directed major partnering initiatives. Also, a former mechanical engineering writer for Bright-Hub Engineering. Peter's greatest strengths are his creativity, drive and leadership. He thrives on challenges, particularly those that expand the company's reach. Peter holds a bachelor's degree in mechanical engineering, graduate certificate in renewable energy and sustainability and MBA in progress from Phoenix University. He lives in Charlotte with his wife, their three children.