Businesses use them. So do HOAs. Even some directional signs are put in place to provide information. With all this information being hidden at night with no illumination, how do you light all the signs? Well, if there is electric, this is easy; however, what if there is no electric nearby? This could complicate things.
Solar sign lighting systems are able to adapt to a wide variety of applications. From small marker signs to large billboards, from internally illuminated to flood illuminated, almost every sign lighting system can be powered by solar. Here are some of the ways solar can quickly and easily adapt.
Small Flood
Small signs can use our FL-AB fixture, typically up to a 5' x 5' sign. These low powered fixtures are great for these smaller signs and are very cost effective, typically not requiring much solar or battery backup and still providing a reliable, long life system.
Medium / Large Floods
The ALF – Architectural Flood and the ARF Medium Flood are used for signs over 5' and provide a bit more lighting. The ALF provides great lighting at still a low wattage while the ARF can range from quite a high wattage, 53 Watts to be exact, to almost as low as the ALF.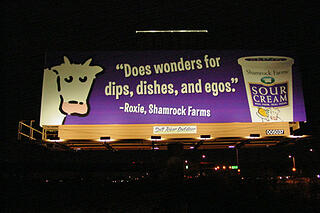 Billboard Floods
Grouping multiple ARF fixtures together allows for even more illumination on a sign, or provides great lighting on a billboard. Single and double sided billboards all can be powered by solar using the ARF flood fixtures. Typically, two to six floods are powered by a single large power assembly, and depending on the application, operation schedules, and other information, will help determine exactly what is required and the configuration that will be used. There are many ways to shine a light with these two types of fixtures. And while you are at it, check out our Billboard Case Study.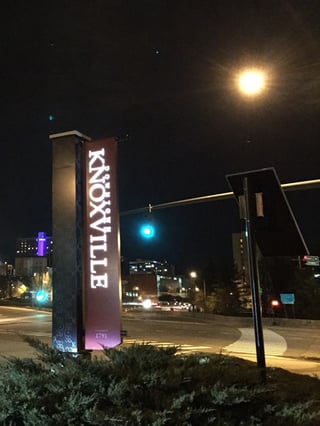 Internal Illumination
Internal sign lights can be illuminated in many different ways. We use SloanLED products and provide a great combination of option to use in conjunction with our solar power assemblies. Most internal signs use the SignBOX, PosterBOX or VL Plus series and we can provide a custom layout to illuminate exactly the area required with your internal sign.
So what's next? Check out some additional articles that can help you determine what you need. Solar Power Sign Light Design: Step by Step gives you the information required to provide a custom solution, or you can click below and download our free eBook on sign lighting.