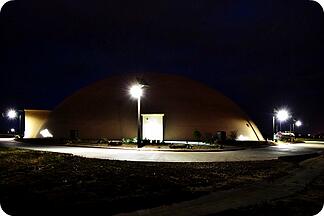 In the previous posts on why to implement security lighting and where to implement security lighting we discussed the need and location for security lighting. This article will go on to the how to implement security lighting. Every application varies on the equipment used and how to use it.
Residential Security Lighting
Residential security lighting comes in many forms such as landscape lighting, perimeter flood lighting, and access lighting. Landscape lighting uses low light levels, but help by showing movement around the residence. Motion detected perimeter flood lights are a great way to secure the outside of a home as well as alert the homeowners of possible movement outside. Finally, access lighting, which is typically installed in doorways, allow the homeowner and visitor to clearly see each other. All of these types of lighting can be purchased from a home improvement store such as Home Depot or Lowes and have easy installation methods, especially when using solar powered landscape and security lighting. If you are working on the home's power, don't forget to turn off the breakers first!
Business Security Lighting
When a business is needing security lighting, they are requiring much larger scale lighting systems. These lighting systems are usually designed by a lighting engineer and require extensive electrical knowledge to install. Businesses that are open after dark need brightly lit walkways, parking lots, and entrances to make sure the employees and customers are safe. After the business closes, the lights sometimes can be dimmed down to lower the power consumption. These lights are purchased through a lighting manufacturer or distributor and require electricians for installation. If solar security lights are being used, the voltage is much less, but hiring an electrician still may be your best option for installation, but is not required.
There are many variations of lighting levels required by different types of businesses such as law enforcement, schools, hotels, gas stations, etc. The lighting engineer or manufacturing company you are working with for the security lighting will have knowledge of these needs and be able to help make sure the requirements are met. Talk to your lighting professional about what your needs are and they will find the right light for your project.