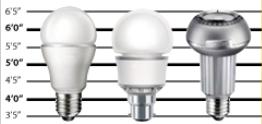 With the right LED outdoor lighting you can turn your garden by day into an enchanted, evening wilderness, and save plenty of energy as you go. Whether it's entertaining friends by night or creating a romantic setting for dining after dark, LED lighting provides a versatile and cost effective solution.
At first you may be apprehensive about the effect strewing outdoor lighting all around your garden will have on your electricity bill, but so long as you use the right type of lighting this need not be the case. LED lights only actually use around 10 per cent of the electricity of traditional incandescent light bulbs, which affords you a great deal of freedom when deciding on the affect you would like to create. The benefits of LED lighting do not stop there. The efficiency of this type of light is such that even using just a fraction of the energy of incandescent bulbs, the light produced is both clearer and brighter.
The fantastic energy efficiency of LED lights is down in no small part to the fact that LED lights do not heat up when they are switched on, so rather than wasting energy by producing heat, LED lights produce light energy alone.
Another factor so integral to the suitability of LED lighting to your outdoor space is their hardiness. LED lights are designed to be extremely tough and will not be affected by the weather, whatever the conditions throw at them. Come rain or shine, your outdoor space will be filled with light, enabling you to make the most of your garden's best features.
The directional nature of LED lighting increases its suitability for garden use, enabling you to spotlight trees, water features, decking and other garden areas. You can also mix and match the brightness and coolness of your bulbs to create a night time garden which is entirely unique to you. Coloured LED lights can add another element to your garden, spotlighting, uplighting or downlighting entertaining or eating areas.
As well as making vast reductions to energy consumption, LED lights are also extremely long lasting. Don't make the mistake of assuming LED lights will barely last the summer; depending on the particular LED bulb you buy, you can expect an average life of between 30,000 and 50,000 hours, making them cost effective as well as environmentally friendly.
If you're looking for a simple and impermanent method of transforming your garden into a charming outdoor space, LED lights will help you to save up to 90 per cent on the cost of your energy bill and reduce the number of replacement bulbs required thereafter.
Author: Whichledlight.com is a website that lets you compare a wide variety of LED outdoor lighting products in a range of styles and from different manufacturers. Every penny counts at Whichledlight.com