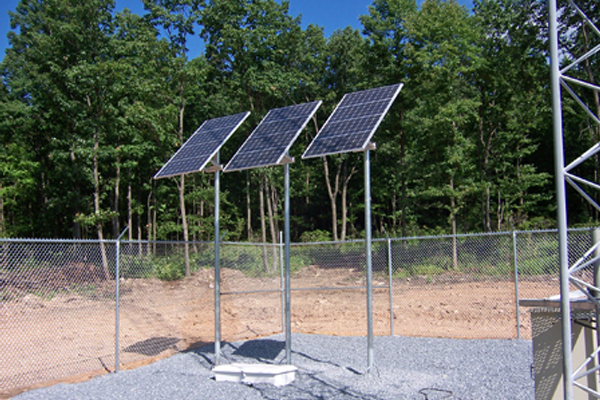 Remote solar power systems provide power to areas where power doesn't already exist or is difficult to bring out the grid. These types of systems can operate anything from a small light to large scale applications. Every system should be built to specification of the device they are operating and provide enough backup power for times of bad weather.
When purchasing your remote solar power system package, make sure to understand exactly what is included and what you should expect to receive. Different manufacturers may include different brand of components, but the standard complete system should be comprised of the same type of parts.
Solar Panels – The first and biggest component of a remote solar power system is the solar panels. Each panel is able to produce a certain amount of power, so make sure to get specifications on the panel to find out exactly what you should expect. A solar panel is comprised of silicon cells placed on a grid and protected by glass and framing. Additional panel protection is useful in areas where there are high chances of vandalism or wind-blown debris. The protection can be in the form of Lexan on the top of the solar or aluminum riveted to the back of the solar.
Battery Assembly – The next component to pay close attention to is the battery assembly. Making sure there is enough power in the battery to handle the load can make or break the system. You never want the battery to completely deplete down to zero, especially not every day, due to cycling of the battery. Batteries only hold a number of cycles, and if you deplete your battery to nothing every day, your battery system will only last a short amount of time. This also does not provide backup for times of little sun due to inclement weather. A minimum of five days autonomy is best for most applications, more for areas with a lot of snow or bad weather.
Charge Controller – The charge controller tells the system when to charge the battery and when to utilize the power. Your charge controller should always have a LVD Low Voltage Disconnect so that if the batteries get below a certain point, they will no longer pull the power and wait for the batteries to be recharged by the solar. The charge controller also tells the battery when night has come and to turn on the system when you have dusk to dawn system. Additional control options can be used to provide different operating requirements.
Making sure all components of your remote solar power system's package are high grade and can meet the specifications of the load will ensure your system will run reliably for years. Remember, solar panels last 25 or more years, batteries should be replaced every five to seven years and your charge controller varies, but should be good for about 10 years or more. Researching companies and getting the specifications and warranty information of each component will help you choose the best system for your application.