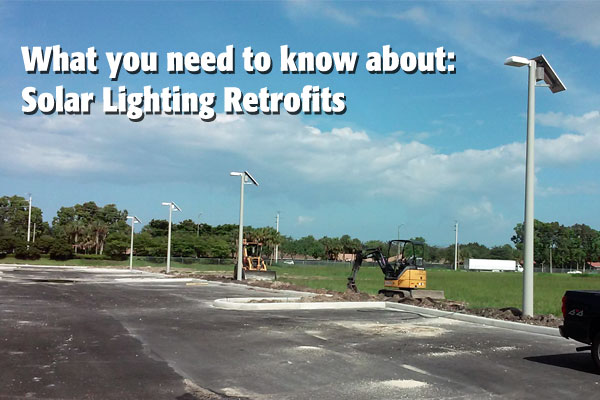 The constant request to replace grid tied lights with solar powered lighting systems, taking them off grid, makes me step back for a minute. What is the reasoning behind this?
To understand this, we need to look at the three major reasons people use solar lighting systems:
1. There is no grid power currently available or trenching in grid power is costly
2. Current power lines are not operational and require extensive construction to remove current infrastructure to replace
3. The desire for a green alternative / gain LEED points / etc.
When a potential client comes in with a request for a 1 for 1 replacement of their current grid powered lights that are currently operational and want to disconnect the power grid and use stand-alone solar, this is a tough sale and rarely happens.
First off, solar is almost never a 1 for 1 replacement. With the unlimited power available with grid energy, most people don't pay attention to factors such as lumens per watt, energy efficiency, etc. They think a 300 Watt light is the same across the board and is plenty bright. With solar we meet the same lighting uniformity by lowering the heights of the fixture to get higher levels of lighting on the ground. Therefore, the same levels can be met with Solar as with grid power but the design, mounting heights, wattages, etc would require different mounting locations and more of them.
Solar lighting system designers look at projects from the ground up to design a complete system. They look at light level requirements, pole locations, geographic location, and operation profile requirements, etc. We take many factors into account when designing a lighting system or project. This allows us to use a much lower wattage fixture and forces us to provide the best lumens per watt efficiency available.
Second, there is also the added cost of replacing the poles as well. Solar panels and batteries add weight and a higher foot print to the poles. The grid poles are designed to hold a fixture and not designed structurally for the added materials. Therefore new poles need to also be configured into the cost.
Therefore, if you do not have electrical lines at the site, the currently lines are not operational or hidden under the roadway and if you are looking for a green alternative, want to cut your company's CO2 emissions, looking to do a complete facility overhaul moving towards solar, or are looking for LEED points, then definitely, look at using solar lighting to replace your existing electrical lights.
If you are looking to cut costs with currently electric lights, look at switching out fixtures to LED fixtures, using much less power than old style HPS lights, and find an efficient fixture. Our partners at Hubbell Outdoor Lighting manufacture fixtures that will meet the needs of your project and the efficiency ratings and performance of their LEDs are top quality.