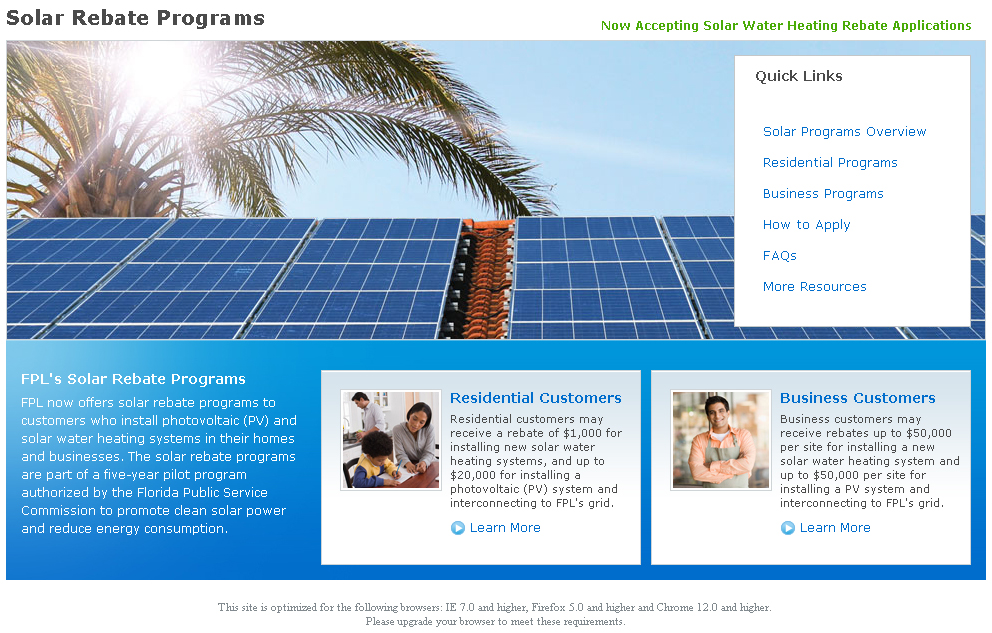 FPL has opened the application period for the 2012 solar rebate program on October 27th. This is an ongoing pilot program to help reduce energy consumption and peak demand, but you have to hurry as it is first come, first serve. The rebates include solar photovoltaic (PV) and solar water heating systems.
How much is available?
The Florida Public Service Commission (PSC) has authorized $15.5 million for 2012 and the program will be available from October 2011 through September 2012. Half the funds were issued on October 27th, but the remainder is going to be issued in Spring 2012, so there is still time to get your application in.
FPL's vice president Marlene Santos states "These rebates can help significantly defray the upfront cost of a customer's investment in distributed renewable energy generation, but the annual funding is limited and first-come, first-served so we continue to encourage interested customers to make sure they have the necessary components of the application ready."
What is available?
Residential Solar Water Heating: FPL's program for residential solar water heating provides $1,000 per installation.
Business Solar Water Heating: Businesses will be eligible for variable rebate based on the size of the system equaling $30 per 1,000 BTU / day of the maximum rated output of the new system, up to $50,000 per site. Businesses with multiple sites can receive up to $150,000 for the year.
Residential Solar PV: The incentive for solar power installed on a home is $2,000 per kW of the rated direct-current (DC) output up to $20,000.
Business Solar PV: Businesses will be eligible for variable rebate based on the output of the system up to $50,000 per site and is calculated at $2 per DC Watt of the solar panel rating up to the first 10 kW, $1.50 for 10 kW to 25 kW, and $1 for every kW above 25. Multiple locations can receive a total of $150,000 per funding year.
What about Non-for-Profit Organization?
FPL has a limited number of rebates available for qualifying non-for-profit organizations that install solar water heaters in new construction for low income families. FPL also provides education programs while producing energy at schools and other educational facilities. FPL plans on installing at least oneNextGenerationSolarEducationCenterin 28 school districts inFlorida.
What to do next?
Visit www.FPL.com/solarrebates for more information on the application process and checklists. Also contact your local PV or Solar Hot Water systems installer. You can also look up more information on technology advancements and information at www.fsec.ucf.edu.
What if you are not an FPL customer?
Don't worry; there is still money available through Federal, State, and Local tax incentives. Visit www.dsireusa.org for more information on tax incentives. You can also contact your local energy company to see what is available locally.