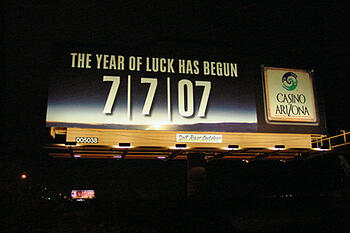 Billboards are a great way to advertise your business for travelers on highways. But if your billboards aren't lit at night, there are missed business opportunities. Lighting these billboards can provide the advertisement and information for night travelers and a great way to show your business, even after hours. There are design options to take into consideration with every billboard to make sure that your billboard stands out.
Billboards typically need one fixture per 12' of billboard width. The type of fixture required needs to be a bright flood light with a wide distribution pattern. The LEDs need to have a good spread of light so not to make bright glary spots in the middle and dim on the edges. We would suggest using something like the Laramie flood fixture with a large spread such as the NEMA 4 x 4 or NEMA 6 x 6 distribution patterns.
Power is one of the most difficult things to get out to a billboard as a lot of them are located in remote areas. Using a solar billboard light design can provide the power to the light fixtures with much less cost than trenching out the grid power. The solar power can provide enough power to light the fixtures all night, or turn off after a certain number of hours and back on before dawn during peak traffic times. Having the lights shut off for a few hours during the middle of the night when there is little traffic will reduce the size of solar power and battery assembly required to power the lights; therefore, reducing the overall cost of the system.
The solar power assembly can be mounted to the top of the billboard and power the fixtures mounted in front along the catwalk. The solar can even be sized to provide enough power to do a double sided billboard so that your information doesn't miss anyone traveling either direction. Want to learn more? Check out a case study below.