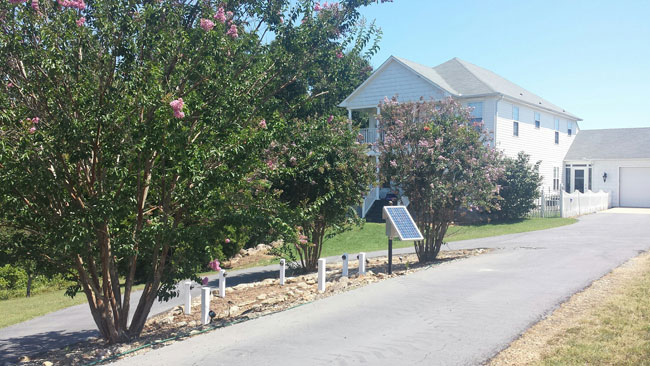 A recent project completed using a SEPCO solar power assembly to power multiple small LED landscape light fixtures to provide enough power to illuminate a small area all night. These lights can be used for tree up lighting, lighting small landscape features like a pond or statue, lights along a pathway and so many other applications. Solar powered landscape lights can easily adapt to these types of applications.
Small landscape lights powered by a single larger solar power assembly allows for more versatility in these types of applications. Noticing in the photo, not all fixtures are located in the full sun, allowing for complete charge if using the big box style fixtures with the small solar panel on each individual fixture. Using a single larger solar power assembly allows for the fixtures to be placed in any location, even shaded locations, with the solar power assembly placed in the sun taking full advantage of the sun's power.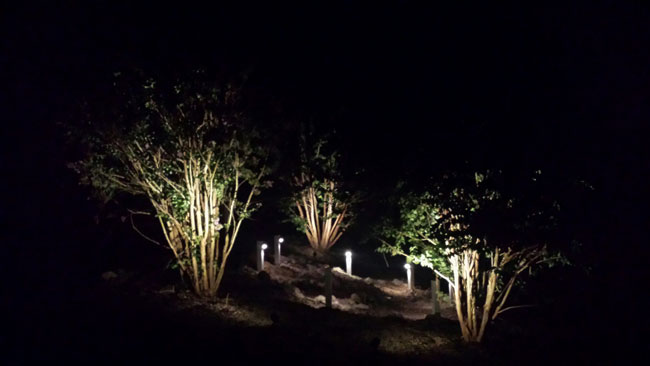 Secondly, the fixtures do not all have to match. Using multiple style of fixtures for different applications, all powered the same, makes sure that your system operates exactly how you want it to and not have parts of your landscape go out before the rest. If you want all the fixtures to operate dusk to dawn, using a single solar power source sized for the number of fixtures you will be using will ensure that the fixtures operate exactly the way you want.
Pathways that need a little illumination, or that tree that you have been grooming to perfection, or so many other applications, all can be illuminated easily with low wattage landscape fixtures and enjoyed anytime at night. Even overhead rope lights can now be illuminated using solar power assemblies to add a bit of atmosphere to your outdoor space. Next time you look to illuminate your space, contact your solar lighting specialist to see how they can assist you by using a single solar power source to complete your project.