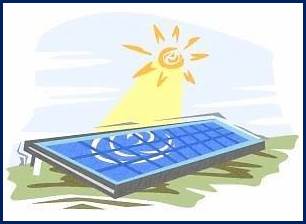 There has been a growing trend in recent years towards clean, renewable energy. Many consumers have explored the benefits of meeting some or all of their energy needs through renewable energy, such as wind or solar energy. One of the most common and popular options is the installation of home solar panels. When done properly, these solar panels can generate a large amount of electricity, greatly reducing the bill being paid to the electric company.
Over time, it is very possible for the investment in solar energy to pay for itself and more, all while being clean and renewable. The first consideration when looking in to solar panels is the upfront cost. Depending on the size of your house and the amount of energy you are looking to produce, this can be a sizable investment. In addition to investigating the cost of the panels themselves, you will want to look in to the cost of getting the panels installed on your roof and connected to your home's electrical system.
While it is possible to do the installation yourself, most consumers will want to hire professionals to make sure the job is done correctly the first time. The amount you pay for a professional installation can be significantly less than having to redo the project later. In certain areas, especially northern latitudes which gets fewer hours of sunlight, you may not generate enough energy through solar for it to be your only source of energy. Be sure to carefully monitor your energy usage to determine if you can get by with just solar energy, and reach out to other homeowners who have made the switch to solar. They will be able to give you an estimate on how much energy you can expect to generate through solar panels.
Other homeowners can also be an excellent resource on where to buy panels and how to install them. If need be, you can also look in to options such as wind, or see if your electric company offers any partial-year options; you may be able to use solar energy throughout the summer and just need the extra electricity during the winter months.
In addition to the actual installation, you will want to look in to any laws in your area regarding solar panels for homes. While solar panels are becoming increasingly prevalent, there may be rules or regulations which can come in to play in your particular case, so you will want to be aware of them. In addition to any laws, you will want to check with any homeowners association, landlord, or other entity which has any say in your home to make sure you can install your solar panels. It is also worth looking in to any tax credits you may qualify for by switching to solar energy.
About the Author: Shashank Kirloskar is a professional business analyst. Apart from his profession he is a freelance writer for Lancosolar.com. He loves writing and sharing articles related to solar energy and companies offering solar panel for homes and commercial buildings.