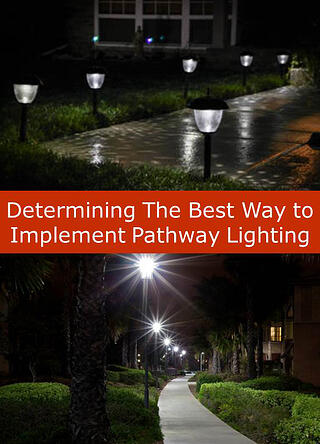 Pathway lights cover a myriad of different areas. They can be small walkways like in front of a house or through landscaping, or large walkways like those around a college campus or park. Adequate lighting allows for people along the pathway after dark to be able to see where they are going and provide visibility to their surrounding areas. To ensure these pathways are properly illuminated, there are a few steps to follow to determine what sort of lighting would be required.
Step 1 - Determine what type of pathway will be illuminated.
Small pathways that are only a foot or two wide in gardens or along a home do not require much lighting other than illuminating the footpath as there is typically other lighting to illuminate the surrounding area. These are typically illuminated with small pagoda or bollard style lighting that only provides the light at a very low level.
Larger pathways that are over three feet wide will require high powered bollard fixtures or overhead fixtures to provide a large area of light. With LED lighting and advanced optics, these fixtures can provide lighting to just the path, or the path and surrounding areas for added security. These areas also characteristically require even illumination which cannot be provided by small, low powered fixtures.
Step 2 - Determine how to power the light fixtures.
These types of fixtures can be either standard grid powered or solar powered. Standard electrical power requires the use of underground wiring and should be implemented in the planning phase of a project to not disturb the landscaping or require for breaking up concrete to trench under. The electrical lights can be set on a timer to only be on during the times they will be needed, or the lights can operate all night.
Solar powered pathway lighting such as solar bollards or solar pagoda lights can be designed two ways. The first way is to have every light have its own solar power source, typically fixed to the top of the fixture. These fixtures provide the lighting where needed; however, they are prone to vandalism, and due to the flat panel design, do not get the full advantage of the sun, especially when there is inclement weather such as snow or cloudy weather. These types of fixtures also can only be located in sunny areas and cannot be installed under trees or nearby something that can cast a shadow on the solar during the day. They also do not typically operate all night or have much for backup power if they are not able to be fully charged by the sun the following day.
Using a single solar power source that is remotely installed with full access to the sun to provide the power for multiple fixtures provides added security since these types of solar power assemblies are more vandal resistant and can be located in a more secure location or high up on a pole with the fixtures installed anywhere they are needed, even in the shade. They are typically mounted at an angle facing south to take full advantage of all the power the sun can provide. The solar power assembly provides more power than integrated fixtures with solar as well as much more backup power for inclement weather periods.
Solar powered pathway lights are the perfect solution for lighting an area that does not have electrical power nearby or as an afterthought to an existing area. They can also be set on a timer for specific operation times or operate all night for areas, such as a hospital, that are open all night.
Step 3 - Determine the architectural requirements of the area.
Is the pathway located in an industrial or historic area? Are there fixtures that would need to be matched already located nearby? With the number of light fixture styles available, there is sure to be a fixture to meet the architectural needs of the project.
LEDs have advanced and can provide similar lighting levels for each fixture style. Learn about the fixture designs and talk to your local lighting company to determine if they can meet your requirements. Since LEDs are easily integrated with solar power systems, the requirement for a solar option no longer keeps you confined to only a small selection of fixtures.
Following these three steps will help you determine what the best solution to your project is. Speak with your lighting representative to see what solutions they can provide you for your project and all the options they have available to meet your needs. With the advancements in the lighting industry happening every day, now is a great time to explore your options in solar lighting.