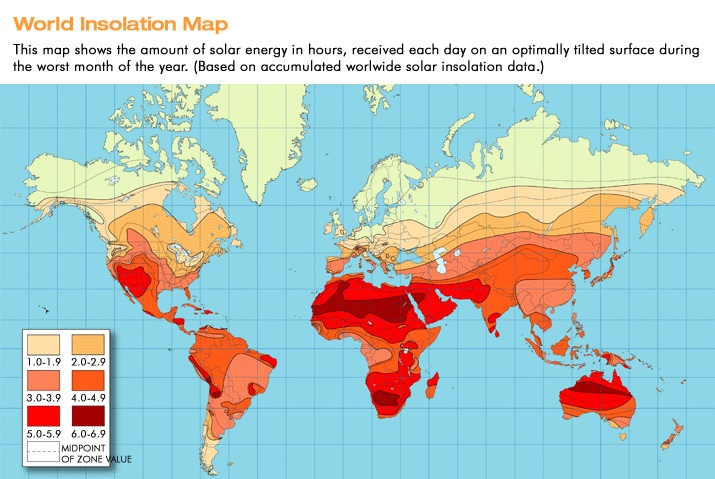 We wanted to start the New Year off with some basic facts on solar lighting and power systems. These will explain how the systems operate and basic sizing information. Understanding these few facts will allow you to better understand how solar operates and how a reliable system should operate. Let's start off with the first fact:
What is a Solar Sun Hour?
A solar sun hour is the unit of measurement used by solar companies. Grid tied systems use annual averages to determine the available sun since the grid can compensate for winter deficits where the summer will produce more than the rest of the year. Off grid systems need to use worst case scenario to determine how to size a system properly.
First thought would state that the sun is up for 10 or so hours per day; however, full sun power is what is used in determining the available sun hours. In the winter, some northern locations can only have a couple solar sun hours available where more southern locations can have four to five sun hours.
This is determined by NREL – National Renewable Energy Laboratory and programs such as RETScreen can be used by solar contractors and manufacturers to do the final analysis for determining available sun. Factors such as panel tilt and direction can be adjusted to find the optimum solar insolation in a specific area; however, most off grid solar lighting and power systems manufacturers use the standard of 45 degrees of tilt for mounting of the solar power assemblies.
The information provided is for peak available sun in a specific time (typically shown as a yearly overview calendar with an average). Off grid systems use December as their determining factor when properly sizing up a system; however, sometimes January can have lower available sun and should be used, but January is rare.
The longest night of the year is also used to determine the worst case operation of the lights or power application. Since the power is used mostly at night, using the worst case will provide a reliable system and can vary from 15 hours or more in northern areas and down to about 13.5 in most southern areas. Most off the shelf systems are sized for only 10 hours of operation and will not properly operate in the winter months.
Grid tied systems still use an average for their determining factors for sizing the system. This typically takes into account the complete load of the system as an average. This is then divided by the average solar sun hours to determine the amount of power required by the solar to feed the grid and offset the electric usages.
All these variations are used when completing a solar system and sun hours plays a huge part in the calculation. Understanding the local available sun in your area will help you determine if the solar system you are purchasing and using is large enough to properly operate your system requirements. Talk to your solar specialist to ensure that your system is correctly sized and what solar sun hours they are using to design your system.