Pavilions are installed in parks and public spaces to provide shelter and a great gathering area for people. In the early evenings, before the parks and public spaces close, there can be a need for lighting at these gatherings. Since most pavilions are located in an area with no electric power available, installing solar powered lights on the pavilions can be a great way to provide people the needed lighting while not disturbing the surrounding area trenching in standard electric.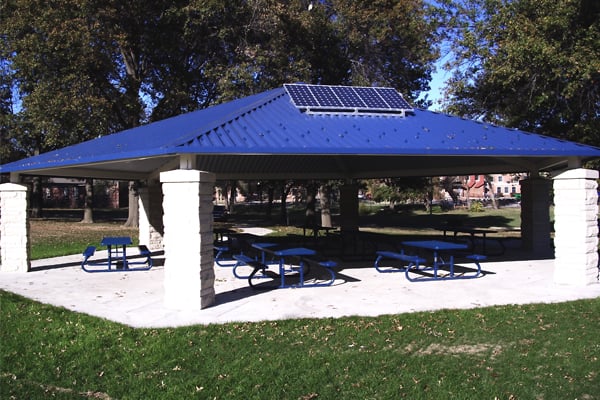 Solar pavilion lighitng is an integrated unit that uses the solar panels installed on the roof to provide power directly to the battery assembly installed under the roof. The solar panels charge the batteries during the day and the light fixtures use the power at night. The battery assembly is typically mounted under the roof to provide shading to the batteries and making maintenance easy to achieve. The light fixture is mounted center of the pavilion or around the perimeter, depending on the needs of the system. This low profile design provides the best option for lighting needs to remote pavilions.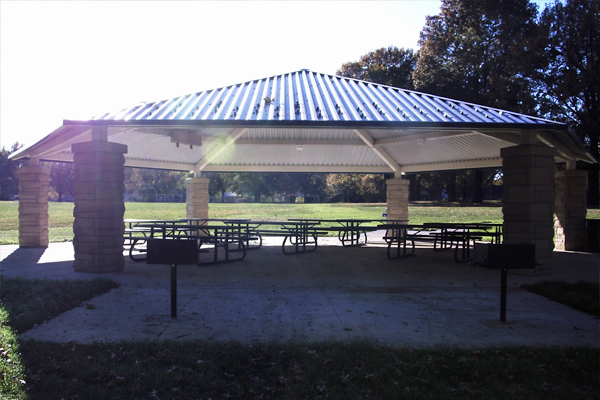 The fixtures can be either controlled by a dusk to dawn controller, but as most parks are not open all night, a spring loaded timer or set clock is the best option for these installations. Since the lights will not operate all night, the needed solar power assembly is much smaller than for applications where all night lighting is required. Specialty switch capabilities can also be installed for special events where the lights would need to stay on longer.
The pictures show an installation we have completed for a park in Kansas City, MO at a local park. The system runs four canopy fixtures all night for visitors to the park. These lights were installed in 2010 and show the perfect application for solar pavilion lighting as there is no nearby infrastructure.