So all solar pathway lights are created equal? The short answer is no. There are many different style, sizes, and functionalities between different solar pathway lighting systems. Let's look this over for a better understanding.
Residential Solar Pathway Lights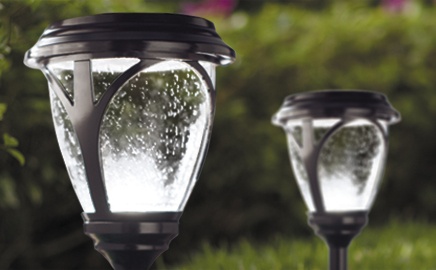 There are many options to find in any store or online for residential pathways. From small post top pagoda style fixtures to overhead flood style fixtures, residential pathways can be illuminated by solar powered lighting systems.
These systems are typically lower cost and have a life span of a few years; however, due to lower initial costs, makes replacement of the systems not something that will break the bank.
Residential pathway lights have so many options when it comes to style and functionality. Decorative styles vary drastically and there is just about something for everyone.
They use integrated solar power systems with the solar panel and small rechargeable batteries. They can hold a charge to operate single use and are not sized for dealing with overcast weather, but work great for most residential applications.
Pedestrian Scale Solar Pathway Lights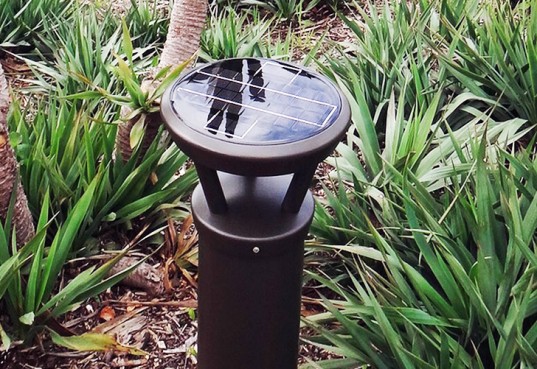 Pedestrian scale solar pathway lights are more robust than residential and are a mid-grade option. They have brighter fixtures and are sized with a few days backup storage. They can either be overhead lights to shine down on a pathway or bollard style lights for lower lighting.
Pedestrian scale solar lighting systems also have integrated solar power systems that are built into the top of the overhead fixture or bollard fixture with the batteries stored inside the fixture head, similar to residential solar lighting systems. These batteries are a bit larger to allow for multi-day storage.
These lights are best for HOA and small park pathways that don't have light level requirements and are not usually over 10'-12' in height. Wattages can range, but are typically around 800-1500 lumens per fixture. (Check out Wattage vs Lumens for more information).
Commercial Solar Pathway Lights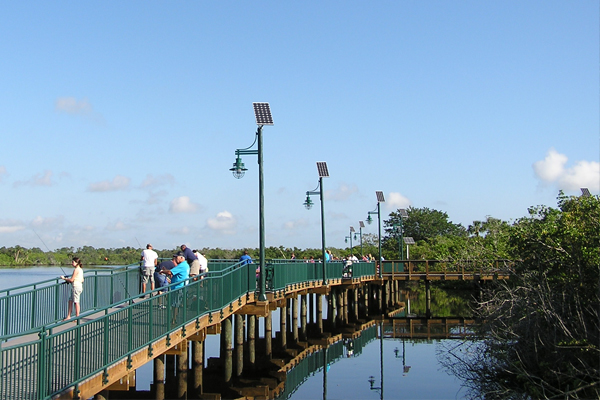 Commercial solar pathway lights are much larger systems. These use customized solar power assemblies to provide enough power for the fixture to operate for a determined operation schedule and plenty of backup storage. These systems can also power multiple fixtures from a single power source.
Commercial pathway lights are much higher powered and can provide up to 100' spacing while providing no dark areas. Commercial systems range from low bollards, small post top lights, to larger overhead lights. The solar power systems are sized for typically a minimum of five nights storage and use much higher powered fixtures than pedestrian or residential pathway lighting systems.
The solar power systems can also be easily placed remotely in a sunny location and allow the light fixtures to mount on separate poles wherever needed. This allows the lights more freedom on installation locations where integrated lights must be placed in sunny locations only as their solar is built into the fixture head.
Overall, each system has its pros and cons. Knowing exactly the application you are wanting to provide lighting for will allow you to determine what the best option is for your budget.
Img Ref: Home Depot, Inhabitat