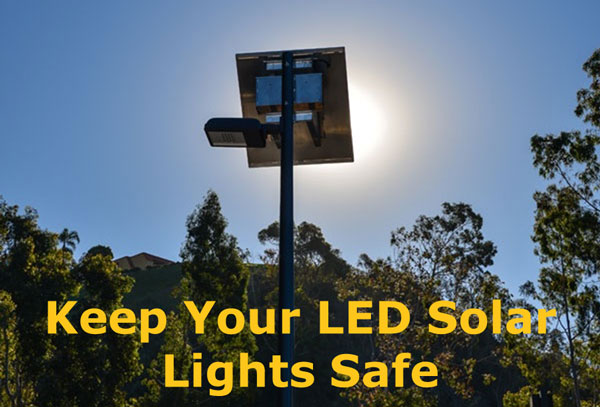 With the increasing costs of energy and the jump in demand for a renewable energy alternative, solar is increasingly being a commodity worth investing in. Making sure your systems are safe from theft and vandalism is important to ensure the longevity of the system you purchase. Here are a few tips to make sure your systems stay safe for years to come.
Install High on a Pole
Probably a minimum of 10' should be where the solar should be mounted. These systems are not easy to just grab and go, and with a good height of installation, the systems are even more difficult. Instead of just being able to walk up to a power assembly, a ladder at minimum will be required to get to the bolts and bracketry that holds the systems together on the pole.
Use Vandal Hardware
If the system is lower, using vandal hardware will require special tooling to be able to remove the systems from their mounting. This will make it even more difficult for systems to be taken apart in the field. Just make sure you don't lose the key in case you ever have to move the system.
Full Metal Back
If you are installing the LED solar lights in an area that is prone to vandalism, the backs are exposed to all types of things that can harm the solar cells. Having a system with a full protective back metal panel pan will help prevent anything from being able to damage the fragile backside of the solar panels. Vandals and wind-blown debris in a bad storm all can damage the solar. Having the option of using a full protective backside will keep those panels safe.
Lexan Front Protection
Lexan is installed to protect the front of the panels. Today, most solar panel manufactures are building solar panels that are much more durable than ever before, check out this great video from SolarWorld:
If you have a system that doesn't have durable glass like these modules, then using Lexan to protect the front of the system can be a great alternative. This is primarily suggested for areas prone to hail or areas close to sports centers such as golf, baseball, etc.
Talk to your manufacturer and see what options they have available for protecting the system.