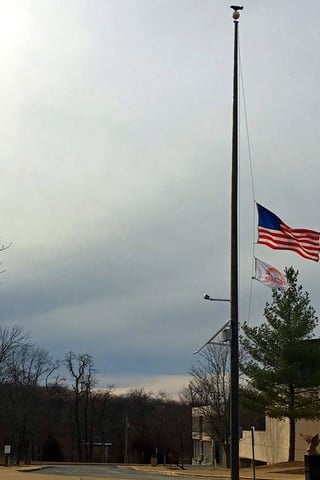 SEPCO recently worked with Parkway South High School to help illuminate their flag. Electrical service was going to be difficult to get to the location of the flag and they were looking for a solution to not have to take it down every night. Since it is good flag etiquette to illuminate a flag from dusk to dawn when leaving it up over night, they started looking for a solar solution.
After doing some research online, Parkway South High School found SEPCO and reached out for some help. By providing information on the system quality and the best value, SEPCO was selected to provide the solar flag lighting system.
SEPCO specified a smaller system to mount directly to the flag pole itself. The flag can now easily be left up overnight and be well illuminated. The solar had to mount directly to the pole since there was no way to mount an additional pole nearby to install the solar.
The flag light features an ARF LED flood fixture which shines up at the flag. By keeping the fixture around 10 to 15 feet below the flag, but using a narrow beam, the flag can easily be illuminated as the wind blows, concentrating the light to an area at the top of the pole.
The solar required for this project was only a small 150 Watts solar power assembly to illuminate the flag from dusk to dawn, just over 14 hours in the winter, with a battery backup for over seven nights to ensure longevity and reliability of the light system. Taking into consideration the local geographical and weather of the installation site ensures the system will operate as designed and last for many years to come.
SEPCO provides many different flag designs built to meet the needs of the project. Since flag sizes vary, and installations have different requirements, taking the time out to build a system to meet the needs.