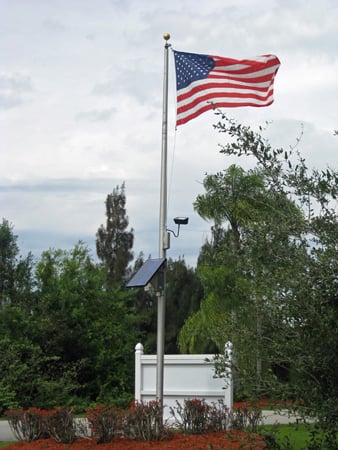 Lighting your flag with solar power is a great way to illuminate a flag. The solar flagpole lights are either mounted to the flag pole or ground mounted. The solar power can be mounted to the flag pole as well, but in some cases the solar is remote mounted.
The size and height of the flag and mounting position in relation to the flag will determine the quantity, wattage, and type of solar fixtures used in a particular application. For smaller flags, one wide beam floodlight mounted on the flag pole will do the job using the least amount of solar and battery. For larger flags that are flown at 30' and above, narrow beam floodlights are used.
As with any application finances are always a question and usually the least costly solar light fixtures and the lowest wattage to get the job done win in the solar lighting world. If you were to go the usual route and install a say 250 Watt HID flood light over a solar application, you would easily swallow up or equal the cost of a solar powered system in the amount it would cost you in installation, grid power, trenching, and materials for an AC powered system, even without the electric bill.
The dependability and lumens per watt of power from LED lighting comes into play as well. You can get over 50,000+ hours (approximately 12 years) of use out of a commercial LED light fixture. I'm sure you've seen small floodlighting systems in the stores, these are not worth the money they are asking as the longevity of these small systems and the amount of light output and lighting times will not suffice for an American Flag through the night.
The best bet would be to go with a commercial grade solar flag light system. The American Federal Flag Code, concerning lighting of an American Flag, states that a flag displayed through the night should be adequately illuminated from dusk to dawn. Although there is no law or penalty concerning the code, it is just good etiquette.
Happy Flag Flying!