Walkways and pathways have two main ways to provide lighting; overhead or low level lighting. Overhead lighting is provided by traditional fixtures either standard industrial fixtures or decorative post top fixtures. Low level lighting is typically provided by bollards or ingrade fixtures like step lights. Both these style fixtures provide different lighting levels and are good for specific types of lighting applications.
Overhead Pathway and Walkway Lights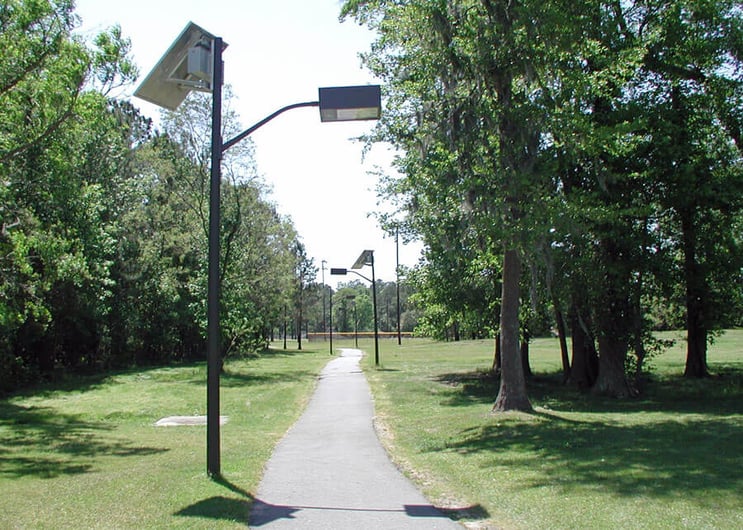 Standard overhead pathway and walkway lights cover much larger areas with a single low wattage LED light fixture. These types of lights typically have a 100' to 150' spacing with fixtures mounting between 15' and 20' depending on the requirements of the project and installation area. These are perfect for long pathway area lights or for a single short area that needs a little light such as entry paths.
Low Level Pathway and Walkway Lights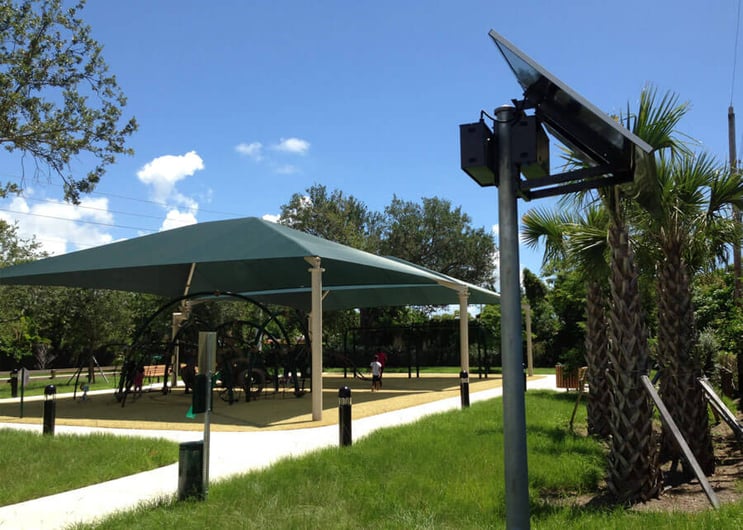 Low level lights such as bollards and ingrade fixtures are great for step lights or areas where only a very small area of illumination is required. Since most bollards are only 3' high, the maximum spread of the light will be around 20' to 25' and ingrade fixtures will have close to a 5' spread.
Solar Powered LED Outdoor Lights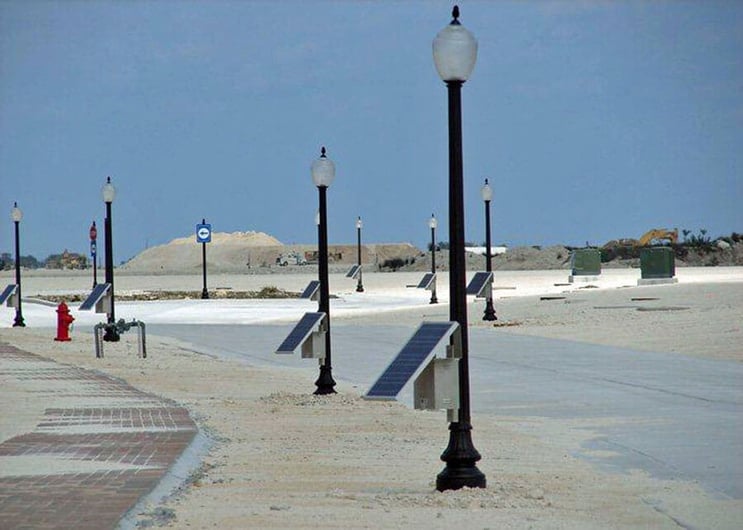 The combination of using solar power plus LED outdoor lights for pathway and walkway projects is a great way to provide lighting with no grid power. This is great when there are remote areas, such as for parks, where grid power is either limited or unavailable. The solar power assembly is used to charge the battery backup throughout the day and operate the fixtures at night for a set time frame or all night, depending on the security needs of the project.
Solar powered overhead lights use a single solar power source mounted at the top of the pole for powering a single fixture down lower on the pole. These are typically smaller systems used to provide the needed energy to operate the light the set time frame of the lights operation.
Solar powered bollard or ingrade lights use a single larger solar power assembly to operate multiple fixtures. This requires a little bit of trenching in the area between the fixtures and the solar power assembly. These systems are also popular when the area requiring illumination is in the shade and the solar power assembly can be remotely mounted in a nice sunny area nearby the pathway.
Next time you are looking for some lighting for your pathway or walkway area, look at utilizing solar powered LED outdoor lights. Not only can you save money initially by not having to bring in grid power, but you can save in the long run by not having to pay any electric bills over the years.