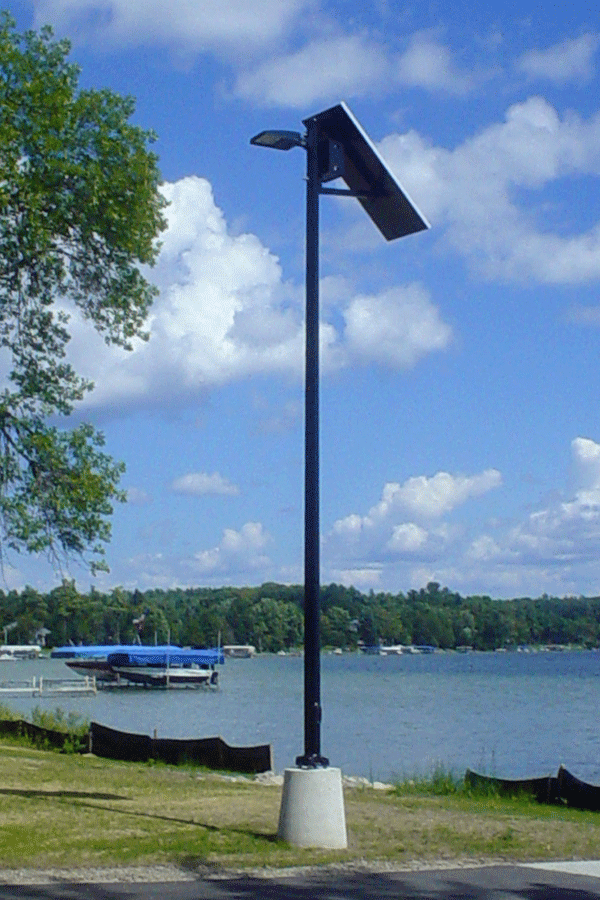 SEPCO was recently contacted by MDNR to provide lighting at the Maple Bay State Park for their boat launch and parking areas. The lights were needed to provide safety to boaters and park goers, but the cost of trenching standard electrical, putting in a meter and boring under the concrete to get the power where they needed it was cost prohibitive. This is where solar lighting was their perfect solution.
Provided were two lights to provide lighting for four hours after dusk and turn back on two hours before dawn. The lighting is provided by a Viper fixture and is powered by a 125 Watt solar power assembly. These systems have a backup of up to 5 days of no sun; which is important in the winter for Michigan.
The installation of the lighting was only part of a large project at the Maple Bay State Park boat launch area. They also provided other features such as a two lane launch ramp, two courtesy piers and vehicle trailer parking areas. They also installed naturalized storm water management system and barrier free accessibility, which greatly enhances the service to the boating public.
This is not the first project completed at a boat ramp in Michigan; however, it is the first to use the bright LED Viper fixture. Our other projects included power flood fixtures using compact fluorescent lamps. With the life expectancy and lumen output of the LEDs being superior, LEDs will surely start to be installed more frequently.