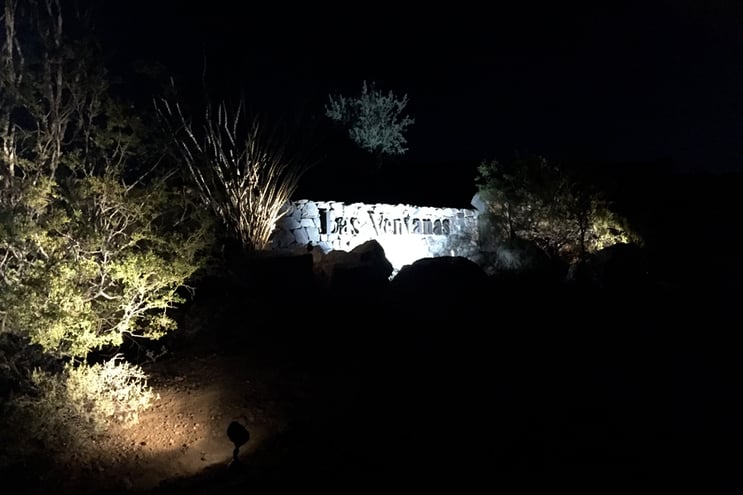 There are times where signs are installed with landscaping around the sign. Integrating solar landscape flood lights with the solar sign lights is a way to showcase landscapes at night. This is an easy addition and can be sized within the same power assembly as the sign light.
Signs typically take a single or double flood light to properly illuminate the sign face. Adding a few smaller floods to shine up at the surrounding trees or other landscape features can showcase these as well as the sign. Since most of these smaller floods are very low wattage, the additional load to a solar power system isn't too substantial to affect the sizing too much.
The above photo shows how the sign is illuminated by a 10 Watt LED flood fixture surrounded by three additional smaller flood fixtures to light up the surrounding landscape. This is all powered by a small solar power assembly and operates dusk for six hours.
To operate dusk to dawn, a little bit larger system would have been required, but since a majority of the power is coming from the flood light for the sign, the project was feasible and did not require much trenching or disturbance of the surrounding area.
Best of all, there are some cases where you can integrate the solar into the landscape, just as long as the solar panel itself is not shaded or obstructed in any way and faces south.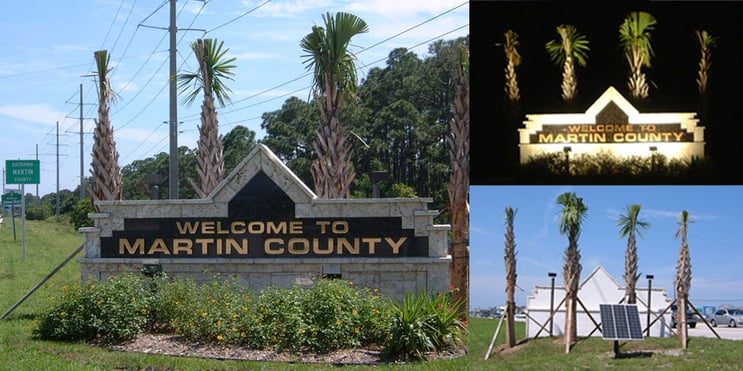 Locally, SEPCO has done the welcome signs around town where some of them have integrated tree uplighting along with the solar lights for the monument signs. These were initially CFL lights; however, have been upgraded with more efficient LED lights and allows for an even better showcase both the sign and landscapes.
There are many areas where utilizing multiple lights on a single power assembly source can be a great option. This can also help lower the costs since you will not have everything on separate panels and installation would be simpler. Talk to your solar specialist to see how they can accommodate your solar landscape lighting needs with your solar sign lighting requirements.