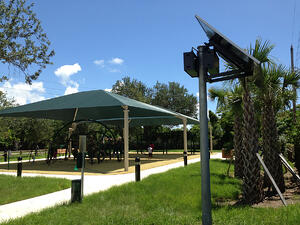 A city municipality in the greater Miami area turned to SEPCO to design a custom solar power walkway lighting system for a small park located in the middle of a residential neighborhood. The challenge was to create strong enough illumination for the neighborhood residents to be able to enjoy and feel safe walking in the park during park's evening hours, yet not so much light as to disturb residents with homes adjacent to the park.
SEPCO's solution for the lighting aspect of the project was to illuminate the walkways throughout the park with 20 strategically placed bollards, each equipped with a high performance 8 watt LED light engine. The next challenge was figuring out a way to power the 20 8 watt LED bollards exclusively with clean, renewable solar energy.
It is worth noting that while there are many solar power LED bollards on the market today that feature self-contained / built-in solar power systems. SEPCO does not subscribe to this design philosophy. The key reason being that our extensive testing has shown that available surface area of a standard bollard is simply not large enough to house a solar array that is large enough to power an LED bollard capable of creating commercial quality lighting for any meaningful amount of time (ex. 6-8 hours) without fail 7 nights week, 365 nights a year.
SEPCO's solution for the off-grid solar power portion of the project was to design one large, centrally located 340 watt solar power system with the inherent capacity to provide ultra reliable power needed to illuminate all twenty 8 watt LED bollards for a total of seven hours per night (i.e. system is programmed to operate from dusk for five hours…then turn off…then back on automatically two hours pre-dawn for the early morning walkers).
The net result is an ultra reliable, high performance solar power walkway lighting system that both local residents and adjacent homeowners can enjoy and appreciate.