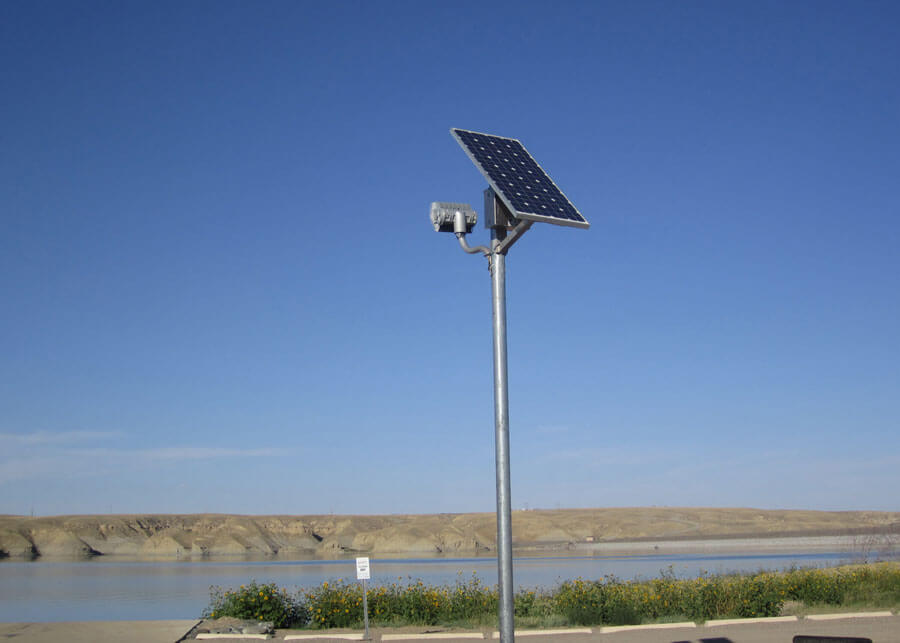 Most boaters like to go out early mornings or late nights to get the best catch. Lighting up the boat ramps and docks provide safety and security to boaters leaving while it is dark. The lights will help indicate where boat ramps are and allow for easy visibility at night to lower accident rates and provide a safer environment while they are loading and unloading boat trailers. They will also allow easy visibility of docks to reduce accidents when taking off on the water.
Boat ramps and docks are typically in rural areas and do not readily have access to grid power. Stand alone solar powered lighting systems can easily adapt to these environments and provide the lighting without grid extensions and trenching through parks and preserves. They also provide a green alternative and lower the need for dirty forms of energy in these natural environments.
The solar light for boat ramps is typically an overhead flood style light to provide large area illumination. Single our double fixture configurations can be used, and with swivel heads, can point in any direction on the pole.
Dock solar lights can be run along the dock itself or using overhead fixtures. The solar for the dock lighting can be mounted directly on the dock or on a pole nearby. The lights can use bright white lighting or wildlife friendly lighting, depending on the needs of the area.
We have completed many boat ramp and dock projects all over the US. These systems have been configured for different environments and adapt well to harsh winters of the north to the salty waters of coastal areas. The lights can be configured to run from dusk to dawn or even be operated by a motion sensor or switch to lower the power needs. Large flood fixtures are perfect for lighting up the large area, and by using energy efficient LED technology, there is much better lighting provided for better visibility.
The lights can also be used in the parking lots nearby to keep personal vehicles and trailers safe and well illuminated while people are enjoying the area and loading and unloading vehicles and equipment. The lighting can also be installed for park restrooms and other nearby structures such as pavilions and along walkways, all of which does not disturb the natural landscape.
Need solar lighting for you boat ramp or dock? Contact us today for a free project evaluation and quote.