SEPCO has been working on improving our current bus stop and bus shelter lighting products. Our new design combines some of the best features of our standard solar lighting systems and new ideas for a perfect combination for bus stops and bus shelters, both integrating into existing areas and for new installations.
Why use Solar for Safety
Bus stops and shelters are all around the world and provide shelter and lighting for travelers using the transit system. A lot of bus stops and shelters also provide information and advertisement that passengers can check out while they wait. These shelters consume energy between 50 Watts in LED and 200 Watts in incandescent. When you multiply this by the total bus shelters in a single city, they consume quite a lot of energy. There are energy-saving options available to cut costs to the city and still provide the lighting needed for safety.
Switch to LED
Switching the incandescent lamps over to LEDs can save the city a lot of money. LEDs use much less energy and provide better, brighter light. They also last longer, so less maintenance is required by the city. Finally, they provide a DC solution for the solar, making the system the most efficient.
Combine with Solar
By adding solar energy to these bus shelters can save the city even more money as there is no more need for grid power. These solar bus shelter lighting systems become self-containing and can have solar power installed on the roof of the existing shelter or on a pole nearby.
Reduce Down Times
Chances are there are no people in bus shelters after the transit stops. In this case, having the bus shelters properly lit after that time is a waste. Instead, you can either have the lights turn off after this time or dim down and only go back to full intensity when someone enters the shelter.
Everybody wants their bus shelters always lighted and even more when there are advertisements, but what happens when there is a power outage. No light for several hours maybe, depending on how efficient the power companies are. This is when the solar comes to work don't have to worry about that for a long time.
The entire system is maintenance-free for five years or longer, and all you must do then is change out batteries. That is five years of not worrying about your bus shelter providing the light it needs to every day of the year. And the advertisers will be happy as their ad is always illuminated.
Solar Bus Stop Design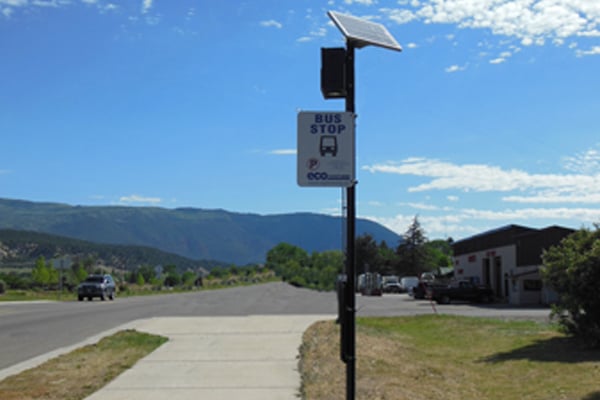 Our new bus stop design provides all-night or push-button lighting for bus stops. Our high-powered ING LED fixture is integrated and recessed into a battery assembly for vandal resistance and provides down-lighting with no light pollution to other areas.
The solar panel assembly sits at a 45-degree angle for maintenance-free cleaning of the solar panel by rain and does not allow for snow buildup in the winter. A typical flat panel designs collect dust and debris and require regular maintenance and cleaning of the solar panel. The 45-degree angle also provides the most solar radiance compared to a flat panel system that only can grab the solar rays when the sun is high in the sky.
The solar panel assembly also easily mounts to a pole with U-Bolts that are integrated into the panel bracket and slip over the top of the pole and tighten down. Best of all, the entire assembly is easily adjustable up or down the pole for variations required due to ambient lighting.
Sun Metro Transit - Project Overview
When Sun Metro Transit in El Paso, TX wanted to provide lighting for their bus stops in areas with little or no lighting, they purchased and installed SEPCO solar power bus stop lighting systems through TX-based Solar Wind Technologies and Environmental Lighting Services. These lights provided additional safety and security to transit clients while waiting for the bus at night.
SEPCO's ultra-reliable, vandal-resistant solar bus stop lighting systems are programmed to operate from dusk to dawn, year-round, and feature a high intensity LED light fixture that effectively illuminates bus stop areas to provide a better sense of security, improved visibility, and aid in the prevention of buses passing up riders at night. See original article on the solar bus stop lights the City of El Paso Press Release.
Better still, SEPCO solar power bus stop lighting systems mount directly to existing bus stop poles—which saved Sun Metro Transit the additional cost of installing new bus stop poles. The system's unique design offers the benefit of mounting the solar module south towards the sun (as required) and the flexibility of mounting and orienting the light fixture in whatever direction is needed to illuminate the bus stop area. Ensuring that the solar faces directly south with no shading ensures the system will last for years while providing the light in the area required by the fixture, unlike the all-in-one integrated systems.
Best of all, because SEPCO bus stop lighting systems operate purely on off-grid solar power, Sun Metro was able to completely eliminate the cost of extending the AC-power grid to the bus stop pole. How's that for a green solution?
Solar Bus Shelter Design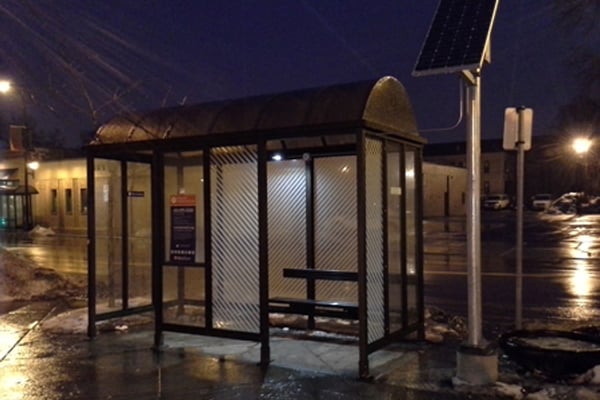 Our new bus shelter design provides mounting of the solar panel assembly either on the roof, using a small bracket, or on a pole nearby. The light fixtures are integrated within a one-piece unit to include all control electronics and batteries that mount directly to the back of the bus shelter.
A single fixture application can be easily achieved without compromising aesthetics and allows for various distributions to be used for plenty of illumination. The solar panel can be mounted at a 45-degree angle on a nearby pole or on the angled side of the roof that faces south. This keeps the panel clean and reduces maintenance. In some southern locations, a flat mount is possible.
Eastern Michigan University - Project Overview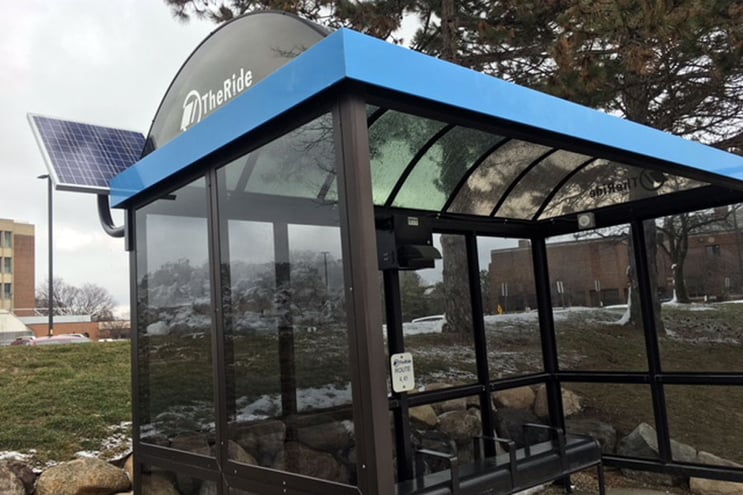 SEPCO worked in conjunction with Eastern Michigan University to illuminate their bus shelters around the campus using solar lighting systems. This custom solar lighting system was installed to provide additional safety and security to students using the transit system around the campus.
Special considerations to the sizing and installation requirements were used for this project. Since Michigan has reduced solar insolation and has harsh winters with lots of snow, having a flat-mounted panel would keep the solar from performing as required. A flat installation method would also reduce the available solar insolation causing the solar to triple in size.
Instead, SEPCO designed a bracket with the help of Eastern Michigan University that would allow the solar to face south, no matter the installation location, and sit at a 45-degree angle, optimum installation angle for northern locations. This angle helps keep the solar free from snow collection while also allowing the solar panel to catch sun energy during the winter months when the sun is so low in the horizon. This kept the solar power requirements lower than other mounting options.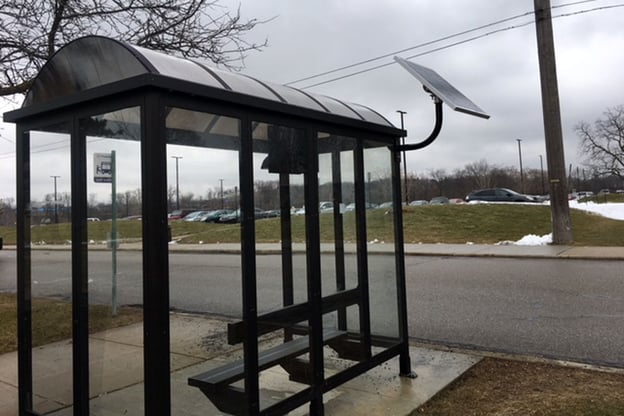 Inside the shelter contains an LED LNC fixture mounted to the front of the battery assembly. The battery assembly is sized to provide plenty of backup to deal with the harsh winter months and to ensure the systems operate correctly year-round. The battery box and mounting are powder-coated black to match the color of the shelters and features a lock on the box.
SEPCO provides many different options for transit projects and looks at many different aspects of the project to provide a system that will perform reliably for the installation location.
Coconut Creek Bus Stop and Shelter Lighting - Project Overview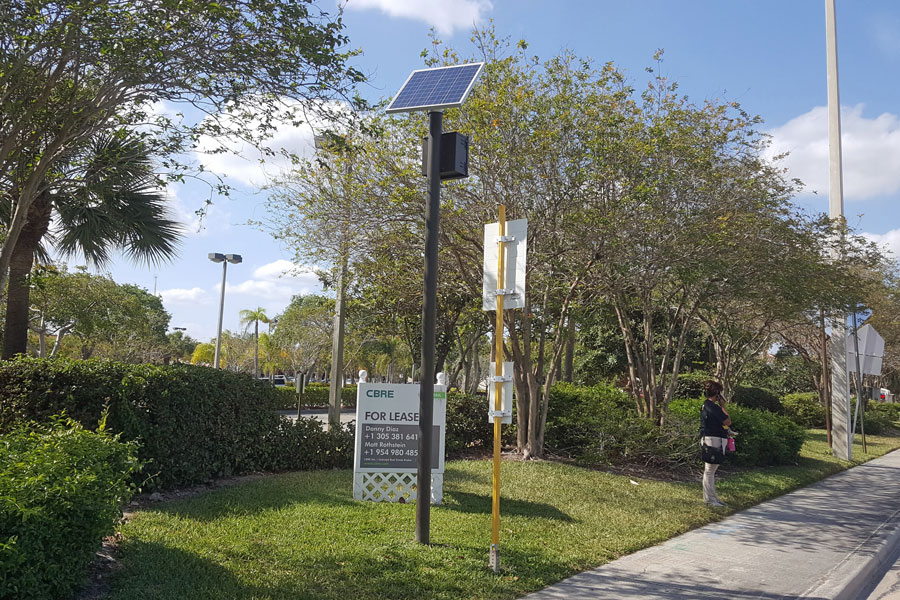 The City of Coconut Creek uses solar bus stop lights for most of the bus stops where shelters are not installed, as you can see from the photo above. In some cases, there is a freestanding bench at these locations; however, at most, there is just a sign to show where a stop is for the city transit system.
Solar shelter lighting systems are being implemented as the new shelter styles are being installed. These have a rounded roof, and because they are located in South Florida, can allow for a flat solar panel installation in most cases.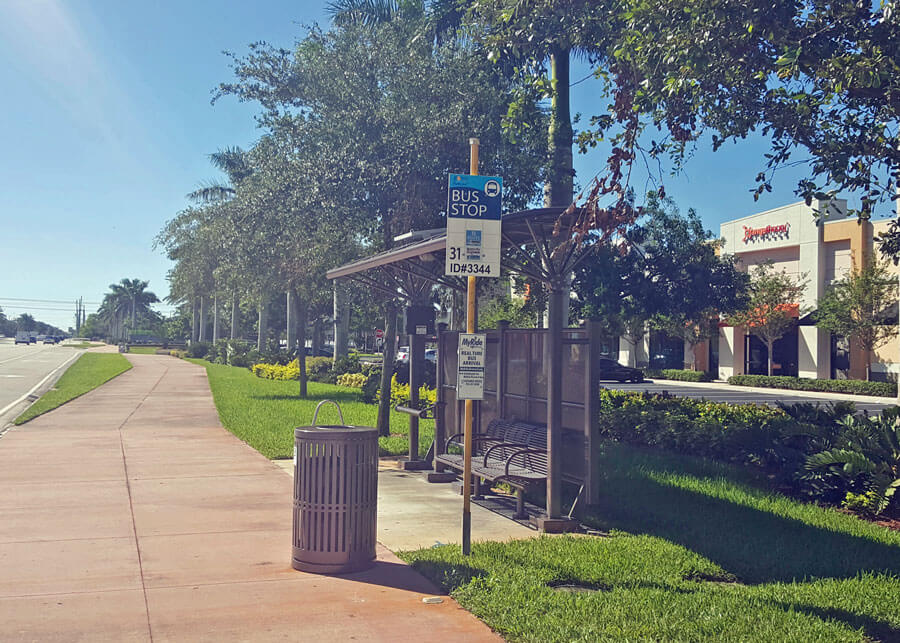 Each system is custom-designed to meet the needs of the project. Bus stops have a smaller panel as it sits at the optimum angle and swivels around the pole for the solar to collect and operates a single high-powered fixture. The shelters have almost a flat design and require a little more solar power to operate all night. Each location has the same setup to make installation and maintenance easy for the customer. This city has a mix and having a system that can easily adapt to each location is perfect for the city.
Both the solar bus stop and bus shelter designs are perfect for integrating into an existing transit application or for new installations. Bus shelter systems can be integrated into any bus shelter unit and can even provide power to advertising panels and schedule boards. The bus stop lights can easily be installed at any bus stop and provide safety to travelers at night.